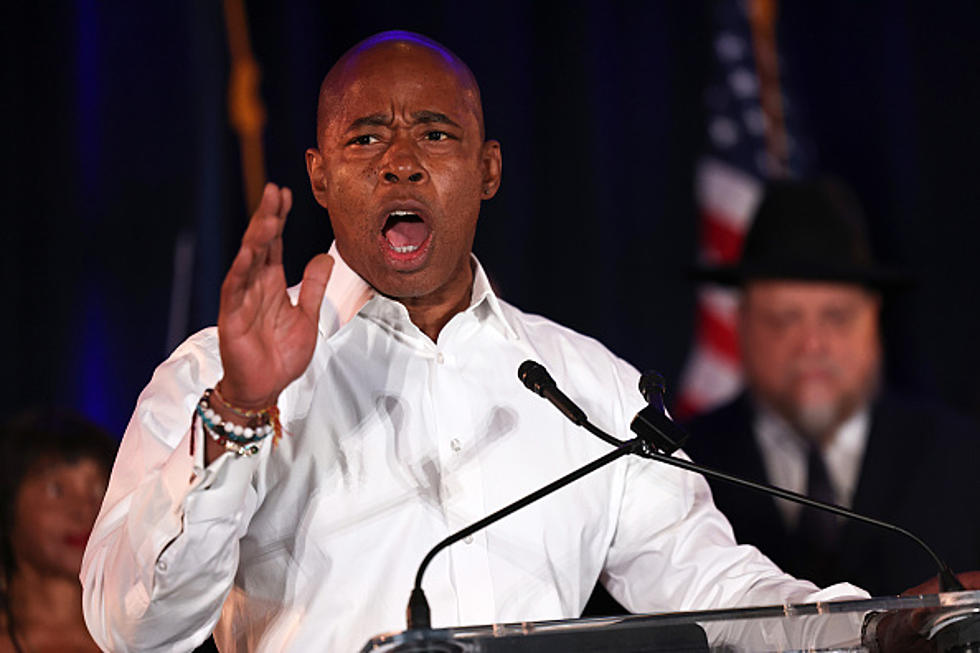 NYC Mayor-Elect's Decision May Put Nets Kyrie Irving on the Court
Getty Images
Tuesday, Brooklyn Borough President, Eric Adams was elected Mayor of New York City and will be sworn it at midnight on January 1st. Remember that date. Adams will succeed fellow Democrat, Mayor Bill deBlasio. The current mayor has implemented a policy that has put requirement on all New York City workers to be vaccinated or face unpaid leave. Also, all fans attending events at Madison Square Garden and Barclays Center must be vaccinated. Included in his city wide mandate is something which is baffling. The mandate allows unvaccinated visiting athletes or performers to compete or perform in the indoor arena's but all home team athletes must be vaccinated.
According to NBA.com "Athletes were previously excluded from the mandate, but Mayor Bill de Blasio recently issued an Emergency Executive Order which now requires New York City-based athletes to be vaccinated, impacting players on the New York Knicks and Brooklyn Nets."
I'm not sure how that works but it surely is not the only decision by the current New York City mayor that has made me scratch my head but that's a discussion for another day. According to Greg Logan of Newsday, a guest of The Drive with Charlie & Dan, "New York City mayor-elect Eric Adams spoke to several media outlets on Wednesday and said he might "revisit how we are going to address the vaccine mandates." Adams was quick to add that he didn't want to second-guess outgoing mayor Bill de Blasio, who has required all municipal workers to be vaccinated or face unpaid leave."
Greg Logan wrote that the new mayor-elect's comments "focused primarily on the relationship between the mayor's office and local municipal unions, but the remarks by the Brooklyn borough president also might impact his hometown NBA franchise, the Nets. Should Adams lift the city vaccine mandate when he takes office in January, it would clear the way for superstar Kyrie Irving to return to action."
This would be a huge boost for the Brooklyn Nets or would it? Kyrie Irving's vaccination revolt is just one in a long list of team distractions he has created since entering the league. Irving is extremely talented and when focused on the game of basketball could definitely help lift the Brooklyn franchise towards an NBA championship. At the same time, his repeated selfish behavior, regardless of his vaccination status, is enough to plummet even the greatest teams.
TACKLE THESE: Check Out the Best Uniforms In Each NFL Team's History
Answers to 25 common COVID-19 vaccine questions
Vaccinations for COVID-19 began being administered in the U.S. on Dec. 14, 2020. The quick rollout came a little more than a year after the virus was first identified in November 2019. The impressive speed with which vaccines were developed has also left a lot of people with a lot of questions. The questions range from the practical—how will I get vaccinated?—to the scientific—how do these vaccines even work?
Keep reading to discover answers to 25 common COVID-19 vaccine questions.
30 famous people you might not know were college athletes
Stacker
dug deep to find 30 celebrities who were previously college athletes. There are musicians, politicians, actors, writers, and reality TV stars. For some, an athletic career was a real, promising possibility that ultimately faded away due to injury or an alternate calling. Others scrapped their way onto a team and simply played for fun and the love of the sport. Read on to find out if your favorite actor, singer, or politician once sported a university jersey.