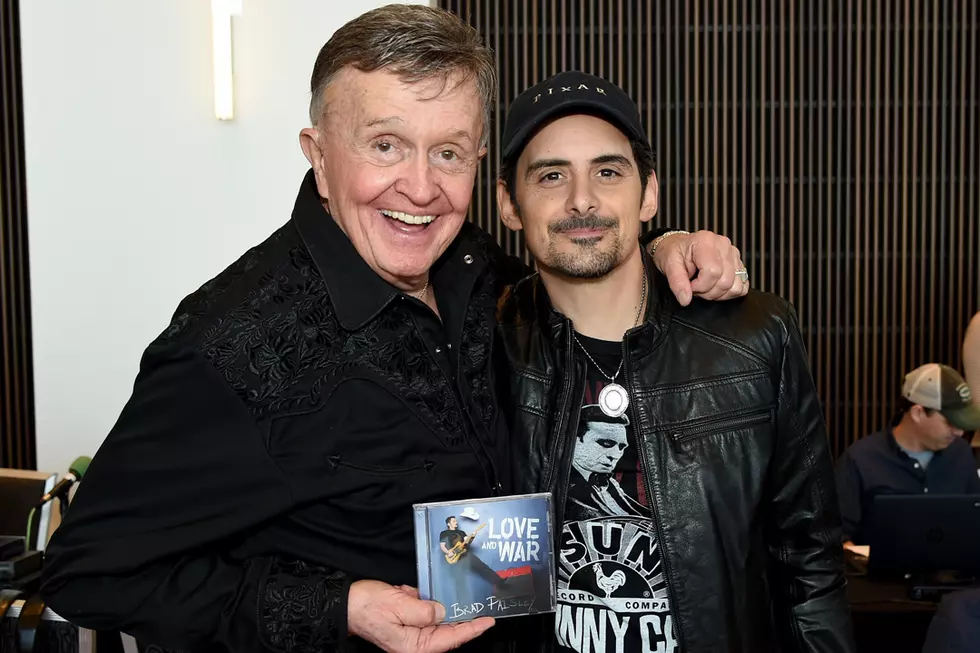 New Brad Paisley Song Makes 'Whiskey Lullaby' Sound Like 'Zip-a-Dee-Do-Dah'
Rick Diamond, Getty Images
Brad Paisley hasn't lost his ability to deliver an emotional gut punch. Humor and social statements on Love and War may be making headlines, but one collaboration is truly heart-wrenching.
"Dying to See Her" may actually be Paisley's greatest tearjerker to date. Co-writer Whisperin' Bill Anderson thinks so, and he helped co-write one of Paisley's other great sad songs, the 2004 Alison Krauss duet "Whiskey Lullaby."
"'Dying to See Her' makes 'Whiskey Lullaby' sound like 'Zip-a-Dee-Do-Dah,'" Anderson tells Taste of Country, laughing. It's a collaboration in every way. Not only do the two men sing together, but Paisley sought Anderson out to write the ballad.
"Brad called me one day," Anderson says, starting to laugh, "and said 'I've got an idea for a song that's never been written!' And I said, 'Brad, there is no such thing.'"
After hearing him out, the 79-year-old admitted it may be a song that had not been written, and he was honored Paisley chose him. That the star is a sort of old soul made the collaboration work, he adds.
"Once I got into the idea a little bit with him I realized I'd seen this song up close and personal with my father and my mother, when mom passed away two years before my dad."
"Dying to See Her" gives listeners hope by the end, so perhaps for that reason it will remain No. 2 for some on Paisley's list of sad songs. This collaboration is one of five on Love and War. Timbaland, Mick Jagger, John Fogerty and Johnny Cash also join Paisley. Anderson says he wishes he had that kind of freedom when his career was really rolling in the 1960s and '70s.
"I'd loved to have worked with someone like Fats Domino," he says. "He had a lot of country feel … that would have been fun but we couldn't do those things back then."
Country Artists' Heartbreaking Tragedies