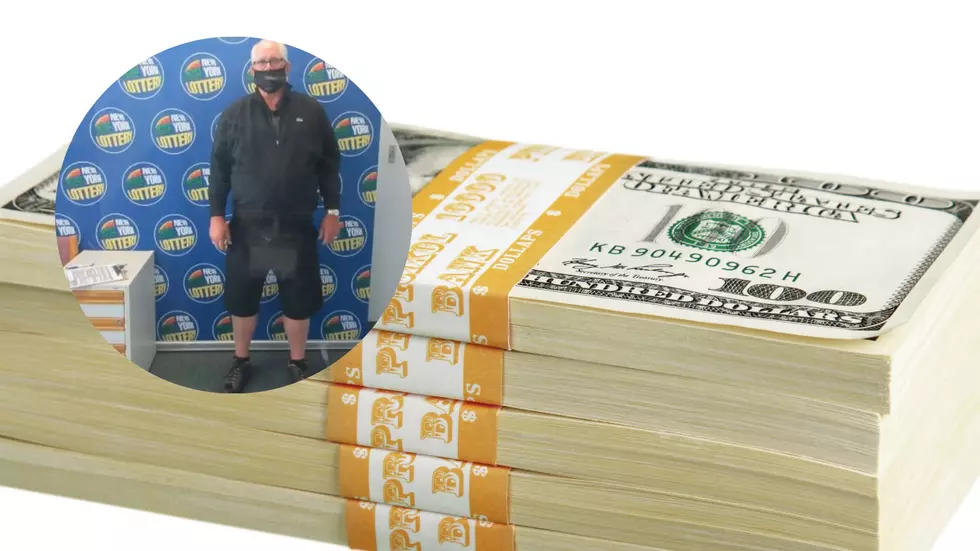 Man Wins $1Million Dollars Buying Scratch-Off at a Stewart's in Latham!
Photo: NY Lottery Canva
Imagine stopping into your local Stewart's or Cumby's, grabbing a cup of coffee, buttered roll, and a few scratch-offs for kicks and giggles. Most of us do that on the daily, but rarely does it turn out the way it did for a man in Upstate NY recently.
The New York Lottery confirmed on Tuesday, that a man in Latham won $1 million dollars playing a scratch-off game he bought from a Stewart's in Latham!!
According to the
Daily Voice
, Albany County resident Robert Lawlor, of Latham, won one of the remaining top prizes from the "$1,000,000 Bonus Word Cashword" scratch-off game,
According to the report, Lawlor received his prize as a single, lump-sum payment of $651,000 after required withholdings, NY Lottery reported.
The winning ticket was purchased at one of the five Stewart's Shops in the Latham area, at 29 Wade Road Extension.
"$1,000,000 Bonus Word Cashword" costs $10 per ticket, and features two games, played separately. You must "scratch the YOUR LETTERS area to reveal 18 letters."
Once your letters are revealed, you scratch each letter every time it is found in each game.
Complete 3 or more words in a single game, and you win that prize - and for Lawlor, it was $ 1 million dollars!
According to the New York Lottery, the odds of hitting the million dollar jackpot is 1 in 3,399,000.00, but it happens more regularly than you think.
Last week, a woman in Montgomery County closed out her summer on the highest of highs last week when it was announced by the NY Lottery that Valerie Kevlin of Amsterdam New York won a $1M dollar grand prize after she scratched her way through a game from the NY Lottery called X SERIES: 20X.
Kevlin bought the lucky ticket at a Stewart's on Rt. 30 in Amsterdam, she opted to receive her prize as a single, lump-sum payment of $546,840!
11 of New York's Most Wanted Criminals with Upstate Connections
Below are individuals with ties to the Capital Region and Upstate New York. They have been designated as some of New York's Most Wanted Fugitives and should be considered ARMED and DANGEROUS.
Rensselaer County Man Discovers a Bat Hiding in His Slipper!