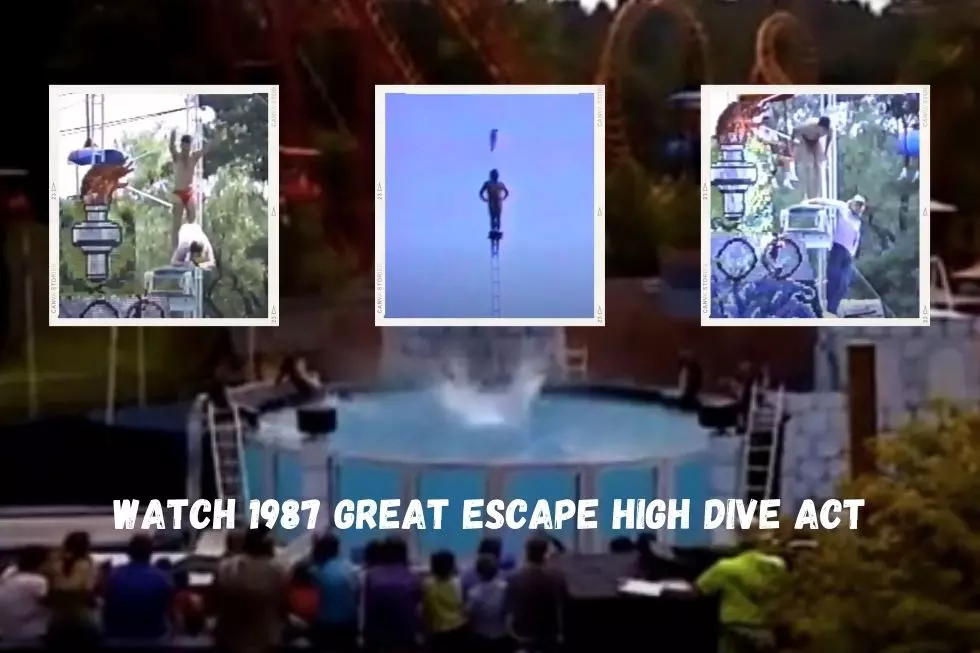 Let's Go Back to 1987 & Watch This Great Escape High Dive Show!
Youtube:Jack's Spot
Growing up in the Capital Region in the 1980s, it was fun to travel up the Northway and spend the day at The Great Escape Amusement Park (formerly Storytown). We couldn't wait to get there and travel through Ghost Town and become a deputy with Marshal Wild Windy Bill McKay. But one of the highlights of the day was the death-defying high dive act.
We Always Loved Watching the Great Escape High Dive Act
We would plan our day around the show times of the high dive act. Then we would get into our seats early sitting on the cement steps. We strategically sat in the splash zone when it was hot. Then we waited. It was always a show filled with silliness, laughter, and ultimately suspense.
This Video From 1987 Brought Me Right Back to My Childhood
I found this amazing video on Youtube from "Jack's Spot". He uploaded a home video from a trip to The Great Escape Amusement Park (formerly Storytown) in Queensbury in 1987. It chronicles their day at the park as a family. They covered everything in this thirty-four-minute video. Everything from the train to the skyway, the Desperato Plunge, Ghost Town, the Circus, and Motocross Act, live bands and entertainment and of course the best part of the day, The High Dive Act.
Check out the Youtube video cued up to the High Dive show that you would have seen in the summer of 1987. Who knows? You may be wandering around with your family in the background of Jack's video.
YouTube/Jack's Spot
Abandoned Hoffman's Playland! Once Beloved Place Now Heartwrenching View
WARNING: Under no circumstances should you enter this property. By doing so you risk bodily harm and/or prosecution for trespassing on private property.
Hoffman's Playland was an amusement park in Latham from 1952 until 2014. Even though many of the rides were relocated to Huck Finn's Playland in Albany, Hoffman's holds a soft spot in many Capital Region families' hearts. Take a look at the now-abandoned Hoffman's Playland.