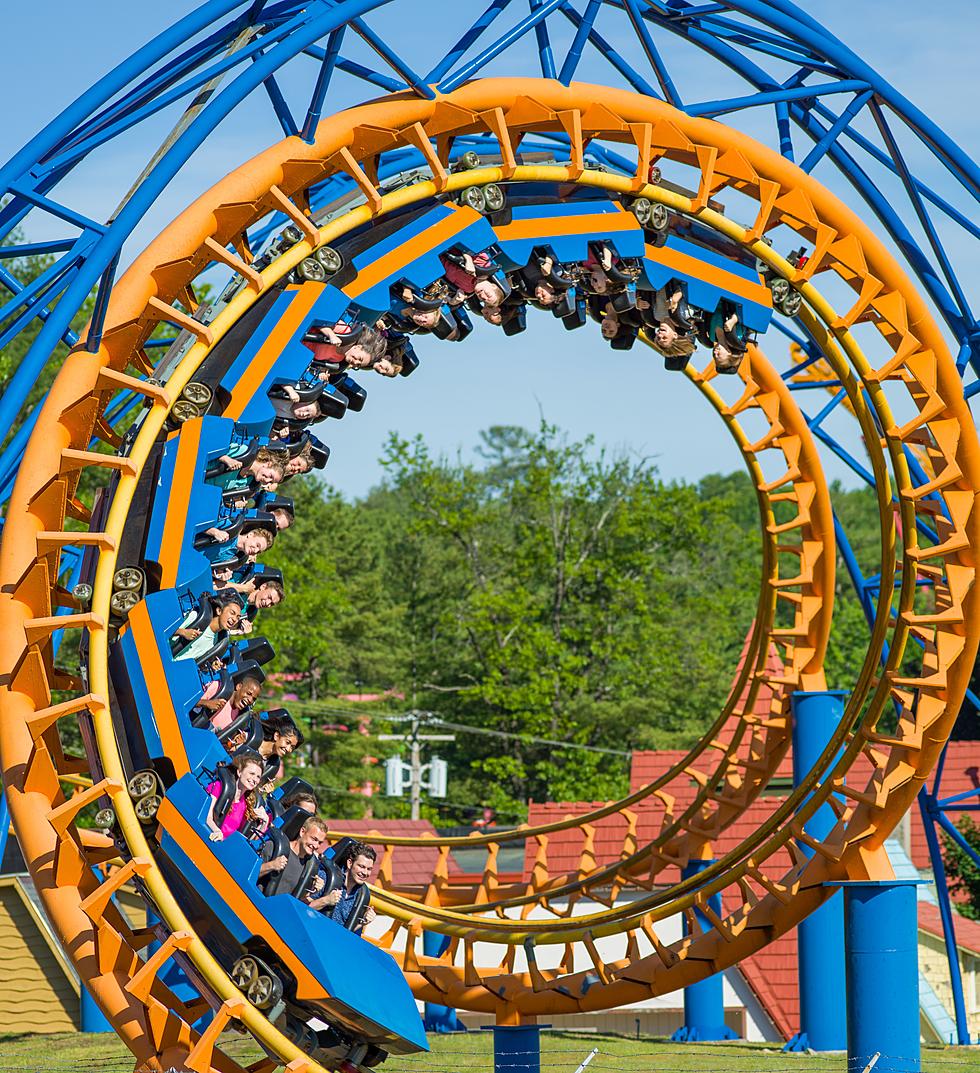 'Heart-Pumping' Thrill Ride Coming to the Great Escape in 2024
Taylor Myers, 6 Flags Great Escape
Last weekend for the Alpine Bobsled Ride
A few weeks back, it was announced that Labor Day weekend at the Great Escape would be the final run for the Alpine Bobsled, and the last time anyone can ride will be on September 4th.
The Alpine Bobsled coaster, inspired by the Lake Placid Olympics, is a trackless coaster that thrills riders who speed down the track in a themed toboggan, gliding around every turn like a champion bobsledder.
The ride was originally constructed in 1984 at Six Flags Great Adventure and opened at Six Flags Great Escape in 1998 and the area once-home to the Alpine Bobsled will feature a new ride next spring.
New Coaster at the Great Escape
A press release from the Great Escape on Wednesday morning released artist renderings and details about a new wooden coaster that will debut in the Spring of 2024 called "The Bobcat"
The Bobcat: Fast Facts
 Speeds up to nearly 40 mph;
 Height: 55.4 feet;
 Length:1412 feet;
 2 trains, 12 passengers per train;
Beautiful, natural design to complement park surroundings;
 Revolutionary coaster trains provide a smooth rider experience
See artist renderings of the new ride
According to the press release, the Great Escape will start building once they get approval from the Town of Queensbury.
"Just in time for the park's 70th anniversary celebration. A perfect complement to the fabled Comet, The Bobcat will provide the unique feel of a quintessential wooden coaster, introducing thrill-seekers to quick turns, and spunky heart-pumping excitement aboard a custom, state-of-the-art, themed train." The Great Escape
New Ride at the Great Escape for 2024 - The Bobcat
2 Mansions w/ Stunning Panoramic Views of Lake George on Market for $16 Million
This lakefront compound on Lake George is situated on nearly three acres in an unbelievable location. It's just off of the Northway at exit 22 and within walking distance of Lake George Village. It boasts two mansions and each is three floors with each floor 5,668 square feet. Both homes are extraordinary. There are six bedrooms and four and a half bathrooms in each of the mansions. Closer to Lake George you will find two finished gazebos each with a kitchen, bathroom, and fireplace. There are six boat slips in a boat house and a U-shaped dock. Enter through a private gated entrance with two garages. This amazing property is on the market for $16 million.
30 Interesting Facts About the ADKs You Probably Didn't Know!
From its awe-inspiring high peaks and crystal clear lake, ponds, and streams to its stunning wildlife, our mountains are second to none. And as you'll find, there's no shortage of
interesting facts about figures
about the mighty ADKs - here are 30 fascinating ones you may not have known!