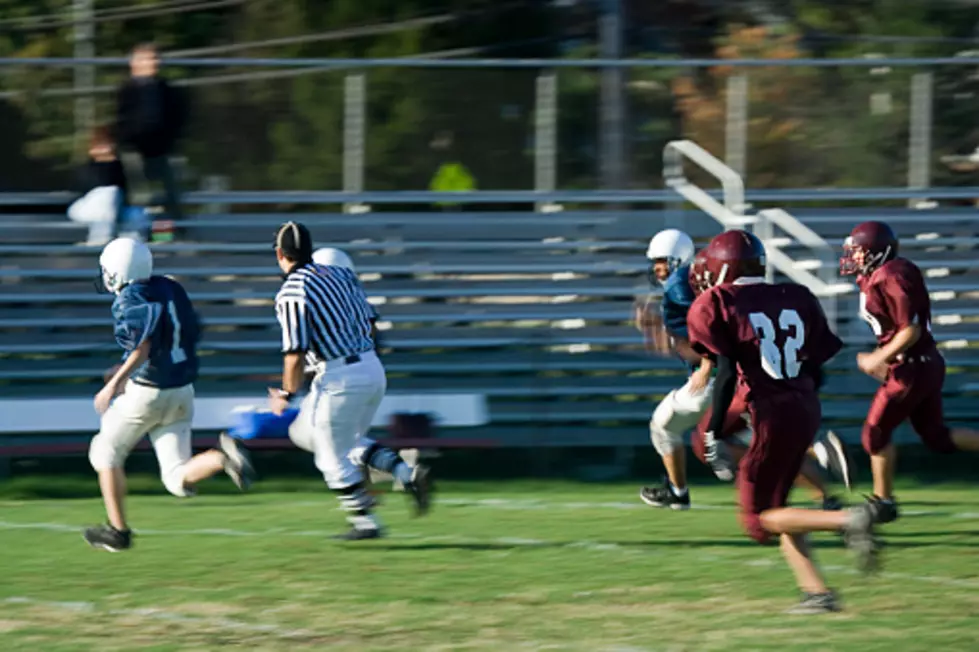 Glens Falls & Cambridge-Salem Cruise In Saturday HS Football
Getty Images/iStockphoto
Only 3 football games were on the Section 2 docket for a beautiful fall Saturday afternoon. All three games featured ranked teams. We have the remainder of Friday night's scores, plus a preview of next week's big match-ups.
Let's get to the Saturday action first. #3 ranked Glens Falls hosted Hudson Falls and proceeded to blow out the Tigers 38-0. Glens Falls will travel to Cohoes on Friday night at 7pm for their next contest. #9 Amsterdam took care of business against Mohonasen 35-12. The Rams will host Columbia next Friday night at Amsterdam High School. #14 Cambridge-Salem hosted the Helderberg combo Berne-Knox-Westerlo/Duanesburg and sent them on a long bus ride back with a 46-0 loss. #14 Cambridge-Salem will travel to #18 Greenwich Friday night for what should be a great game. More scores!
There were some scores we didn't get to report for Friday night. #2 Schuylerville rolled the Cannoneers 55-6 at Watervliet, while #7 Hoosick Falls-Tamarac whacked Granville-Whitehall 38-0. #12 Stillwater pummeled Rensselaer-Loudonville Christian 54-8, as Chatham upset #21 Voorheesville in pretty convincing fashion, 41-12. #22 Broadalbin-Perth smashed Taconic Hills 44-8 and Cairo-Durham-Catskill took care of Corinth-Fort Edward-Hadley-Luzerne 31-12.
The last night of September should be a good one for Friday night football. #5 Shenendehowa will travel to a packed house at #4 Shaker for what should be the game of the evening. Undefeated (4-0) #20 Warrensburg-North Warren Central-Lake George travels to (3-1) #12 Stillwater for a fantastic match-up and as mentioned #18 Greenwich will host #14 Cambridge-Salem at 7pm. Don't forget, you can DM photos and scores from your high school's games on Twitter @charlievoelker and we will give you contributor credit if your photos are used! Good luck to all of the student-athletes and coaches.
Seven Times Saturday Night Live Attacked Upstate NY
Saturday Night Live may be "live from New York" every week, but that doesn't mean the show is always kind to those who live in New York, and these are seven times they attacked Upstate New York.
Click the red title of each photo in order to watch the full sketch on YouTube.
The 11 National Parks Closest To Upstate New York
With New York's lack of National Parks, you may fancy driving to one nearby. Here are the 11 closest National Parks to Upstate, using Albany as a reference. Data compiled by
Stacker
and photos courtesy the National Park Service.