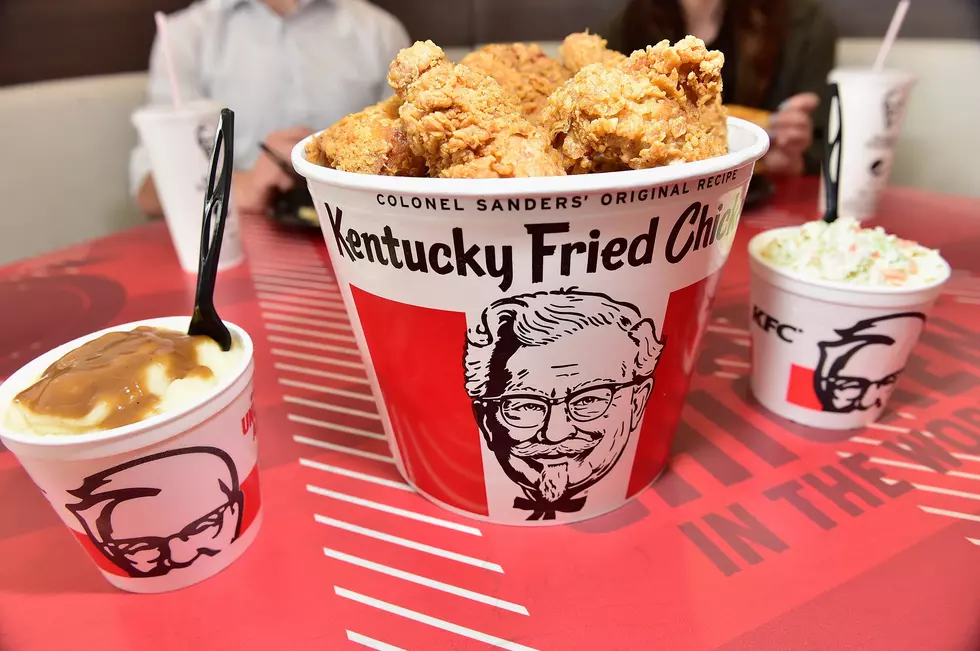 Capital Region KFC Offering Free Chicken for a Year!
Getty Images
For some, KFC is an addiction - of which I can relate. Three boneless strips, mashed potatoes and gravy and a side of coleslaw is all it takes to bring on the euphoria you can only get when ordering a KFC meal. So yeah, it's kinda like a drug and this new offer may be your overdose.
A new Kentucky Fried Chicken location will be opening its doors in Troy and you may win a prize greater than the Powerball.
The newest KFC will be located at 668 Hoosick Road in Troy. It's grand opening will be Tuesday August 16th at 10:30am. As part of the festivities, KFC will offer 'free chicken for a year' gift cards to the first 50 customers. Exactly. Screw Powerball. Set up a tent and camp overnight because KFC for a year is better than any Black Friday deal that's ever been offered.
In addition, this new location in the Collar City plans to add about 50 new jobs to the area, you can apply at kfc.com/careers.
KFC already has a number of locations in and around the Capital Region. Earlier this year another popular chicken chain, Popeye's, continued to expand its presence in the Capital Region with new restaurants in Halfmoon and Amsterdam.
Sometime before the end of 2022, the area is expected to get its first Chick-fil-A (where you don't have to pass through airport security) in Clifton Park. Other Chick-fil-A locations have also been rumored in Troy and Latham.
The Capital Region's Best Fried Chicken Joints [RANKED]
It feels like the chicken sandwich wars have really upped the conversation of who serves up the best fried chicken in general. So here are the top 5 spots in the Capital Region, according to your votes!
Look Inside Clifton Park's New 518 Donuts & Fried Chicken Joint
518 Donuts is now open in Clifton Park, serving up a heavenly combo of Donuts & Fried Chicken!
The Capital Regions Best Fried Chicken [RANKED]
On our quest to determine the Capital Region's best fried chicken, we turned to GNA Nation. The votes are in and here are the 5 best restaurants for fried chicken in the area according to YOU!