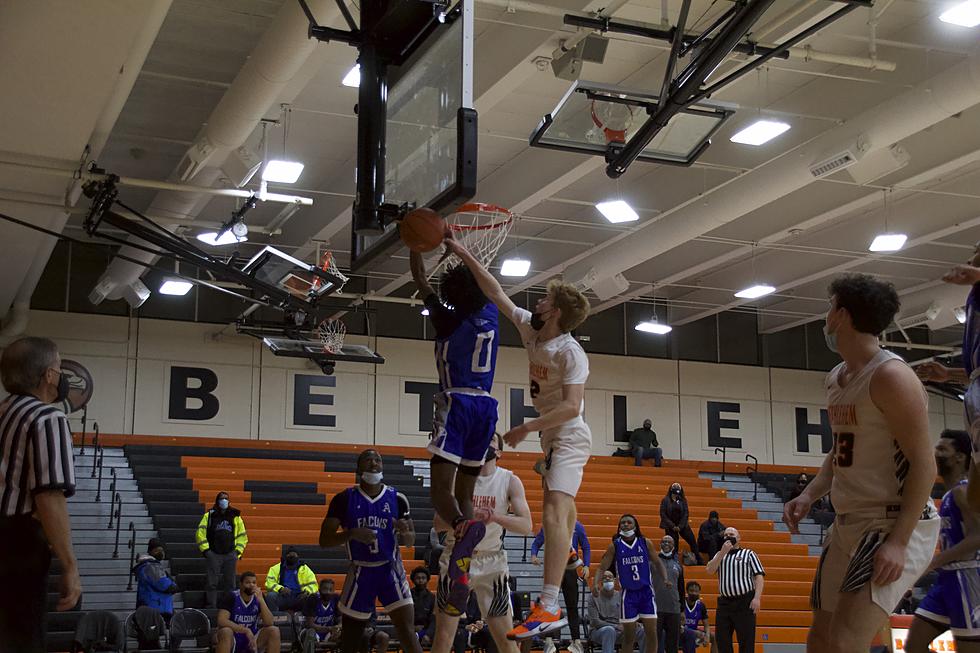 Albany, Shaker & CBA Net Wins on a Frosty 518 Hoops Tuesday
Photo by Sasha Jo
It was a busy schedule for Section II high school basketball on Tuesday evening. Sub-zero windchills cancelled school in some districts and challenged even the bravest of road teams. 27 games were on the slate for boys basketball and 22 for the girls. A big thanks to Bethlehem High School student photographer Sasha Jo for the awesome photos from last night's Albany vs. Bethlehem game on Tuesday.
We'll start with that game and boys basketball. Albany went into Bethlehem and beat the Eagles 76-68 in an exciting game. Averill Park dropped Burnt Hills 50-41, as Amsterdam dropped 75 on Johnstown for the 29 point victory. Shen squeaked by Colonie 63-59, as Ballston Spa knocked off Schenectady 82-66. Lake George shut down Salem 64-37 and Hadley-Luzerne did the same to Fort Edward for the 63-39 win. Schuylerville beat Queensbury 59-41 and Whitehall dropped 71 on Corinth for the win.
In other high school boys basketball scores Niskayuna defeated Saratoga 53-46, while CBA took down Guilderland 58-44. Icabod Crane beat Vooheesville 67-59, while Lansingburgh held down Ravena 50-31. Mohonasen knocked off Cobleskill 54-42, as Fonda shut down Middleburgh 61-23. Shaker held off Columbia 48-36, as Mayfield beat Duanesburg 58-50. Broadalbin-Perth clipped Glens Falls 48-47 in a thriller.
Let's get to some girls basketball scores. Shen battled Colonie for a 70-58 victory, as Shaker knocked off Columbia 47-33. Saratoga edged Niskayuna 53-49, while Albany took down Bethlehem 53-38. Averill Park got by Burnt Hills 61-53, as Spa Catholic snuck past Hoosic Valley in a defensive battle 28-22. Tamarac dropped 66 on Waterford for the win.
In more high school girls basketball, Ravena beat Lansingburgh 50-38, as Icabod Crane shut down Voorheesville 44-29. Greenwich dropped 82 on Stillwater for the win, while Schalmont put 66 on Cohoes for the victory. Bishop Maginn beat Loudonville Christian, as Catskill defeated Watervliet. Hadley-Luzerne got by Granville 38-29.
Again, a big thanks to Bethlehem High School's student photographer Sasha Jo for the awesome photographs. Congrats to Eric Medved and his Tamarac Bengals moving up the rankings to #2 in the sportswriters poll. Very cool. If you would like to contribute photos or potential stories, you can reach out to charles.voelker@townsquaremedia.com or on Twitter @charlievoelker. Stay warm!
Celebrities You Might Run Into In Upstate New York...Because They Live Here