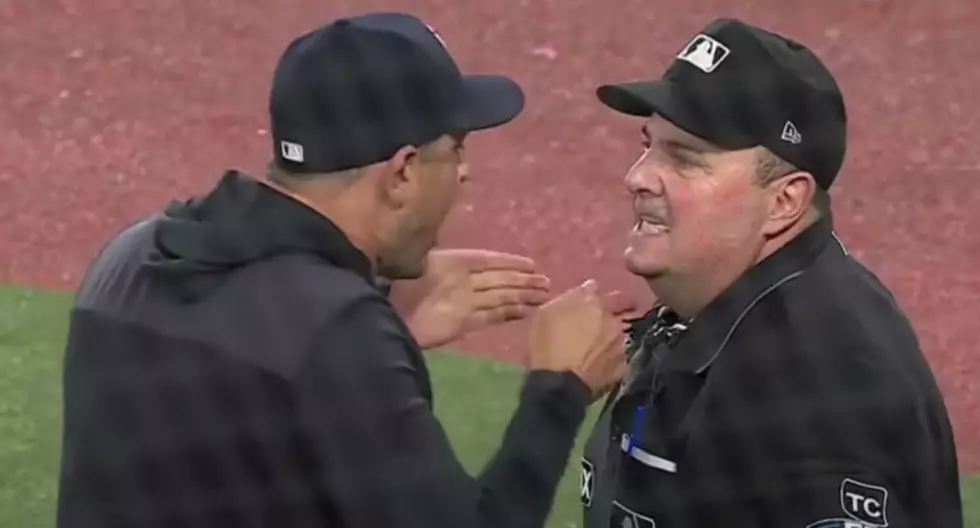 Aaron Boone Brings The Heat For New York Yankees Dugout
YouTube.com
If you want to win a World Championship in Major League Baseball, one thing is for sure, the players have to feel that the manager has their back. You hear all of the time about "team chemistry" within winning organizations. That starts with the skipper and in the New York Yankees clubhouse, there is no doubt about where Aaron Boone stands.
A great example of Boone having his player's back came in the 8th inning of Wednesday night's final game of the three game series, against American League East rival Toronto Blue Jays. The Yankees manager thew the hammer down on home-plate umpire Marty Foster following two questionable called strikes on Aaron Judge. See below where "strike 3" was.
Boone had finally had enough, as his first place team trailed the Blue Jays by one run in the top of the 8th and Judge was called out on the low pitch with the tying run on third. "Obviously, upset a little bit there, upset with a couple of others" Boone told reporters including friend of The Drive with Charlie & Dan, Erik Boland of newsday.com. "We're playing for a lot, just felt like there were a couple situations there that didn't go our way."
According to Boland and newsday.com, "Foster appeared to say "you spit on me" several times during the argument which, if true, could lead to a Boone suspension. Foster and crew chief Ron Kulpa declined to comment afterward to a pool reporter." Did Boone spit on him? "I don't know. I was pretty mad out there. I don't think so. Kept it under control somewhat," Boone told Erik about his ejection from the game.
How do the players feel about Boone's outburst? "I appreciate it," Aaron Judge told newsday.com. "I voiced my opinion to Marty during the game, what I was thinking about some of the calls. At that point, that's all I can do. That's why I've got a manager to stick up for me. If I get tossed in one of those situations, that's going to hurt us . . . he stood up for us and stood up for me and I appreciate it."
Josh Donaldson told Erik Boland and reporters that "Boone has the respect of the guys in here because he fights for us. At the end of the day, he's into it. He knows how hard this game is and he wants us to get the benefit of the doubt." That pretty much sums the origin of the Pinstripes team chemistry in 2022. Boone just may get this group to that World Series that has alluded his managerial career thus far. There is no doubt there are plenty of players in the Yankees clubhouse that have their skipper's back.
Ex-Capital Region Manager Takes Down New York Mets Polar Bear
In the final game of the three game series, the New York Mets and St. Louis Cardinals were involved in a bench clearing brawl. A former Tri City ValleyCats manager was right in the thick of things.
Which Capital Region Counties Are Ranked The Healthiest In NY?
Can you live longer depending on where you live? This research says you can and ranks the healthiest counties in New York State. So, we broke it down to the Capital Region.
New York Colleges That Made The Top 50 Most Expensive In America
CBSNEWS.com did a Top 50 Most Expensive Colleges and Universities in America. Let's see which New York colleges made the list.