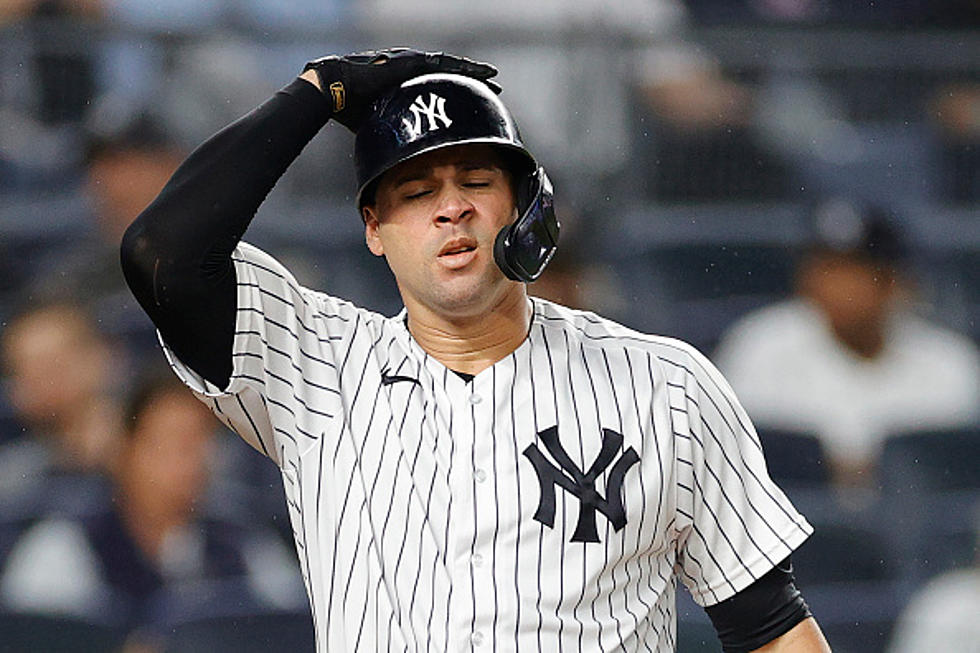 New York Yankees Send The 'Kraken' Packin'
Getty Images
The powder-keg in the Bronx was primed for something to happen. The Yankees little brothers in Queens have been stealing the headlines all winter long. Since the last pitch of the fateful wild-card game, Bombers fans have clamoring for the free-spending Hal Steinbrenner to make another big move. Since that wild-card loss was to the Red Sox, general manager Brian Cashman had done little to improve the pinstripes roster. Until now!
Yankees manager Aaron Boone had few answers on Friday that fans wanted to hear on the first official day of Spring Training 2022. Sunday night, the Bronx faithful may have gotten their wish. As reported by friend of The Drive with Charlie & Dan, Erik Boland of newsday.com, the Yankees sent lightning-rod catcher Gary Sanchez, along with Boone's "Day 1 starting shortstop," third baseman Gio Urshela to the Minnesota Twins.
In return for the duo, Boland reported that the Yankees would receive former AL MVP third baseman Josh Donaldson, shortstop Isiah Kiner-Falefa and catcher Ben Rortved.
Gary Sanchez embodies tremendous potential and Brian Cashman was determined to release it. According to Coley Harvey of espn.com, "it was Cashman who back in 2015 and 2016 initially started referring to Sanchez as the Kraken, a nod to the sea monster in the 1981 movie "Clash of the Titans." Since then, the nickname has stuck, and Sanchez has firmly embraced it." Unfortunately, Sanchez never lived up to Yankees fan's expectations and now he is heading to the Twins.
Cashman appears to get the kind of value he desires in the trade. Former AL MVP Josh Donaldson hit .247 with 26 homers in 135 games with Minnesota last season. The 36 year-old third-baseman/DH is a perennially dangerous hitter with a terrific glove. Isiah Kiner-Falefa hit .271 with eight homers in 158 games last season with the Texas Rangers. The 26 year-old from Hawaii, has been a target of Brian Cashman's. Kiner-Falefa, with his 2020 gold glove, will slide over to shortstop until one of the Bombers young prospects, like Anthony Volpe is ready.
To me, this is a terrific trade. Sanchez needed a fresh start. Donaldson is an interesting addition. He could have a very big impact in a quest for a World Series ring. Kiner-Falefa is the perfect placeholder at shortstop and is a quality baseball player. I like Gio Urshella a lot but he was the piece that gets this deal agreed on. The Twins get a great player and one that could be great. All in all, well done by Cashman.
10 Capital Region Golf Courses You Can Play For Under $40
Taking a look around the Capital Region at some of New York's finest public golf courses, I was able to find more than a few that won't break the bank. Check out these affordable options, so you can save and play the links more often!
Great Time For A Late Winter On The Albany Rail Trail
According to the Albany County website, the Albany County Helderberg-Hudson Rail Trail stretches nine miles along the old Delaware & Hudson (D&H) Railroad between the Port of Albany and Voorheesville.