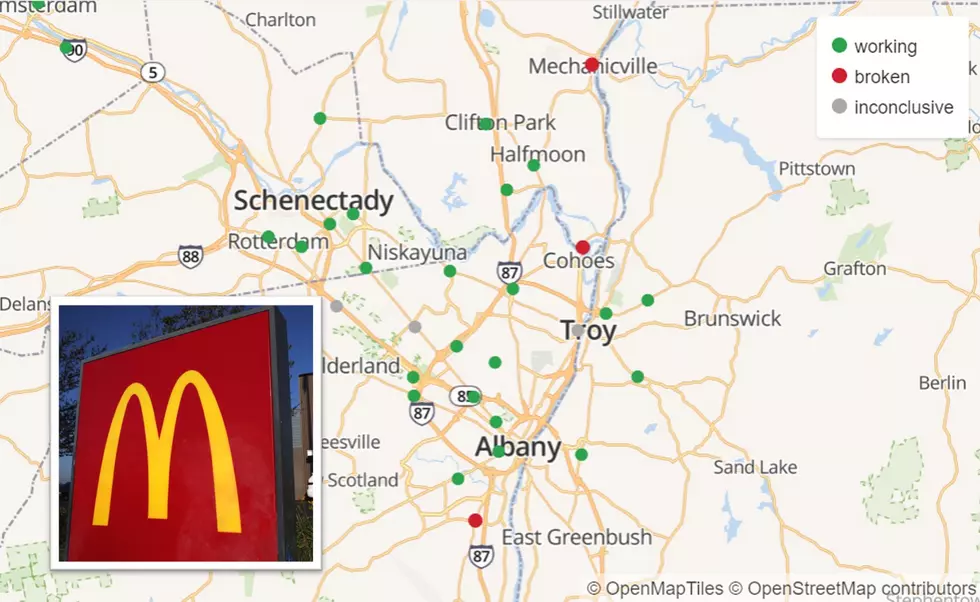 You Can Track Every 'McBroken' Ice Cream Machine in Upstate NY!
mcbroken (OpenMapTiles) / Getty Images
It's late at night in the Capital Region. You're winding down your night, but before you get home, it's time for something sweet.
With few options available to you, you spot the golden arches in the distance, and make a beeline for the drive-thru entrance. You pull up to the speaker, ready to announce to the world that it's time for you to have ice cream, when you're met with...
"I'm sorry sir/ma'am, our machine is broken right now. Can I get you anything else?"
If you haven't been in this situation at least once in your life, you haven't lived, I tell you. There are few heartbreaks that a person can suffer, that are worse than this. With a few taps of the finger, however, you could've avoided this catastrophe.
Meet mcbroken, the website that tracks every single McDonald's ice cream machine known to man.
---
The Website "McBroken" Tracks Broken McDonald's Ice Cream Machines
Now THIS, right here, is how technology is supposed to be used. At 24-years old, software developer Rashiq Zahid created this website, using a complex algorithm to track the availability of ice cream at every McDonald's in the country.
To do this, Zahid created a "bot" that tries to order ice cream online from every McDonald's every 30 minutes. It tracks whether or not the website says the machine is broken, and plots the data on a map. The map is then displayed on the "mcbroken" webpage, and is covered in green, red and grey speckles.
Green means it's working, red means it's not, and grey means the results from the bot were inconclusive. It's simple, and boy, is it genius.
---
So, What's Broken in the Capital Region Right Now?
While we're poking around on the website, we might as well see what's cooking in the Capital Region right now. As of May 13th, 2022 at 12:05PM, 10.6% of ice cream machines across the country are currently broken. A whopping 34.69% are broken in New York City, while apparently, 0% are broken in Boston.
I'll believe it when I see it, Beantown.
Anyway, as of right now, the establishments near Albany that reportedly have broken ice cream machines are:
376 Feura Bush Rd in Glenmont
42 Saratoga Ave in Waterford
1 Park Plaza in Mechanicville
1249 Rt 29 in Greenwich
364 Broadway in Fort Edward
Overall, however, the Capital Region appears to be covered in green in most areas, which is something that should be applauded.
So, the next time you're out and about, and your stomach is rumbling (or, "making the rumblies, as I've heard it called) that only McDonald's can satisfy, you are now armed with the tool that can tell you whether the location near you will have you "loving it", or will leave you disappointed and hungry.
The Capital Region's 10 Best Ice Cream Stands [RANKED]
Spring and summer in Upstate New York mean 2 things: we spend as much time as possible enjoying the great outdoors and eating all the great ice cream the Capital Region has to offer. And we have so many great spots to enjoy a cold sweet treat! But which ones are the can't miss destinations to enjoy that amazing mix of cream, sugar, and amazing flavorings? From soft serve to hard ice cream to sundaes and banana splits, these are the 10 ice cream shops that GNA listeners voted as the 10 best in the area for 2022.
It's the Law! Did You Know These Ten Bizarre New York State Laws?
From selling pet hair, to not wearing matching jackets and pants, there are some weird laws in New York that residents don't know about. Have you broken these laws?