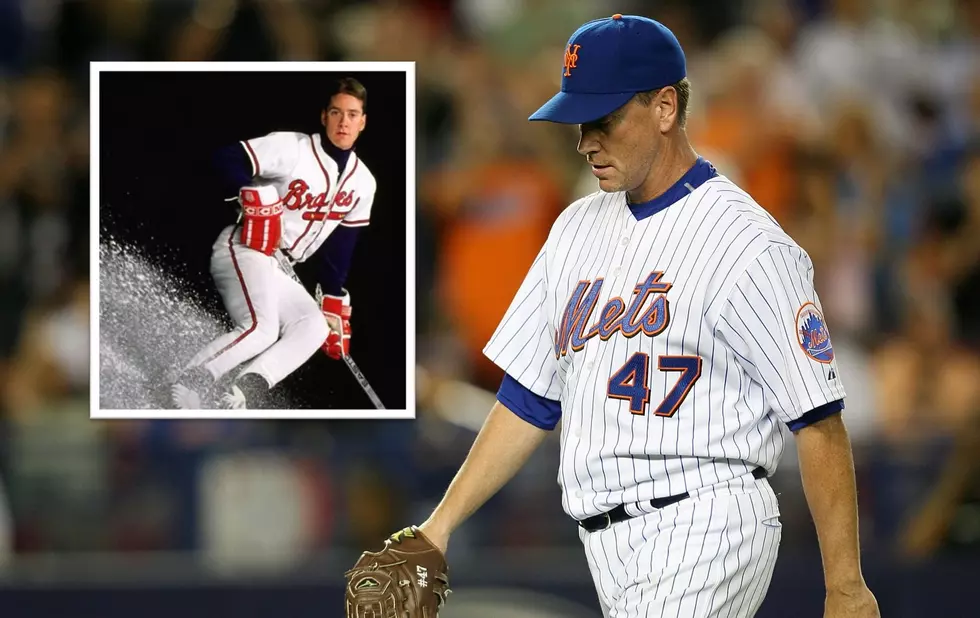 Why This NY Mets' Foe-Turned-Friend Almost Never Pitched in MLB
Getty Images / YouTube (Historical Sports Goon)
During his pitching career, Tom Glavine was a 10-time All-Star, a two-time Cy Young Award Winner, a World Series champion, and eventually a Hall-of-Famer.
He was outstanding during his pitching career, consistently regarded as one of the best left-handed pitchers in the game while he was active. He also holds the somewhat rare accomplishment of playing for the Atlanta Braves, and then, the divisional-rival New York Mets, a move he made in 2003 at age 37.
That all being said, this Mets' foe-turned-friend almost never pitched a game in Major League Baseball, had he made one important decision.
---
Why Tom Glavine Almost Never Pitched in Major League Baseball
Not only was Glavine an outstanding pitcher, but, he was also a hockey star growing up in Concord, Massachusetts. So much so, in fact, that with the 69th pick of the 1984 NHL Entry Draft, the Los Angeles Kings selected Glavine, a center, out of Billerica High School.
With a few signatures on a piece of paper, Glavine could've been headed on a journey to the National Hockey League, instead of Major League baseball.
Now, how good was Glavine? Well, in his final year of high school hockey, he had 44 goals and 85 points in 23 games, according to a profile done on him by NHL.com. The problem was, that same year, he led his team to the Division I North Title and the Eastern Massachusetts Championship in baseball, before ultimately graduating after the whirlwind year.
Glavine had, originally, committed to attend the University of Massachusetts Lowell, because of their strength in baseball and hockey programs, which would've allowed him to continue playing both sports. The Kings drafted him in 1984, and as it turned out, the Atlanta Braves chose to do the same thing, taking him 47th overall.
He had a life-changing decision to make.
---
What Tom Glavine Did Instead of Playing Hockey
As any New York baseball fan knows, Glavine would choose to follow his passion of baseball, not hockey, and would likely come to appreciate the decision he made. He was a Major Leaguer by 1987 at age 21, and a Cy Young Award winner by age 25. He would partner with the likes of Maddux and Smoltz to form one of the most formidable starting rotations in MLB history, and lift the trophy as a World Series champion with his fellow aces in 1995.
The Kings, unfortunately, would never get to benefit from Glavine's services, but still found a way to find a star player in the 1984 draft. In round nine, at pick #171, the Kings would select Luc Robitaille, who was inducted into the Hockey Hall of Fame in 2009.
So, how close did Glavine actually come to becoming a pro hockey player?
Not too close, as he put it. That said, it's pretty fun to think about an alternate reality where this happened, isn't it?
The Ten Most Underrated Heroes in New York Sports History
We all know Jeter, we know Manning, and we know Willis Reed. But, what about the other guys, the quieter heroes, that still made a major impact on New York sports?
25 Years, 25 Pro Athletes Elected to the Hall of Fame with NY Ties
From members of New York sports teams, to residents of the Capital Region and beyond, to some of the best sports stories from the Empire State, here are 25 Hall of Fame nominees from the past 25 years, all with ties to New York state.