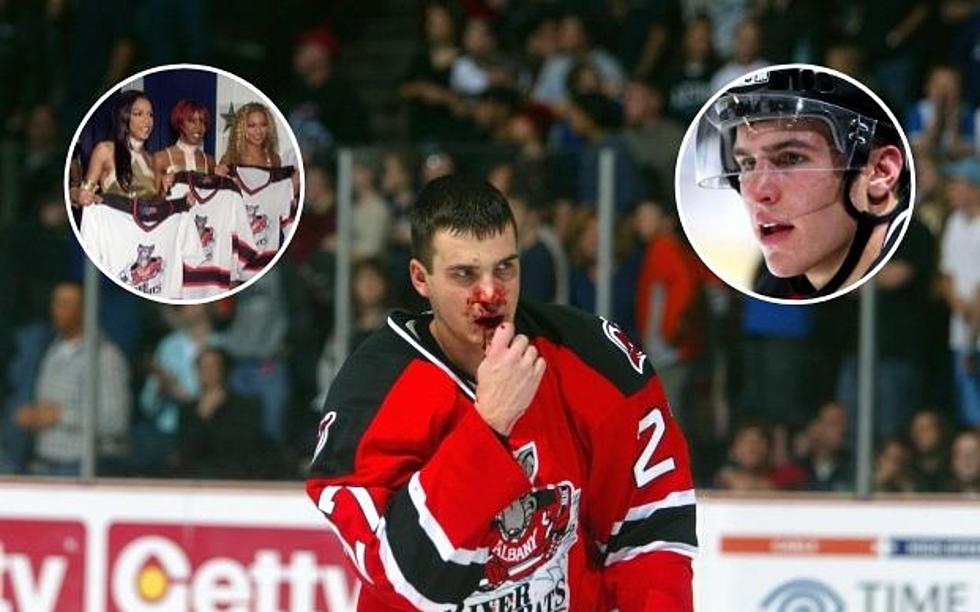 What a Goal! Check Out These Classic Albany River Rats Photos
Getty Images
Dust off your old hockey cards, Albany hockey fans. We're throwing it back to the Golden Era of minor league hockey in the Capital Region.
The Albany River Rats came into existence for the 1993-94 AHL season. Following three seasons as the Capital District Islanders, who played on the RPI campus in Troy, the franchise changed affiliations from the Islanders to the New Jersey Devils, who chose to move the team to the newly-constructed Knickerbocker Arena.
The team hit success soon after, winning the 1995 Calder Cup, and consistently icing one of the most competitive, and toughest, teams in the American Hockey League. The team would continue to churn out the next New Jersey Devils' greats through the turn of the century.
When the NHL entered into a lockout during the 2004-05 season, the AHL ended up benefitting in an unusual way. Players who were willing, and eligible, were able to be "sent" to the AHL, and play the 2004-05 season in the minors. Because of this, NHL mainstays like Dean McAmmond, and promising young prospects like Zach Parise, called the Capital Region home in 2004-05.
We were able to unearth a few photos from the (at-the-time) Pepsi Arena, from game against the Norfolk Admirals on November 12, 2004. Though the River Rats lost 4-2, fans were treated to an exciting game, as always.
Do you remember going to this game? If not, do you remember some of the players on the team? Check out these photos from 2004, and see where some of the River Rats' "can't-miss" prospects ended up in their careers.
What a Goal! Check Out These Classic Albany River Rats Photos
The Albany River Rats called the Capital Region home for close to two decades, and had many memorable moments. Check out these shots from their 2004-05 season.
Ten Capital Region Hockey Players that Made it to the NHL
The Capital Region has a rich history of hockey players turning professional, and with the 2021-22 NHL season now underway, here are ten players from the region with NHL ties.