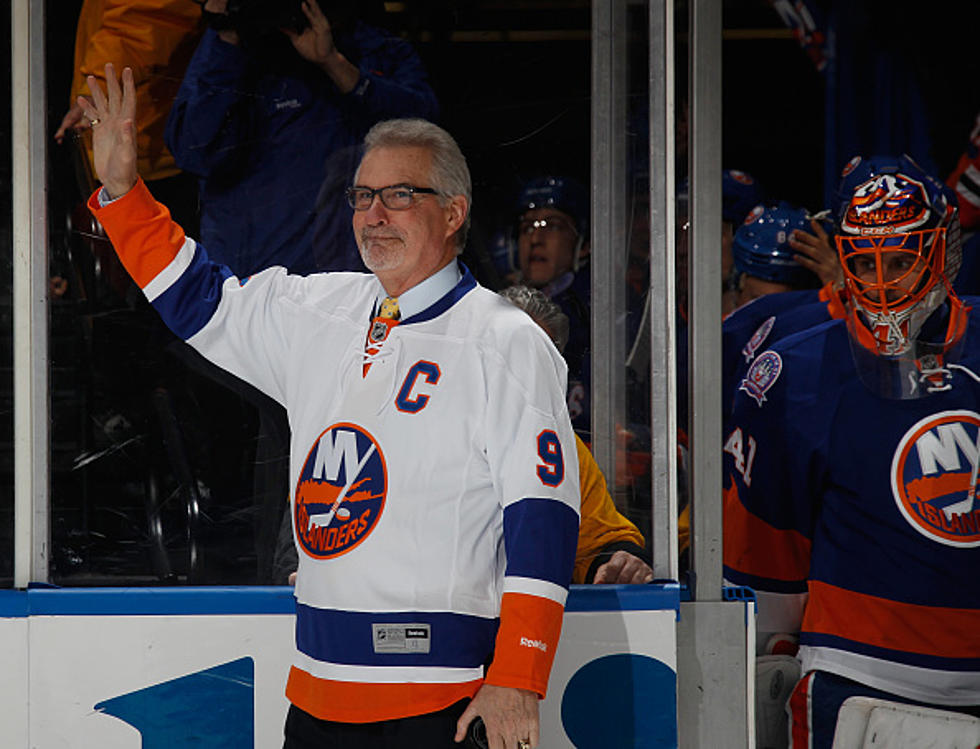 When This New York Islanders Fan Met Number 9
Getty Images
Tuesday on the Drive with Charlie & Dan, New York Islanders' beat writer Andrew Gross from Newsday joined us from the UBS Arena. Andrew is a regular on the show and has tremendous historical knowledge of New York hockey. He also understands the emotional affiliation that Islanders fans have for those four Stanley Cup teams of the early 1980's. I happen to be one of those fans.
It was early in 1980 on Long Island and the Islanders were playing great. The year prior they were knocked out of the semi-finals by their arch nemesis New York Rangers. The Islanders players were rock-stars in my hometown of Garden City. Many of the players, like Hall of Fame defenseman Dennis Potvin, lived there during the season. My house was less than 3 miles from the Nassau Coliseum. When we weren't at Mets games, we were at Islanders games. Blue and orange were the fabric of our lives.
My older brother took me to Roosevelt Field, a shopping mall located about a 3-iron away from the Nassau Coliseum. As we were walking around, I recognized Clark Gillies, the New York Islanders captain at the time. Gillies and I shared a birthday and I walked up to him and let him know. Instead of blowing me off with a quick smile or a handshake, he put his arm around me and asked me where I lived, where I went to school and who my favorite Islander was. I was in heaven. Of course I told him that "he" was my favorite player. I left out the part about his teammate Dennis Potvin actually being my favorite player until that moment.
My brother was not a sports fan but knew who the Islanders were and what they meant to me. He knew that moment meant a lot to me and he thanked Gillies for being so nice. Gillies said "anytime! See ya Charlie!" That moment has been forever branded in my brain.
Clark Gillies left us this past weekend at the age of 67. My older brother that was with me that day passed a few years back or I would have been on the phone with him recounting the story. You don't have to know anything about sports to understand how some athlete's kindness can go a long way. Thanks Clark Gillies for the many happy memories that you brought to New York Islanders fans. Below is our conversation with Andrew Gross about number 9.
Every Country Artist Performing In Upstate NY In 2022
We are set for a big year of Country shows in 2022, and here is a complete list of artists set to perform in 2022 in the Capital Region and all over Upstate New York.