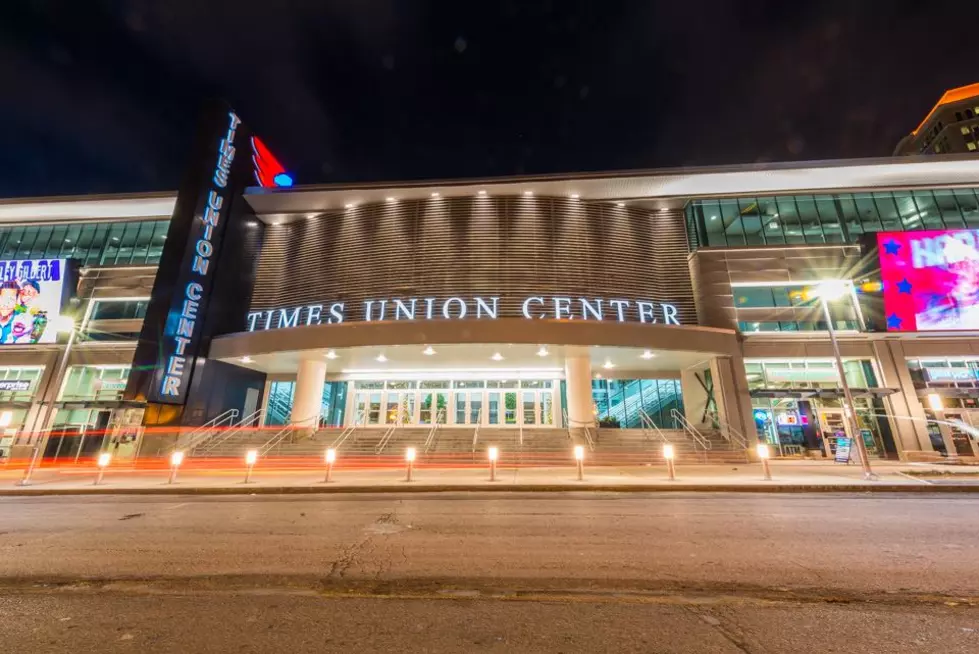 'What's In a Name?' Albany Sports Arena Gets Winning New Moniker
Robert Simmons
Time has officially run out on the Times Union Center.
According to an announcement made by Albany County Executive Dan McCoy, the sports arena in downtown Albany has officially been re-named. The naming rights were purchased by MVP Health Care, and thus, the arena will be known as the "MVP Arena" from here on out.
---
The Arena Opened in 1990 as the Knickerbocker Arena
The doors opened for the Knickerbocker Arena in January of 1990, and according to a post from the Times Union, Frank Sinatra graced the stage and christened the building first.
While under the moniker of Knickerbocker Arena, the venue hosted a number of memorable Capital Region teams, including the Albany Firebirds, the Albany River Rats, and more. It became the official home of the Siena Saints in 1990, as well.
---
The "Pepsi" and "Times Union" Eras Begin and End
From 1997 through 2006, the arena became known as the Pepsi Arena. The Pepsi Arena saw the end of the first Firebirds franchise, the beginning and end of the Albany Attack, and the continuance of the Siena Saints trend.
In 2006, the Arena became known as the Times Union Center, beginning the longest run of a naming rights sponsor in the history of the arena. The "Times Union" era saw a great deal of success, including championships with both Albany Empire franchises.
Now, a new name is on the way.
---
The MVP Arena Era Begins in the New Year
Here's what we know about the naming rights agreement, courtesy of WNYT...
"MVP Health Care will pay $600,000 a year for five years for the naming rights. The new name takes effect on Jan. 1, 2022." - Chris Rooney / WNYT
The venue becomes MVP Arena at a very busy time for Capital Region sports. The Albany FireWolves will be one home game into their tenure as the region's newest National Lacrosse League franchise, and Siena Saints' basketball will be in full-swing.
The arena will also likely continue to play host for the Albany Empire, who will begin their time as an ironman football franchise in 2022.
The Beers Capital Region Sports Fans Can't Live Without
From sours to stouts to IPAs and beyond, every beer drinker has their own taste. Here are a few of the beers that sports fans in the area simply can't live without.
See Photos Of Eli Manning And Other NY Giants Stars Training In Albany
Head coach Jim Fassel and company used the facilities at the University at Albany each preseason for over a decade, as some of the best Big Blue beasts tore it up in the Capital Region before taking the field in the NFL.