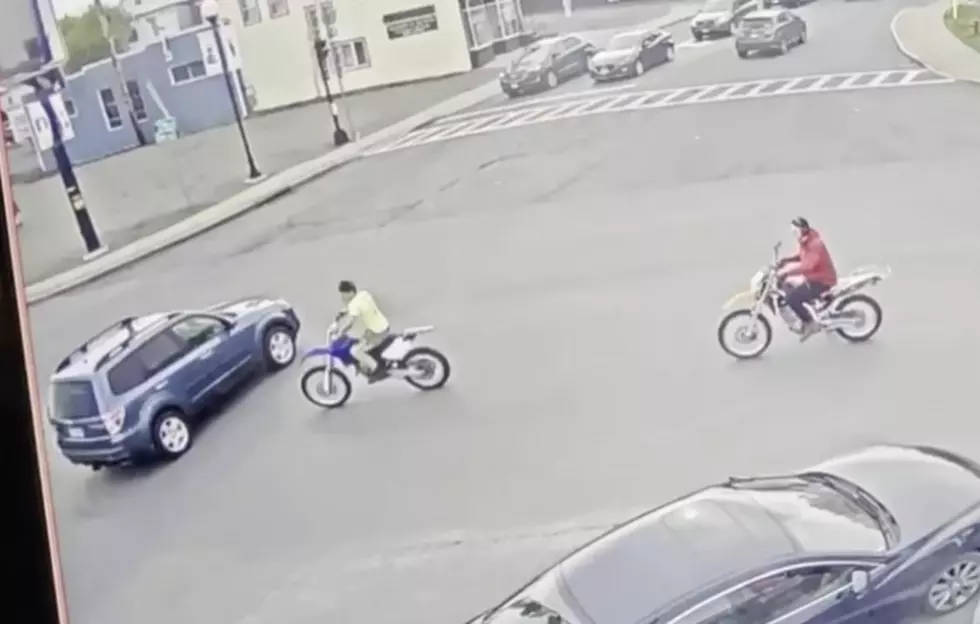 WATCH: Close Call for Illegal Dirt bikers In Albany County
Facebook
It's been an ongoing problem for years in Albany and other Capital Region cities. Now it appears to have spread to Watervliet. People riding dirt bikes illegally on city roads with little to no regard for pedestrians or traffic.
Watervliet Police released this video of two dirt bikers barely evading cars at a busy intersection in the city. The individuals can be seen not stopping and riding directly into oncoming traffic. About five cars, including a CDTA bus come very close to the two bikers.

In a statement on Facebook, Watervliet Police say they are looking for the public's help in order to figure out who they are:
The Watervliet police department are looking to identify the two individuals pictured below in regards to an on-going traffic investigation.

The WPD wishes to remind community members that operating illegal dirt bikes & scooters recklessly on city streets is not only dangerous— it's ILLEGAL! Drivers will be ticketed and illegal dirt bikes will be seized.
Police say riders of illegal dirt bikes or scooters on city streets will be ticketed and their rides could be confiscated as well.
This has become a large problem, especially in the City of Albany. Not to mention, thefts of dirt bikes have also been on the rise over the last couple years. Back in March, one dirt bike owner in East Greenbush caught two thieves on camera stealing dirt bikes from a shed on his property.
[CBS 6]
Unbelievable 'Barn Find' Classic Car Collection in New York