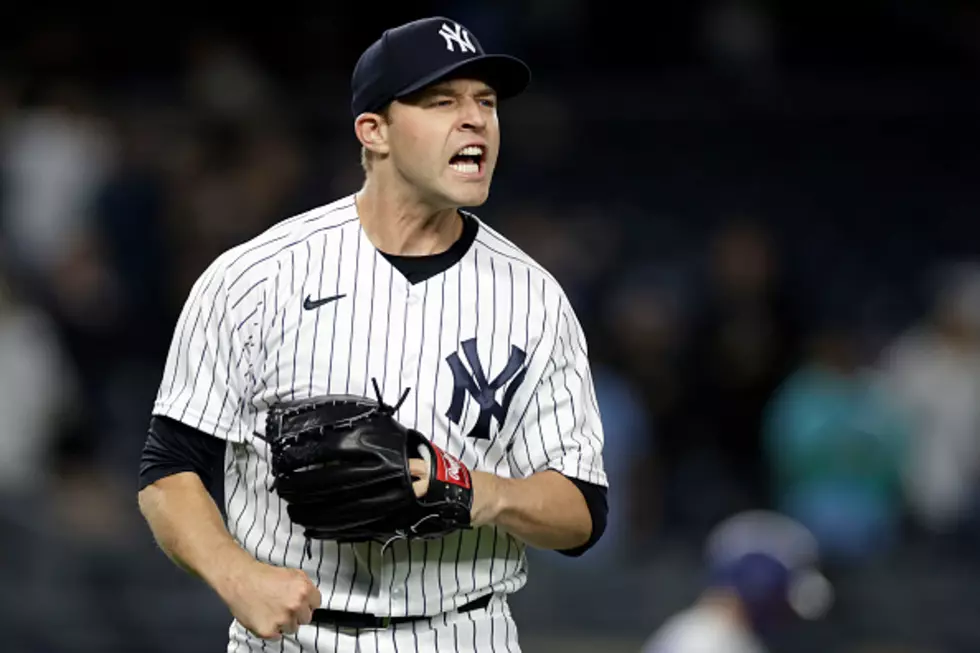 Upstate New Yorker The New King Of The Hill For The Yankees
Getty Images
New York Yankees closer Aroldis Chapman has allowed runs in four straight appearances. Projected 8th inning set-up man, Jonathan Loáisiga has pitched better of late but owns a 5.52 ERA for the season, so far. Lucas Luetge has allowed 5 runs in 9+ innings. Yet, the Pinstripes bullpen is being lauded as one of the best. Why?
Three reasons are, one, Chad Green has been very good. He has allowed 5 earned runs in 14.1 innings. Two, Wandy Peralta has been even better, having allowed just 2 runs in 11 innings. And three, Clay Holmes has been even better than the other two. In 18+ innings he has allowed a mere one run on 12 hits and has struck-out 18. However, those 3 aren't the biggest reason.
So far this season, Michael King, who was born in Rochester, New York but went to high school in Rhode Island, wears the crown in this bullpen. Tuesday night at Camden Yards, King pitched 3 perfect innings, while striking-out six in a 5-4 win over the Orioles. Aaron Boone told Dan Martin of nypost.com, "He's one of the best relievers in the league, especially when you consider the amount of innings we've been able to get from him...Really impact innings."
Michael King's numbers on the season are jaw-dropping. In 25.2 innings, King has allowed only 4 earned runs and struck-out a whopping 37 batters. Coming out of the pen isn't the preference for the 26 year-old out of Boston College. King would like to be in the starting rotation but like any real winner, he accepts his role.
"If (Aaron Boone) thinks I'm valuable out of the pen, I'll gladly do it," King told nypost.com. "If the time comes when he wants me to start, I'll do it. I want to help the team win in as many ways as possible."
With those kind of numbers, along with multi-inning ability to dominate, Michael King provides Aaron Boone with the flexibility that Andrew Miller provided those strong Yankees and Cleveland bullpens. King can be intense and intimidating on the mound. One thing is for sure, when it comes to the bullpen, he is the King of the Hill in the Bronx.
Ten More NY Yankees' Players You Didn't Know Were Arrested
Following up on a previous story, here are ten other members of the NY Yankees' organization who had trouble with the law before, during or after their careers.
Which Capital Region Counties Are Ranked The Healthiest In NY?
Can you live longer depending on where you live? This research says you can and ranks the healthiest counties in New York State. So, we broke it down to the Capital Region.