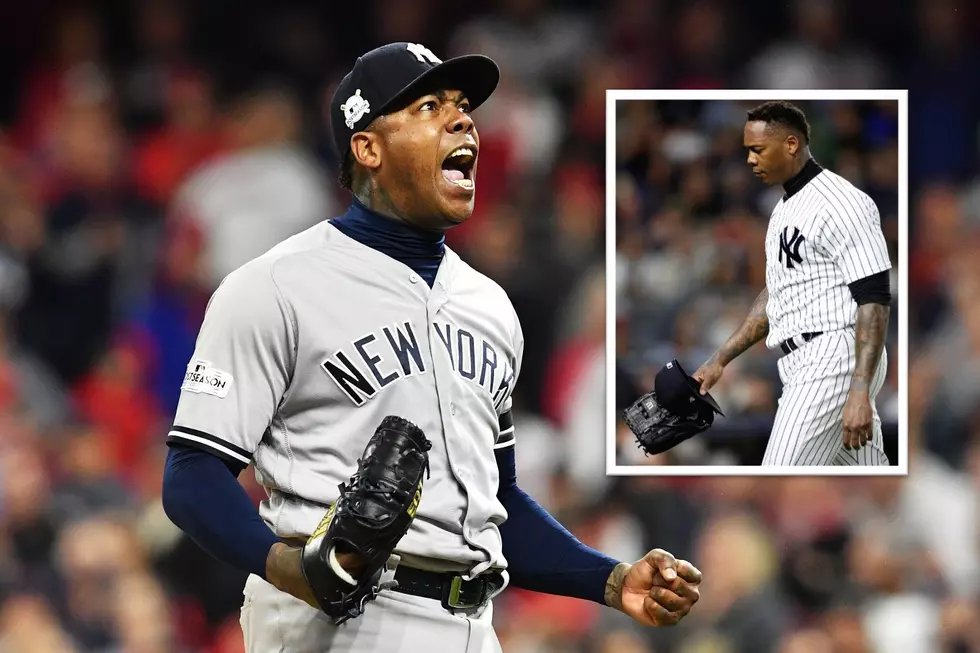 Once a Superstar, This New York Yankees' Career Has Ended in Disgrace
Getty Images
During the mid-2010's, there were few arms in baseball that were more feared, than Aroldis Chapman.
A native of Cuba, the left-handed pitcher made his MLB debut with the Cincinnati Reds in 2010, at age 22. It didn't take long from there for "Chappy" to grow into one of the game's most dominant closers, thanks to a fastball that was touching 104 MPH on the radar gun.
Chapman would soon move to a major market in a trade to the New York Yankees, and after a brief stint in Chicago (where he won a World Series in 2016), he returned to The Bronx, and has been there ever since.
After a dominant April, however, his performance began to slip. Now, a player that was once one of the game's best at what he does, has reached a point where his reputation is damaged beyond repair.
---
Aroldis Chapman Misses Team Workouts; Yankees' Career Likely Over
It all began with a report that Aroldis Chapman had missed a team workout on Friday. USA Today's Bob Nightengale reported that Chapman wanted an assurance from the team that he would be included on the postseason roster.
The team could not give him that guarantee (and why would they?), and Chapman made the decision to remain in Miami instead. According to Nightengale, the team told him he may as well stay down there.
Fast forward to last night, and a report surfaced that Chapman had officially been left off of the Yankees' playoff roster, and with that news in mind, it appears that the career of Aroldis Chapman in New York has officially come to a close.
It appears as though the transgressions that happened this weekend were the latest in a long line of issues between Chapman and the Yankees this season. Sports Illustrated's Max Goodman noted that team general manager Brian Cashman wasn't surprised that Chapman missed workouts, and that the team had its concerns whether Chapman was completely committed to the team this season.
Whatever suspicions New York had, seem to have been proven true this weekend.
It's a shame that it had to end this way, for both parties. Chapman was, by-and-large, a very reliable back-end presence for the New York bullpen in his time in pinstripes. He started to look a bit more, well, human in 2020, and 2021 seemed to continue that trend.
He bounced back with an ERA of 0.00 in the month of April, but an injury derailed his return to form, and from there, it turned from bad to ugly. Following the emergence of Clay Holmes as the team's new closer, Chapman was unable to get comfortable in a non-closer role.
He lost his feel for the strike zone, and no longer had the trust of the team in any high-leverage situation. Couple the drop in performance with the seeming lack of commitment to his teammates, and Aroldis Chapman's tenure in New York has officially come to an end in disgrace.
What's next for Chapman remains to be seen, but we can say this: it's all but a guarantee that it won't happen in The Bronx.
Ten Tough Roster Choices for New York Yankees Ahead of Playoffs
The New York Yankees have a wealth of talent on their roster, but with depth, comes tough decisions ahead of the playoffs. Which players are on "the bubble"?
The Ultimate Rankings! Which Franchise Do Albany, NY Fans Love Most?
The results are in on one of the Capital Region's biggest sports debates: which sports franchise do Albany fans love the most? We finally have answers.