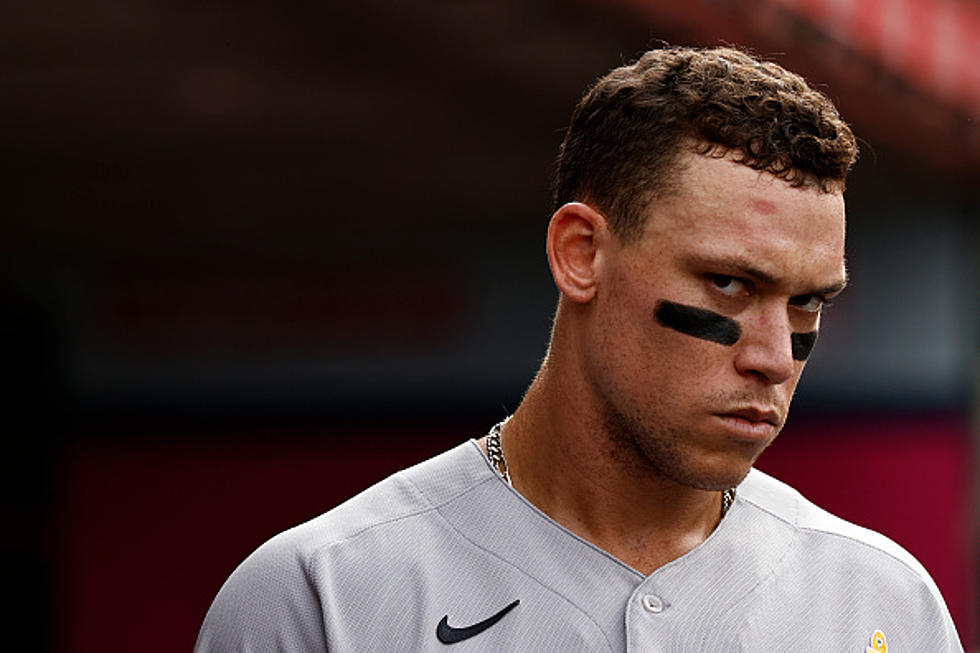 Time Ticks As New York Yankees Fans Wait On Judge's Decision
Getty Images
His loyal followers wear number 99 for a reason. In the physical and satirical sense, Aaron Judge is larger than life. For many 2022 New York Yankees fans, the 6' 7" right-fielder represents the greatness of this storied franchise.
In a few short years, Judge has established himself with the fanbase in the same way that Derek Jeter did before him. Now the 29-year-old is expecting to get paid or he is going to be a free agent. Bronx Bombers fans are on pins-and-needles as the 3-time All Star gave the Yankees until Opening Day to negotiate a new contract.
ESPN's Buster Olney was on The Drive with Charlie & Dan on Thursday and wasn't overly confident that the Yankees would get a deal done. Buster said that Judge is expecting to get paid fairly and if the offer doesn't meet his standards, then he will walk. Olney expects the Pinstripes offer to Judge to exceed $200 million.
However, given the comparable recent contracts of players with similar statistics to Judge, like Kris Bryant (7 yrs for $182 million) the Yankees may not offer Judge anywhere near what the player expects. Don't forget general manager Brian Cashman's last negotiation with Derek Jeter. It wasn't pleasant for The Captain. Olney said that sources on both sides are mum. This is going to be an important negotiation for both sides.
On one side, there are a ton of question-marks that surround Aaron Judge. Yes, 2021 was terrific but in each of the 3 prior seasons, Judge missed over 33% of the regular season. He has a big, muscular frame and could be prone to injuries. It is tough for a team to invest large dollars into players with long medical histories.
On the other hand, how can you let 99 go? Judge is your most popular player and has potential through the roof. He had a monster year last year with 39 homers and 98 RBI's with 89 runs scored. That is a ton of run production. What's that worth? Will find out on Friday. Fingers crossed that it's good news.
10 Capital Region Golf Courses You Can Play For Under $40
Taking a look around the Capital Region at some of New York's finest public golf courses, I was able to find more than a few that won't break the bank. Check out these affordable options, so you can save and play the links more often!
New York Colleges That Made The Top 50 Most Expensive In America
CBSNEWS.com did a Top 50 Most Expensive Colleges and Universities in America. Let's see which New York colleges made the list.
See Bob Weir At New York's Radio City Music Hall For His "Ace" Album 50-Year Celebration
Bob Weir & The Wolf Brothers came to New York's Radio City Music Hall to celebrate 50 years since the release of his solo "Ace" album, which included such Grateful Dead staples as Playin' In The Band, Looks Like Rain and Mexicali Blues. The two night run April 2nd and 3rd featured special guests and sold out performances.