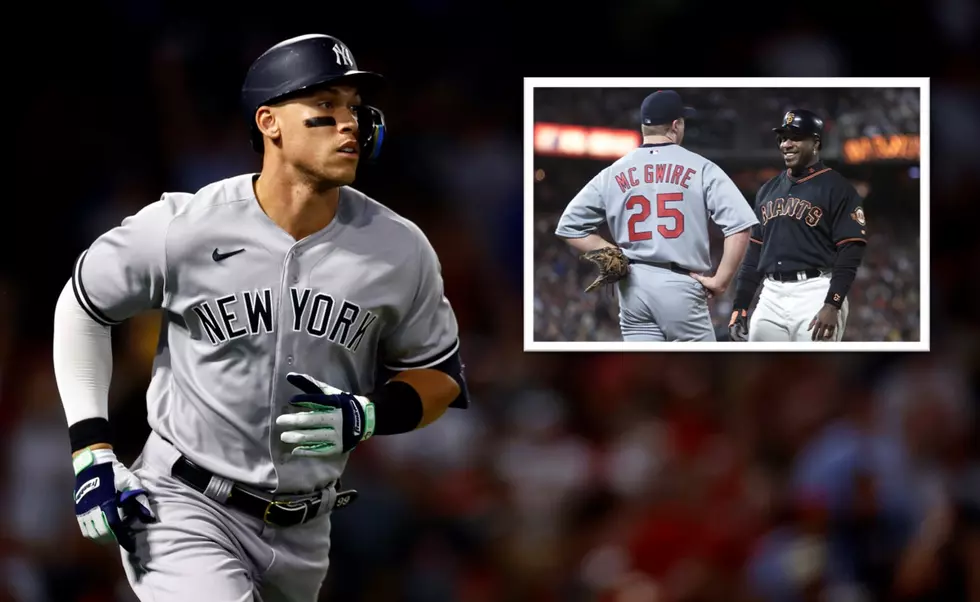 These 21 Players Stand Between a NY Yankees' Star and His Date with History
Getty Images
Aaron Judge is having a season like few others before him in 2022.
Heading into the final year of his contract with the New York Yankees, Judge chose to gamble on himself. He did not sign the contract extension that was offered by New York ahead of this season, opting to let his performance speak for itself, with the hopes of cashing in as a free agent after the conclusion of the year.
As of August 31st, that's exactly what he's doing.
Not only is Judge having an All-Star, MVP-caliber season for the New York Yankees, he's currently on a historic pace. Judge has 51 home runs before the month of September has even begun, and he's one of only a handful of players in MLB history to achieve that feat.
Now, he's got his sights set on a few Major League Baseball records.
The record that most baseball fans are talking about now, is the single-season home run mark set by Roger Maris. His 61 long-balls in 1961 is widely regarded as the *true* single-season home run record, as those who have hit more than him in a season have all been linked to steroid use at some point in their careers.
So, the question now becomes: how high can Aaron Judge fly in 2022?
In order to crack the records books, Judge is going to have to leap-frog quite a few baseball superstars in order to do so. From Babe Ruth in the 1920's, through Pete Alonso in 2019, there are quite a few notable names that stand between Aaron Judge and a date with history.
Here are all of the players who have hit more home runs in a single season than Aaron Judge, all of whom the Yankees' slugger hopes to see in his rearview mirror in the coming days and weeks.
New York Yankees' Star Must Hurdle These Legends for Home Run Glory
Aaron Judge is pursuing home run history for the New York Yankees, but he must hurdle some of baseball's biggest legends to get to the top of the leaderboard.
Can't Touch This! Ten New York Sports Records That Won't Be Broken
Sports records are made to be broken, but in these cases, New York athletes have set records that are so impressive, they won't be broken anytime soon.