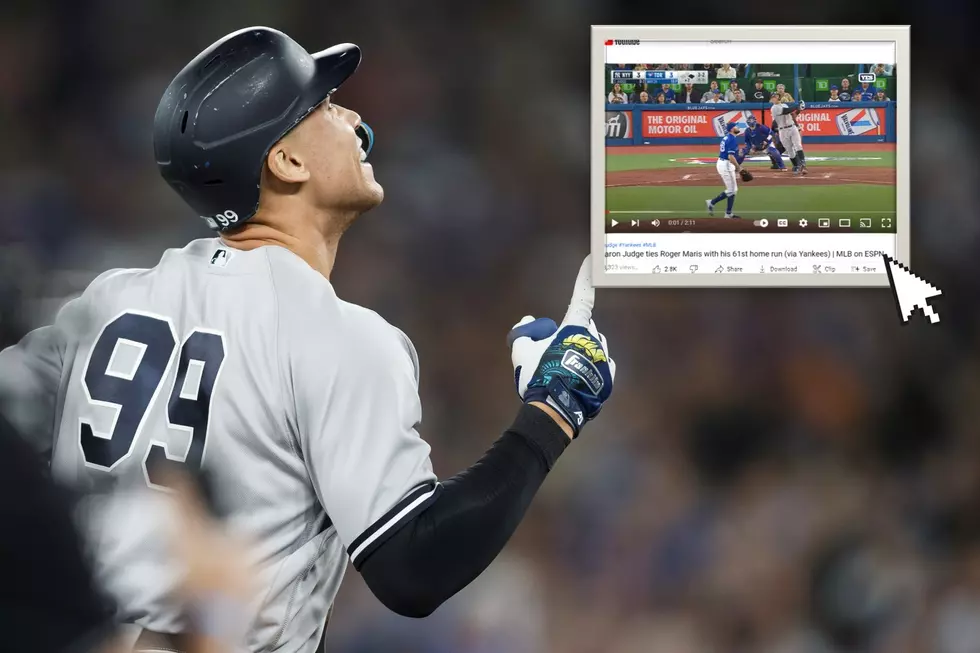 61-in-One: Watch Every Blast from Judge's Historic Season in New York, In Order
Getty Images / YouTube (ESPN)
Aaron Judge has finally done it.
As my colleague and co-host Charlie Voelker wrote on Wednesday evening, Aaron Judge drove a baseball deep to left field against the Toronto Blue Jays, which flew over the fence for a home run, his 61st of the 2022 season. In hitting this long ball, Judge tied Roger Maris for the America League single-season home run record, which was set 61 years ago, in 1961.
Some baseball fans would also argue, that what we just witnessed Wednesday night, was the tying of the *actual* single-season home run record. Players who have hit more home runs than Judge and Maris have all been linked to the steroid era in baseball, and some believe those statistics shouldn't be counted in the record books.
Either way, the baseball world witnessed history on the eve of September 28th, and we've put together his "path to history" for you to re-live right here.
---
Watch Every Aaron Judge Home Run from 2022, In Order, Here
Through Major League Baseball's official YouTube page, we were able to find all 61 of Aaron Judge's home runs from the 2022 season, and put them together for you to watch.
It's a remarkable feat, accomplished by a pretty remarkable player, who will undoubtedly be given a remarkable contract at the end of this season. Whether it's from the New York Yankees or not remains to be seen, but for the time being, Yankees' fans should continue celebrating the history that's being made in their uniform.
What I find remarkable about this compilation of videos, is the variety of home runs that Judge has hit this season. Some are his trademark "Judgian blasts" deep into the night, while others fall into the "line drive" category. Most go to left field, but an impressive amount go to right field, showing the complete hitter that Judge has become in his career.
Take a look through the list while you have the chance, because odds are, we'll be adding to it in short order as the regular season wraps up.
---
No. 1 through No. 30:
No. 31:
No. 32 and No. 33:
No. 34:
No. 35:
No. 36:
No. 37:
No. 38:
No. 39:
No. 40:
No. 41:
No. 42:
No. 43:
No. 44:
No. 45:
No. 46:
No. 47:
No. 48:
No. 49:
No. 50:
No. 51:
No. 52:
No. 53:
No. 54:
No. 55:
No. 56:
No. 57:
No. 58:
No. 59:
No. 60:
No. 61:
New York Yankees' Star Must Hurdle These Legends for Home Run Glory
Aaron Judge is pursuing home run history for the New York Yankees, but he must hurdle some of baseball's biggest legends to get to the top of the leaderboard.