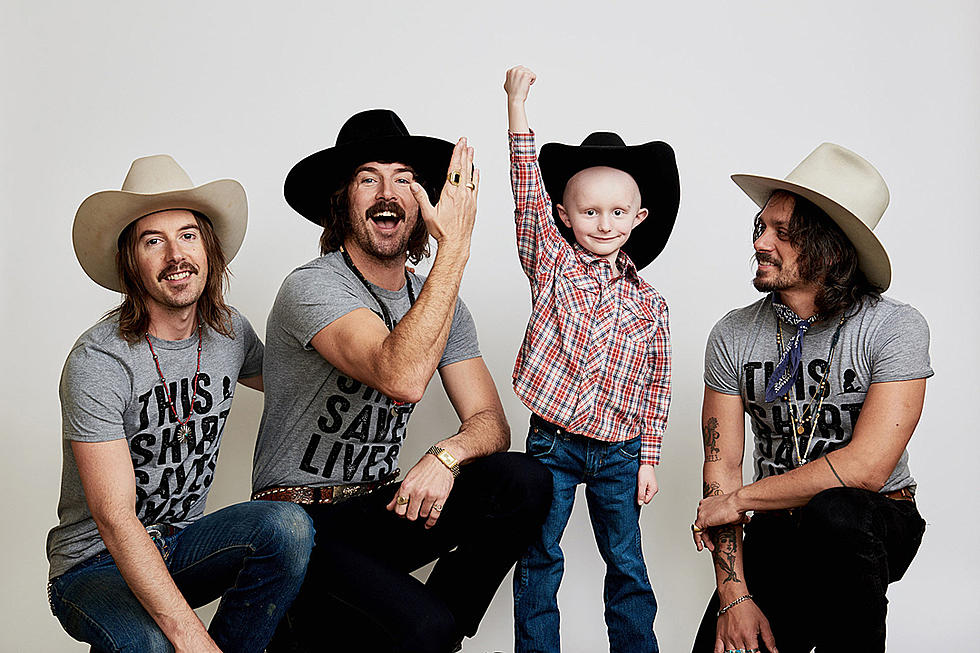 St. Jude Country Cares Wall of Hope 2019
John Shearer
Our St. Jude Wall of Hope helps bring attention to and honor our audience for becoming Partners in Hope during the 2019 St. Jude Country Cares Radiothon presented by Dom's Pizza, Subs and Wings.
Become a Partner in Hope today by pledging $20 a month in 2018 to help kids at St. Jude fight and beat cancer. St. Jude helps find cures and save lives and no family ever pays for treatment, travel, or housing because families should only have to focus on getting their child the care they need.
The Wall of Hope will be updated periodically during the St. Jude Country Cares Radiothon February 7 and 8, 2019.
You can also donate by phone by calling the Northeast Pest Control Phone Bank at: 1-800-995-5257
Your 2019 Partners in Hope:
| | | |
| --- | --- | --- |
| Alexis | ALBANY | NY |
| Alieca | Broadalbin | NY |
| Alisha | Clifton Park | NY |
| Allison | TROY | NY |
| Alyssa | Hoosick Falls | NY |
| Alyssa | Delanson | NY |
| Alyssa | Clifton Park | NY |
| Amanda | Lee | MA |
| Amanda | Gloversville | NY |
| Amber | Saratoga Springs | NY |
| Amy | Schenectady | NY |
| Andrew | Ballston Spa | NY |
| Angela | Greenwich | NY |
| Ann | Albany | NY |
| Anne | Halfmoon | NY |
| Anthony | CLIFTON PARK | NY |
| Arlene | Salem | NY |
| Ashley | PETERSBURG | NY |
| Ashley | Troy | NY |
| Ashley | HOOSICK FALLS | NY |
| Bobbi | LAKE LUZERNE | NY |
| Brandon | GLENS FALLS | NY |
| Brenda | SELKIRK | NY |
| Brian | Adams | MA |
| Brian | ALBANY | NY |
| Brian | Cropsville | NY |
| Brian | Philmont | NY |
| Brian | Schenectady | NY |
| Brianne | COXSACKIE | NY |
| Brien | Halfmoon | NY |
| Brooke | CORINTH | NY |
| bruce | Rensselaer | NY |
| Bruce | Albany | NY |
| Bryan | Ballston Spa | NY |
| Carly | Altamont | NY |
| Carole | Pownal | VT |
| Caroline | CLIFTON PARK | NY |
| Carolyn | Nassau | NY |
| Carrie | Castleton on Hudson | NY |
| Casee | BALLSTON LAKE | NY |
| Casey | Albany | NY |
| Casey | Schenectady | NY |
| Cassandra | Mayfield | NY |
| Charles | Albany | NY |
| Chrissy | Cohoes | NY |
| Christie | Duanesburg | NY |
| Christina | Gansevoort | NY |
| Chuck | Argyle | NY |
| Cindy | Fort Edward | NY |
| Cindy | Greenwich | NY |
| Colleen | Granville | NY |
| Colleen | BALLSTON SPA | NY |
| Corinne | Buskirk | NY |
| Craig | West Sand Lake | NY |
| Crista | North Adams | MA |
| Cynthia | Halfmoon | NY |
| Dan | Catskill | NY |
| Daniel | Pittsfield | MA |
| David | Cambridge | NY |
| Dawn | Schuylerville | NY |
| Dawn | Pittsfield | MA |
| Debbie | Esperance | NY |
| Debbie | Castleton on Hudson | NY |
| Debbie | Rensselaer | NY |
| Deborah | Pittsfield | MA |
| Deborah | BALLSTON SPA | NY |
| Debra | Rensselaer | NY |
| Denise | Pittsfield | MA |
| Denise | Pittsfield | MA |
| Dennis | Ballston Spa | NY |
| Dianne | Waterford | NY |
| Dominica | Averill Park | NY |
| Donna | Albany | NY |
| Donna | Schenectady | NY |
| Doris | Cohoes | NY |
| Dorothy | Schenectady | NY |
| edward | Amsterdam | NY |
| Elizabeth | Housatonic | MA |
| Elizabeth | Amsterdam | NY |
| Elizabeth | Watervliet | NY |
| Emily | Latham | NY |
| Emily | CLIFTON PARK | NY |
| Emmie | Summit | NY |
| Erica | Chatham | NY |
| Erika | Averill Park | NY |
| Erika | Schenectady | NY |
| Erin | Saratoga Springs | NY |
| erin | WESTERLO | NY |
| Fred | Schenectady | NY |
| Fred | Greenfield Center | NY |
| Gerianne | Averill Park | NY |
| Hayden | NORWICH | NY |
| Heather | GLENMONT | NY |
| Herman | Gloversville | NY |
| Hillary | ARGYLE | NY |
| Ian | Halfmoon | NY |
| Ingrid | Middleburgh | NY |
| Jack | HALFMOON | NY |
| Jacquelynn | Waterford | NY |
| James | Ballston Lake | NY |
| James | Cobleskill | NY |
| James | Dalton | MA |
| Jamie | Troy | NY |
| Jana | South Glens Falls | NY |
| Jared | Fort Ann | NY |
| Jason | Glens Falls | NY |
| Javier | Albany | NY |
| Jay | Schenectady | NY |
| Jeff | Watervliet | NY |
| Jeffrey | North Adams | MA |
| Jeffrey | DALTON | MA |
| Jenn | Schenectady | NY |
| Jennifer | Clifton Park | NY |
| Jennifer | Nassau | NY |
| Jennifer | Rensselaer | NY |
| Jennifer | BALLSTON SPA | NY |
| Jessica | Albany | NY |
| Jessica | Sharon Springs | NY |
| Jessica | Corinth | NY |
| Jessica | GLENVILLE | NY |
| Jessica | Corinth | NY |
| Jim | Saratoga Springs | NY |
| Joanna | Niskayuna | NY |
| Joanne | Rensselaer | NY |
| Jody | Broadalbin | NY |
| John | Porter Corners | NY |
| Joseph | Rensselaer | NY |
| Josh | Cohoes | NY |
| Joshua | Latham | NY |
| Judy | Rensselaer | NY |
| Julie | CLIFTON PARK | NY |
| Julie | SARATOGA SPRINGS | NY |
| Katherine | Mechanicville | NY |
| Kathy | Fort Edward | NY |
| Katie | Burnt Hills | NY |
| Katie | New Marlborough | MA |
| Katy | Fort Edward | NY |
| Kayla | Gansevoort | NY |
| Keith | Averill Park | NY |
| Kelli | BALLSTON SPA | NY |
| Kelly | Catskill | NY |
| Kelly | SOUTH GLENS FALLS | NY |
| Ken | Palenville | NY |
| Kevin | Albany | NY |
| Kim | Pittsfield | MA |
| Kim | Selkirk | NY |
| Kim | Bennington | VT |
| Kimberley | Pownal | VT |
| Kimberley | Cheshire | MA |
| Kimberly | Berne | NY |
| Kimberly | Queensbury | NY |
| Kimberly | Glens Falls | NY |
| KIMBERLY | GLOVERSVILLE | NY |
| Kip | Fleischmanns | NY |
| Kriscinda | SPECULATOR | NY |
| Kristy | HALFMOON | NY |
| Kurtiss | Rensselaer | NY |
| Laura | Berne | NY |
| Laurie | Clarksburg | MA |
| Laurie | Albany | NY |
| Laurie | Delanson | NY |
| leann | Adams | MA |
| Lenny | Catskill | NY |
| Linda | Becket | MA |
| Linda | Clifton Park | NY |
| Lindsay | Troy | NY |
| Lisa | Westerlo | NY |
| Lisa | Latham | NY |
| Lisa | Pittsfield | MA |
| Lori | Petersburg | NY |
| Lori | Cohoes | NY |
| Lori | Clarksburg | MA |
| Lynn | Clifton Park | NY |
| Lynn | Savoy | MA |
| Madison | Troy | NY |
| Marcia | BALLSTON LAKE | NY |
| Margaret | Hoosick Falls | NY |
| Marianne | Pittsfield | MA |
| Marion | Selkirk | NY |
| Mark | Johnstown | NY |
| Mark | Albany | NY |
| Mary | North Adams | MA |
| Mary | Saratoga Springs | NY |
| Mary | Albany | NY |
| Maryann | ALBANY | NY |
| Maryann | Schenectady | NY |
| MaryAnne | Galway | NY |
| Matt | Watervliet | NY |
| Maura | Albany | NY |
| Maureen | Latham | NY |
| Megan | WHITEHALL | NY |
| Megara | Catskill | NY |
| Melissa | Ballston Lake | NY |
| Melissa | Delanson | NY |
| Michael | Broadalbin | NY |
| Michael | Greenwich | NY |
| Michele | CAIRO | NY |
| Michele | ALBANY | NY |
| Michelle | Schenectady | NY |
| Minton | Germantown | NY |
| Nadine | Sand Lake | NY |
| Nancy | Watervliet | NY |
| Nancy | Schenectady | NY |
| Naomi | LEE | MA |
| Nathaniel | NORTH LAWRENCE | NY |
| Nelson and Barbara | Pittsfield | MA |
| Nicole | Schenectady | NY |
| Nicole | East Worcester | NY |
| Nicole | Berne | NY |
| Pat | Lee | MA |
| Patricia | CLIFTON PARK | NY |
| Patricia Randy | Central Bridge | NY |
| Patti-Jean | Bennington | VT |
| Paul | Troy | NY |
| Paul | Bennington | VT |
| Paula | Summerville | SC |
| Peter | PITTSFIELD | MA |
| Rachael | Schenectady | NY |
| Raphael | Hudson | NY |
| Rebecca | HUDSON FALLS | NY |
| Rebecca | Catskill | NY |
| Richard | Rexford | NY |
| Rick | Gloversville | NY |
| Robert | Albany | NY |
| Robert | Albany | NY |
| Robert | Cobleskill | NY |
| Robert | Shaftsbury | VT |
| Rosanne | Albany | NY |
| Rose | Argyle | NY |
| Rose Marie | RAVENA | NY |
| Ryan | New Baltimore | NY |
| Ryan | Rensselaer | NY |
| Ryan | Amsterdam | NY |
| Sal | Schenectady | NY |
| Sally | Valley Falls | NY |
| Shania | Schenectady | NY |
| Shannon | Cropseyville | NY |
| Shari | SCHENECTADY | NY |
| Sharon | Schenectady | NY |
| Sharon | Ballston Spa | NY |
| Sheila | Mellenville | NY |
| Sheri | Albany | NY |
| Sherry | Wynantskill | NY |
| Shirley | Saratoga Springs | NY |
| Simone | COHOES | NY |
| Stacey | CLIFTON PARK | NY |
| stacie | Clifton Park | NY |
| Stacy | Fort Plain | NY |
| Stephanie | HALFMOON | NY |
| Stephanie | QUEENSBURY | NY |
| Stephen | Saratoga Springs | NY |
| Steve | Pittsfield | MA |
| Susan | Schenectady | NY |
| Susan | Ballston Spa | NY |
| Tamara | HOOSICK FALLS | NY |
| Tammy | Valley Falls | NY |
| Tammy | Ballston Lake | NY |
| Tammy | CRARYVILLE | NY |
| Tara | Albany | NY |
| Taylor | DALTON | MA |
| Teresa | Schenectady | NY |
| Terry | Schenectady | NY |
| Theresa | Hudson Falls | NY |
| Theresa | Schoharie | NY |
| Theresa | Schoharie | NY |
| Theresa | SCHOHARIE | NY |
| Theresa | Schenectady | NY |
| Thomas | Hagaman | NY |
| Tim | RENSSELAER | NY |
| Timothy | Middleburgh | NY |
| Timothy | Johnstown | NY |
| Timothy | Johnstown | NY |
| Tracey | EAST GREENBUSH | NY |
| Tracey | TROY | NY |
| Tracy | Schenectady | NY |
| Travis | East Durham | NY |
| TROY | SCHENECTADY | NY |
| Vicki | Shushan | NY |
| Victoria | Delmar | NY |
| vincent | Averill Park | NY |
| Wayne | Hoosick Falls | NY |
| Wendy | Hadley | NY |
| William | DELANSON | NY |