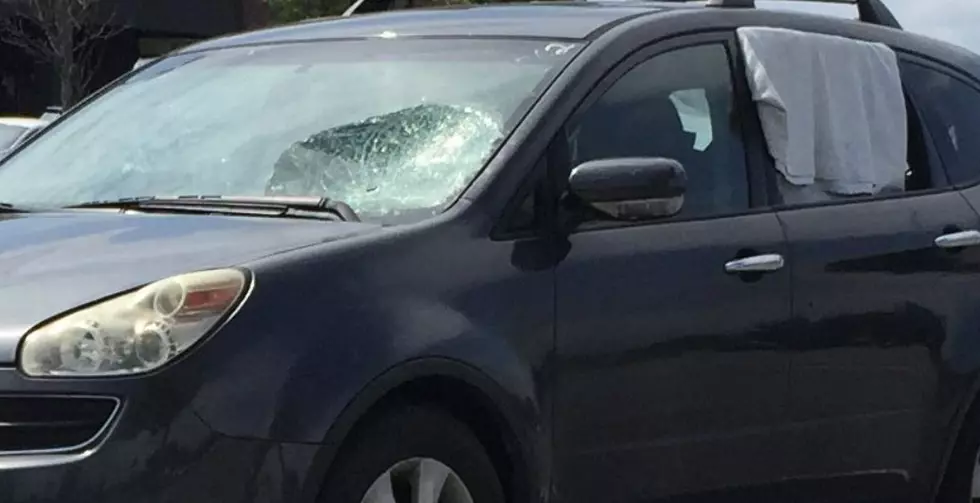 Smashed Vehicle Still On Capital Region Roads [PICS]
Brian Cody, Townsquare Media
I saw this car stopped at a gas station three weeks ago and I can't understand why it is still driving around the Capital Region. How is this car still on our roads? A listener sent in photos of the same smashed up vehicle that she alerted the police to. She stuck around when the police arrived. I was at a Speedway gas station on Route 9 in Latham about three weeks ago and noticed this vehicle and its occupants pumping gas. When I drove by, the car was a total wreck. The windshield was smashed in on the driver's side, both back passenger windows had old plastic taped over them, and the back window was completely smashed out. It had New Jersey plates and it just didn't look right. So I called the Colonie Police non-emergency number to report it. I didn't stick around to see what happened.
The next day we talked about it on the show and other listeners had seen the same vehicle and weren't sure how the driver was able to even see out of the windshield let alone drive on the Thruway. Another listener said he saw it pulled over by a New York State Trooper on the Northway.
Fast forward to Monday when another listener, named Char, told me she saw the same vehicle in the parking lot of Colonie Center. She said she knew it was the vehicle I had called in because she was listening to the show and it was exactly how I had described it. She also said there was a man sleeping in the back seat hanging out of the car and she wasn't sure if he was sleeping or dead. She called the police and waited for them to come.
Char said that the officers questioned the people in the vehicle and spoke to them for a while. When asked about the windshield, they said that they had hit a deer. The police told them that they couldn't loiter in the Colonie Center parking lot and they were told to leave. Char thought they may call for a tow truck and impound the vehicle but they didn't.
How can these people drive with the windshield smashed like it is?
Have you seen this vehicle driving around the Capital Region?
Enter your number to get our free mobile app
UP NEXT: See how much gasoline cost the year you started driving