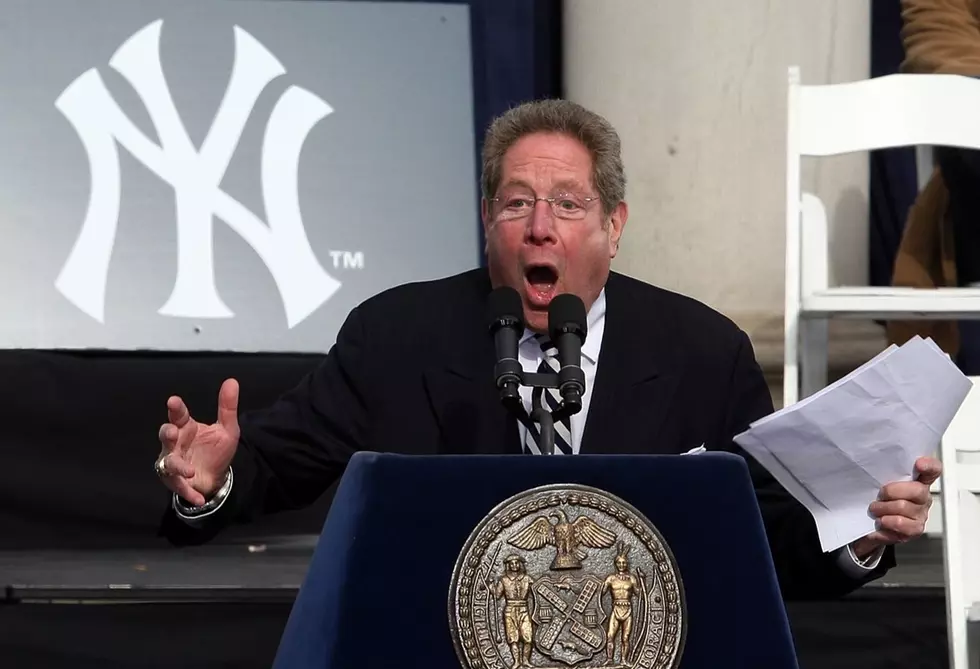 NY Yankees Fans! Which 'Sterling Slip-Up' is Your Favorite? [WATCH]
Getty Images
"Struck him out! Ballgame over! Yankees win! THAAAAAAAAAAA...YANKEES...WIN!"
Every New York Yankees' fan, and most baseball fans in the northeast, know exactly what I'm talking about, and who I'm talking about. The quote above is from the venerable John Sterling, who has brought Yankees' games to life as the team's broadcaster since 1989.
Sterling has golden pipes, and has used said pipes to bring countless momentous occasions to life for the Bronx Bombers. From Mattingly to Mariano and beyond, if there's a big spot where a New York Yankees' player comes through in the clutch, odds are, John Sterling told you about it.
Even the best broadcasters, however, make mistakes. I've made my fair share, and I'm 23 years old, and aside from my parents, there are very few people who know about them. Sterling, however, has been on the biggest stage for decades, so when something doesn't quite come out right, people will talk about it.
Plus, some of them are just plain funny, too.
I find it important to include this note. I have the utmost respect for John Sterling, and here's why. Despite being a Boston Red Sox fan, I am also a fan of baseball, and of sports broadcasting. The play-by-play industry can be a bit cookie-cutter and lifeless at some points, and John Sterling is anything but that. He's a legend of the booth, a legend of the Yankees, and deserves respect for the legacy he's build for himself.
That being said, let's take a look back at some of his memorable missed calls, and see which ones Yankees' fans remember most, for better or for worse.
---
"Because Stanton Caught the Ball"
I'll start with the most recent one, and the example that made me decide to write this story. Instead of a Stantonian blast causing chaos in the booth, it was Giancarlo Stanton robbing an extra-base hit that caused the confusion this time around.
---
"It is GONE...But Caught"
In the Yankees' season opening series against the Red Sox, this time, Stanton was on the wrong side of the robbery, and the call from John Sterling.
---
"Now, What Did I See Wrong?"
It's just something about Stanton. The guy hits the ball so hard, that if you lose sight of it, you might as well assume that it's gone anyway. In this case, John Sterling was the voice of most Red Sox fans, who expected to see that ball on the Mass Pike.
---
"Unfortunately, That Was a Replay of the Home Run"
We take a break from our regularly-scheduled Giancarlo Stanton clips to bring you a clip, of a clip, of Aaron Judge, and a priceless reaction to it by John and Suzyn during their pandemic-related absence from visiting stadiums.
---
And Last, But Certainly Not Least...
A few compilations to check a few other boxes for John and Suzyn.
Re-live The Glory Days with This Old Yankee Stadium Virtual Tour
The "Old" Yankee Stadium may be gone, but plenty of photos and videos of the classic ballpark still exist. Re-live its history and lore through this virtual tour.
The Ten Most Underrated Heroes in New York Sports History
We all know Jeter, we know Manning, and we know Willis Reed. But, what about the other guys, the quieter heroes, that still made a major impact on New York sports?