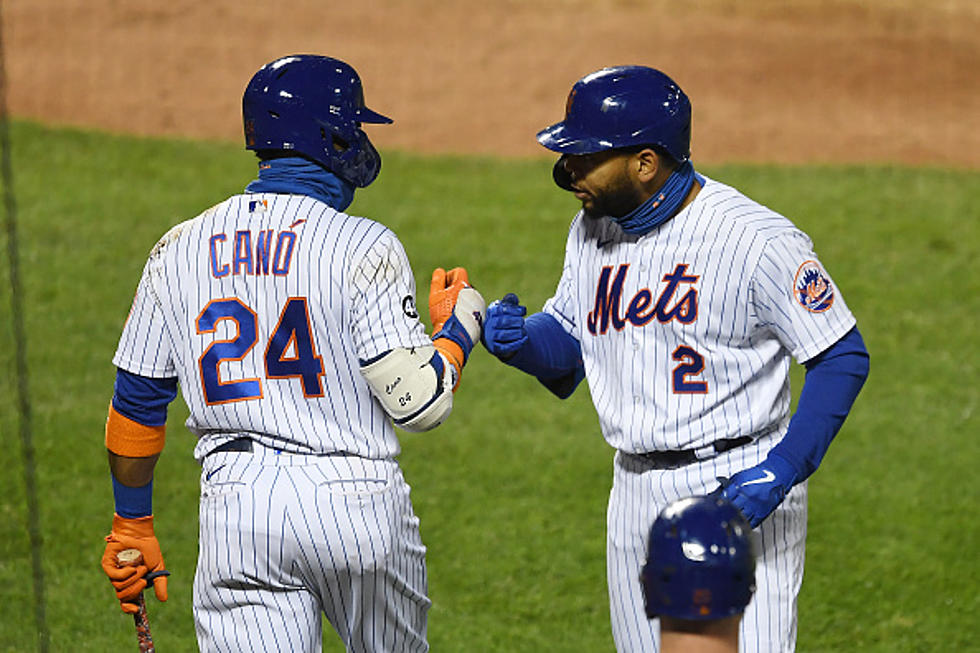 New NL Rule! So Who Should Be The New York Mets DH For 2022?
Getty Images
On Thursday, MLB commissioner Rob Manfred announced the adoption of the universal DH rule for 2022. Now National League pitchers will no longer have to hit. So, who will fill that role with the Mets? Given the New York's endlessly deep pockets, thanks to billionaire owner Steve Cohen's determination to bring a winning team to Cit Field, there are quite a few roads to pursue an answer. The Amazin's have several internal designated hitter options, given the number of defensively challenged players that fill their current 40-man roster. At times, superstar right-handed pitcher Jacob deGrom has been the best hitter in the Mets line-up, making this question even more interesting.
Let's start with internal options. I guess the best place to begin there is with the giant albatross left by former general manager, Brodie Van Wagenen and that would be Robinson Cano. Cano is owed $40 million over the next two seasons and even a billionaire doesn't enjoy chucking that kind of cash away. My concern is Cano's steroid use and the fact that he is always injured. The two seem to go hand and hand for many players. Could Cano blow it up as the lefty DH for the Mets? Maybe. Is that a very long shot? I believe it is. Cano will be 39 this year. He hasn't hit 20 home runs since he was 34 years-old. Buck Showalter could help Cano, if there is anything left in the tank.
Another left-handed DH option internally for the Mets will be 26 year-old, Dominic Smith. The lefty from California has been stuck behind Pete Alonso at first base and maybe the DH position will help him stay in the line-up. Buck Showalter could be a gift to Dom Smith to unlock his potential. In 2020, Smith hit .316 and had a whopping .993 OPS. Those are some impressive numbers within the young hitter. With the addition of two new outfielders, Dom is limited in his options to get in the line-up. If he doesn't secure at least half of the DH role, Dom may be playing somewhere else in 2022.
The right-handed favorite to secure the designated hitter spot is JD Davis. The 28 year-old hammered 22 homers in 2019. However, JD's limitations in the field have kept him out of the line-up. I have always felt that the designated hitter role fits him perfectly. My suggestion to the Mets would be to give Davis a legitimate chance to make this role his own. This is another player that will benefit greatly from the tutelage of Buck Showalter.
If general manager Billy Eppler wants to make a splash with his new bosses, he may take a chance on 41 year-old designated hitter extraordinaire, free agent Nelson Cruz. Cruz belted 32 home runs for the Twins and the Rays and would likely relish the chance to play in New York. A move like this would not surprise me at all. No matter what, Steve Cohen's deep pockets make all of this speculation a lot of fun!
Every Country Artist Performing In Upstate NY In 2022
We are set for a big year of Country shows in 2022, and here is a complete list of artists set to perform in 2022 in the Capital Region and all over Upstate New York.