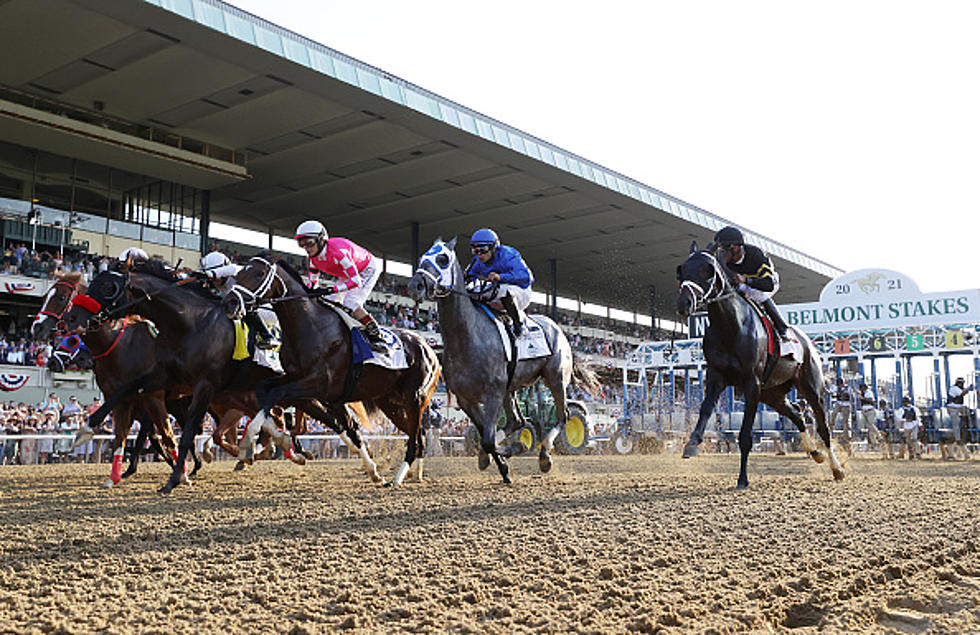 Limited Capacity Belmont Stakes Tix Go On Sale
Getty Images
And they're off! The horse racing season is around the corner and the New York Racing Association on announced on Monday that tickets for the 154th running of the Belmont Stakes will go on sale this week. NYRA also announced that the Triple Crown's final leg will be run in front of fewer fans this year and not because of COVID19.
The Belmont Stakes will run on June 11th and tickets will go on sale this Thursday at 10 a.m. You can purchase tickets on Ticketmaster.com. Attendance will be limited to 50,000 fans instead of the pre-COVID-19 pandemic capacity of 90,000. Highlighted by the 154th running of the Grade 1, $1.5 million Belmont Stakes, the oldest and most challenging track of the Triple Crown, the Belmont Stakes Racing Festival will begin on Thursday, June 9th.
According to friend of The Drive with Charlie & Dan, Andrew Gross of Newsday.com, "the construction of adjacent UBS Arena reduced the Belmont Park's capacity . So, while the size of the grandstand has not changed, the new, $1.1 billion facility has gobbled up approximately 35% of the space outside the grandstand. On race days, many ticketed fans picnic or enjoy the nice weather in the backyard while also viewing the entrants in the paddock area."
Putting fans on the infield at Belmont Park is a very cool concept that many believe will be well received. The Preakness infield is legendary in sports festival lore. Pat McKenna, NYRA's vice president of communications, told Andrew Gross, "The significant reduction to the size of the Belmont Park backyard makes the project to unlock the infield that much more important," McKenna said. "The construction of tunnels appropriate for both vehicular and pedestrian access will transform the property and allow fans to access the infield as soon as 2024."
NYRA has done some really fun things at Saratoga with an incredibly old facility. It is good to see that type of focus on Belmont Park. It's an old beautiful track with a ton of charm. Now with the UBS Arena, there is good reason to improve the New York Racing Association's little gem on Hempstead Turnpike in Elmont, New York.
Here are All of the Capital Region Rock Concerts, and Beyond, Scheduled for 2022!
Updated regularly so keep checking back!