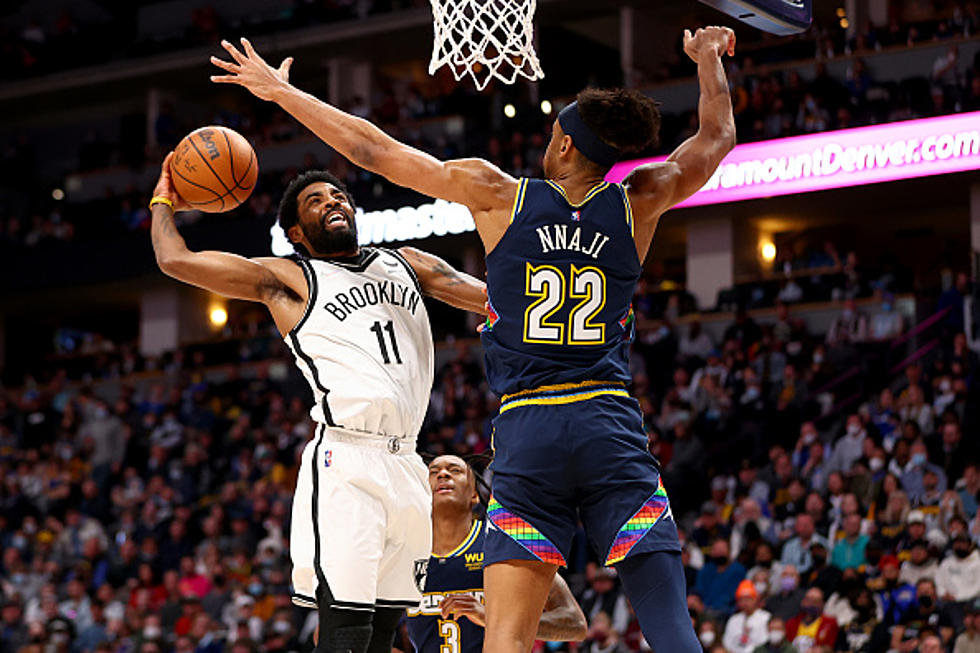 Kyrie and Brooklyn Nets Get Big Assist From NYC Mayor Adams
Getty Images
The question is no longer 'will Kyrie Irving be allowed to play home games in Brooklyn?' The question is now, when? New York City Mayor Eric Adams has been steadfast over the past 24 hours that vaccine mandates in the Big Apple are about to go away.
Speaking Wednesday at the Brooklyn Navy Yard at a non-COVID related event, as covered by Bart Jones and Matthew Chayes of newsday.com, the new mayor talked about jettisoning the NYC vaccine mandate, "I can't wait to get it done. I always say that I'm going to follow the science. I'm not going to get ahead of the science, because I'm ready to get ahead of all of this and get back to a level of normalcy, but they're giving us clear instructions, they gave us benchmarks, we're going to follow those benchmarks," Adams said. "But I look forward to the next few weeks of going to a real transformation that I don't have to wonder what you look like. I will know what you look like again."
The lifting of the vaccine mandate in New York City could come as early as Monday, which is February 28th. The Nets are home that night against the Toronto Raptors at the Barclays Center. That may be a little quick to have Irving back on the home floor but I'm not sure. Later in the week, on Thursday, Brooklyn hosts the Miami Heat on TNT. Could that be the night that Kyrie returns to Brooklyn? I think that is a huge possibility.
One thing is for sure, the Brooklyn Nets have gone from 1st place to 8th place in the Eastern Conference in a matter of weeks. With James Harden gone and Kevin Durant out with an injury for at least a few more games, Brooklyn needs every star minute on the floor that they can get with Kyrie Irving. The Nets have 23 games remaining and general manager Sean Marks and head coach Steve Nash would rather play all of those games with their lightning-rod superstar, especially with Durant on the shelf. They should certainly be giving Mayor Adams an assist on the scoresheet, if Irving gets back on the hardwaood at Barclays next week.
Key Buffalo Bills Player Gets New Digs with Heart Shaped Pond Near Stadium for Under $1 Mil
This home is perfect for a Buffalo Bills player because not only it is beautiful, but it is only 10 mins from Highmark Stadium in Orchard Park where the Bills play. It has 4,000 square feet of living space and sits on nearly 6 acres. It has a quiet yard along with a saltwater gunite pool with a hot tub. The is a front porch that overlooks a custom heart-shaped pond. There are fireplaces in nearly every room. Check out the gorgeous master suite with a spa bathroom, heated floor, and jacuzzi tub. There is a custom basement with a recreation room. The two-story three-car garage has a large finished room with a fireplace, bathroom, and kitchenette. Dawson Knox, the Tight End for the Buffalo Bills purchased this home for $995,000 just after Christmas.