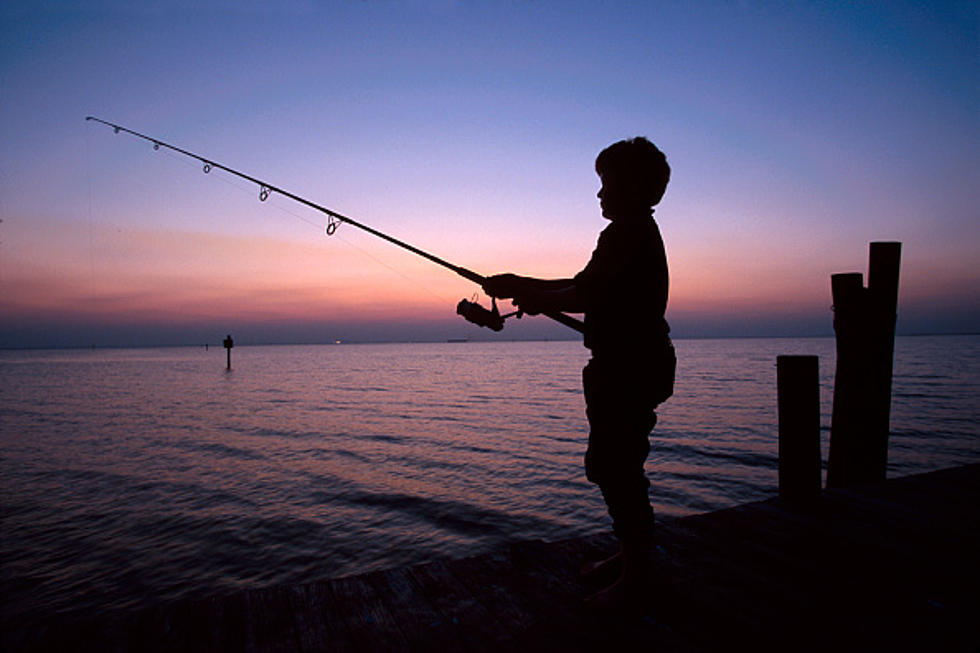 New Emergency Fishing Regulation May Soon Go into Effect in New York
Universal Images Group via Getty
Attention striped bass anglers. An emergency fishing regulation may be soon going into effect in New York.
A possible decrease in striped bass stock has the New York State Department of Environmental Conservation(DEC) updating recreational saltwater fishing regulations.  The slot limit for striped bass will go from 28-to-31 inches after the Atlantic States Marine Fisheries Commission (ASMFC) found the probability of the stock being rebuilt by 2029 significantly decreased.
The emergency action requires implementation of a 31-inch maximum slot limit for current recreational fisheries; however, it does not change the size limit on the Hudson River (north of the George Washington Bridge), which will remain at 18-to-28 inches.
Public Hearings
Four virtual public hearings will be held to inform the public about this emergency action - May 17, May 22, May 23, and May 31. Get more information or register for a hearing online.
The regulations for striped bass in New York will not change until the emergency regulation is passed. Once state regulations are put into effect, DEC will seek public comment. Anglers are encouraged to continue to check DEC's webpage for the current limits in effect.
New Fishing Regulations In Place
New recreational saltwater fishing regulations for black sea bass and scup in New York's Marine and Coastal District were implemented earlier this month.
Black Sea Bass
The season for black sea bass begins on June 23 with size and daily limit changes. The minimum size limit is now 16.5 inches, up a half inch. Anglers may possess three black sea bass per day from June 23 through August 31. The limit goes up to six per day from September 1 through December 31.
Read More: Upstate New York Home to Best Bass Fishing
Scup
The size of scup also went up, but the season was cut short.
The recreational scup season will run from May 1 through December 31, rather than being year-round. If you catch one from shore, the minimum size limit is 9.5 inches. But if you reel a scup in from a boat, it goes up to 10.5.
The daily limit is 30 scup per day unless you're on a licensed party/charter boat from September 1 through October 31. Then you can have 40 fish.
Read More: First Time Angler Reels in 35-Pound Monster From Lake Ontario
2023 Free Fishing Days
There are 4 chances to drop a line in one of the thousands of freshwater lakes, streams, rivers, and ponds in New York without a license.
June 24-25
September 23 (National Hunting and Fishing Day)
November 11 (Veterans Day)
Read More: Fishing Trip Turns Majestic in Upstate NY When Moose Swims By Boat
Fishing License
You need a fishing license in New York if you are 16 years and older and fishing for:
Freshwater fish species by angling, spearing, hooking, longbow, and tip-ups.
Frog species by spearing, catching with the hands, or by use of a club or hook.
Freshwater baitfish for personal use.
No Fishing License
Fishing on a licensed fishing preserve.
Fishing during the free fishing weekend.
Fishing at a free fishing clinic.
A resident landowner primarily engaged in farming (including lessees and members of their immediate families) when fishing on farm lands they are occupying and cultivating.
A farm fish pond license holder (including members of their immediate families) fishing on waters covered by the license.
A Native American living and fishing on reservation land.
A patient residing at a qualifying U.S. Veterans Administration hospital or facility in New York State.
Fisherman Gets Up Close Look at Majestic Moose in the Adirondacks
Check Out Some of the Biggest Fish Ever Caught
We're gonna need a bigger boat.
These 11 Upstate New York Fish Hatcheries Are Awesome Places to Visit
The New York State Department of Environmental Conservation runs a dozen fish hatcheries in the Empire State. There are other smaller ones, too. These fish hatcheries are totally amazing places to visit. Each of the hatcheries on this list welcomes visitors of all ages (click on the links to find visiting details). For more information on these fantastic places visit the DEC
website
. Some of those on this list also have videos showing what they do. If you have never visited a fish hatchery before
you are in for a treat!!