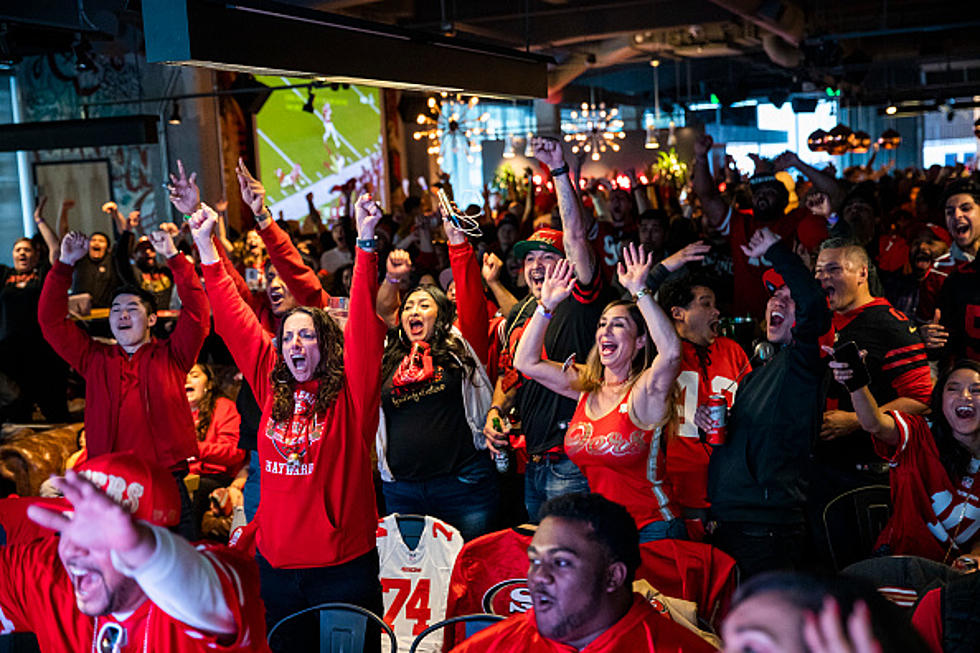 Fun Super Bowl Facts To Breakout At Your Party
Getty Images
Super Bowl parties are always great times to lay down some cool football facts to impress your friends and family. Now, it can be fun to start with a Tom Brady rapid fire of Super Bowl records that the G.O.A.T. holds, like Career SB Passes Completed - 277; Most SB Career Pass Attempts - 421; Game Pass Attempts - 62 in SB LI; Game Completions - 43 SB LI; Game Passing Yards - 505 SB LII; Career Passing Yards - 3039 (that is amazing); And Career Passing Touchdowns - 21. There are more Tom Brady records but those are the fun ones. Now for some deep dives!
Ok, What's the longest pass completion/reception in Super Bowl History? That would be the Carolina Panthers' Jake Delhomme to Muhsin Muhammad for 85 yards in Super Bowl XXXVIII.
Here is a good one after the first touchdown pass is thrown. Which quarterback has the most touchdown completions in one Super Bowl and how many? That would be San Francisco 49ers QB Steve Young when he completed 6 touchdown passes in Super Bowl XXIX.
Pull this nugget out after the first interception. Which quarterback threw the most interceptions in one Super Bowl and how many? That honor goes to Oakland Raiders, yes Oakland not Las Vegas for the new NFL fans, QB Rich Gannon threw 5 picks in Super Bowl XXXVII, against the Tampa Bay Bucs.
Need something non-quarterback related. OK, who caught the most touchdown passes in a game? The Super Bowl legend Jerry Rice of the San Francisco 49ers owns that honor twice in Super Bowls XXIV and XXIX. You can throw in, casually, that Rice also has the career touchdown record for the Super Bowl with 8.
Finally, when someone records that first sack, and I have a feeling that Aaron Donald is going to break this record on Sunday, who holds the record for sacks in a Super Bowl? That would be the late L.C. Greenwood of the Pittsburgh Steelers. Greenwood had 4 sacks in Super Bowl X and holds the career with 5.
Well, hopefully those little Super Bowl gems make your chicken wings, chips and pizza taste a little better and add some fun trivia to your gathering. I could see a few of these records getting broken on Sunday. That will add a little more fun to your Super Bowl knowledge. All Super Bowl records can be found on pro-foootball-reference.com. Enjoy the game.
Key Buffalo Bills Player Gets New Digs with Heart Shaped Pond Near Stadium for Under $1 Mil
This home is perfect for a Buffalo Bills player because not only it is beautiful, but it is only 10 mins from Highmark Stadium in Orchard Park where the Bills play. It has 4,000 square feet of living space and sits on nearly 6 acres. It has a quiet yard along with a saltwater gunite pool with a hot tub. The is a front porch that overlooks a custom heart-shaped pond. There are fireplaces in nearly every room. Check out the gorgeous master suite with a spa bathroom, heated floor, and jacuzzi tub. There is a custom basement with a recreation room. The two-story three-car garage has a large finished room with a fireplace, bathroom, and kitchenette. Dawson Knox, the Tight End for the Buffalo Bills purchased this home for $995,000 just after Christmas.