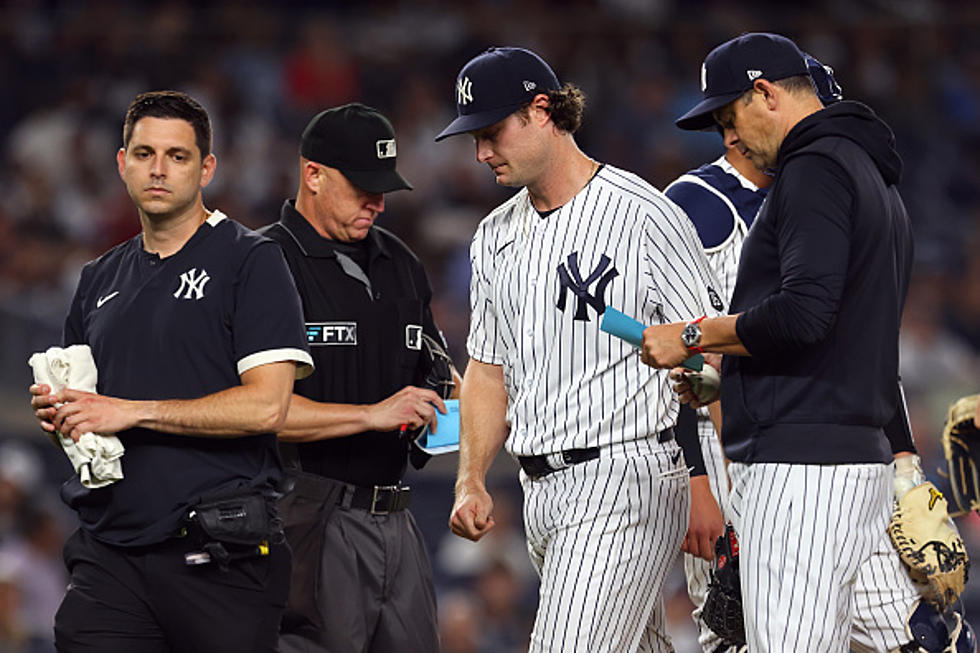 Did the 'Sticky Stuff' Cost Gerrit Cole Cy Young Award?
Getty Images
The American League Cy Young Award winner was announced on Wednesday night and the winner was not a member of the New York Yankees. Toronto left-hander pitcher, Robbie Ray snagged the 2021 award given to the best pitcher of the year in their respected leagues, as voted on by the Baseball Writers Association of America. But was that the right choice? The pitcher with the most wins in the American League wore pinstripes?
New York Yankee starting pitcher Gerrit Cole finished second in the awards voting. The Yankees' righty received the lone first-place vote that did not go to Ray. Lance Lynn of the White Sox finished third, with Red Sox hurler Nathan Eovaldi finishing in fourth place. For Gerrit Cole, it's another runner-up finish. In 2019, fellow Houston Astros ace Justin Verlander snatched the award from Cole.
According to friend of The Drive with Charlie & Dan, Matthew Roberson of the New York Daily News, "Among American League pitchers who threw at least 150 innings, Cole had the best strikeout percentage (33.5%), second-best FanGraphs' Wins Above Replacement (5.3), fifth-best ERA (3.23), and was tied for second in WHIP (1.06). He also led the AL in wins — a largely outdated metric — and complete games, a statistical feat that pitchers rarely accomplish anymore. Cole's 5.6% walk rate was the lowest of his American League career, edged out only by the 5.3% he put up in 2015 with the Pirates."
Gerrit Cole openly complained when on June 21st of this year, Major League Baseball put a ban on foreign substances used by pitchers to grip the baseball. Following that ban, some pitchers went down to injuries, like Tampa Bay's Tyler Glasnow. The Rays starter blamed Major League Baseball's mid-season lock down for his season ending injury. However, Cole pitched on, leading the American League in wins and propelling the Yankees to the wild card game. I'm not sure but I think Gerrit Cole was more important to the Yankees playoff team than Robbie Ray was to his non-playoff team. Gerrit Cole gets my vote.
12 Cool and Unique Facts About the Capital Region