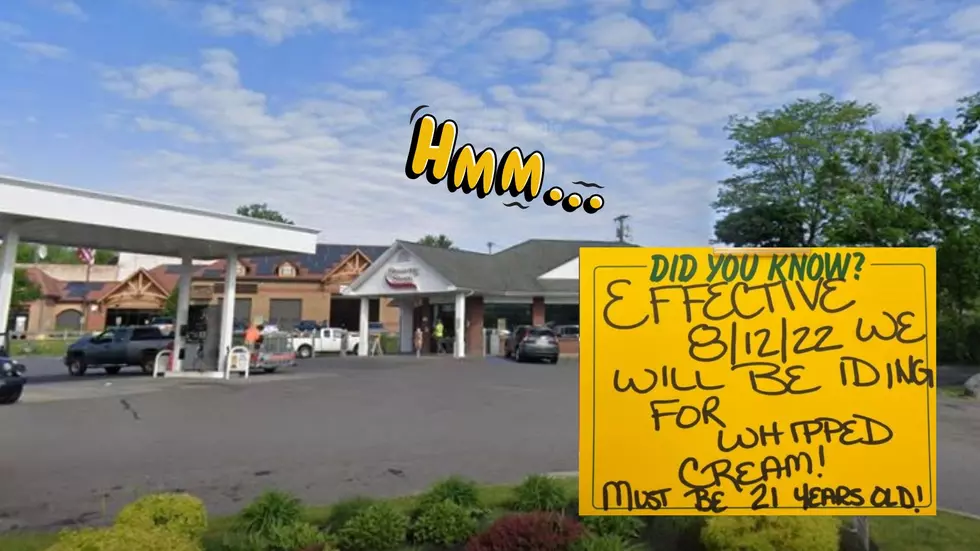 Crackin' the Whip! Why is an ID Needed at a Stewart's in Albany County?
Photo: Google Maps, WNYT Screengrab, Canva
Crackin' the Whip! Why is an ID Needed at a Stewart's in Albany County?
A Stewart's Shops in Albany County is cracking the whip on the sale of a popular topping that - ordinarily - wouldn't present an issue if you wanted to purchase it - regardless of your age.
But that changed a few weeks ago when it was written on one of their "Did You Know" signs, that for purchases of the sale of canned whipped cream, customers must present a valid form of identification.
So, the next time grandma asks you to stop at Stewy's to grab her some whipped cream for her homemade apple pie doesn't matter how old you are, you better have your ID ready!
According to a report in Newschannel 13, the signage went up back on August 12th at Stewart's Shops in Menands saying "Effective 8/12 2022 we will be IDing for Whipped Cream - Must Be 21 Years of Age."
So, what exactly is the NYS law on the sale of nitrous oxide?
It is illegal for people under 21 to buy a can of whipped cream in New York state.
In New York, you must show ID to buy alcohol, cigarettes, and even a can of whipped cream in New York State. If inhaled, the gas, called "whippets" or "whippits" can dangerously get a person high.
According to the report in Newschannel 13, violations could mean fines of $250 for a first offense, and $500 for each additional offense.
If you suspect that your loved one is abusing whippits, there are important signs to be aware of - and many of them are listed here.
TLC show 'American Chopper' Orange County Choppers Headquarters in Newburgh Abandoned & For Sale
WARNING: Under no circumstances should you enter this property. By doing so you risk bodily harm and/or prosecution for trespassing on private property.
In 2003, a father-son business reality show hit the Discovery Channel. It was called American Chopper and it followed the custom motorcycle building business of the Teutul family out of Newburgh, NY. Paul Sr. owned the shop with sons Paul Jr and Mikey working in the business. There was a slew of cast and characters. The center of the show wasn't just the amazing custom motorcycles built for celebrities and others, it was the volatile relationship between Sr. and Jr. The show ran for 12 seasons before the two could no longer get along. It ended up in lawsuits and the two not talking for ten plus years. In the past few years, the business moved to Florida. This left the 61,000-square-foot headquarters for sale and abandoned. Take a look at what remains of Ocean County Choppers.
Abandoned Church in Albany Overrun by Squatters
Pictures from Gilded Age Season 2 - Filming on State Street in Albany