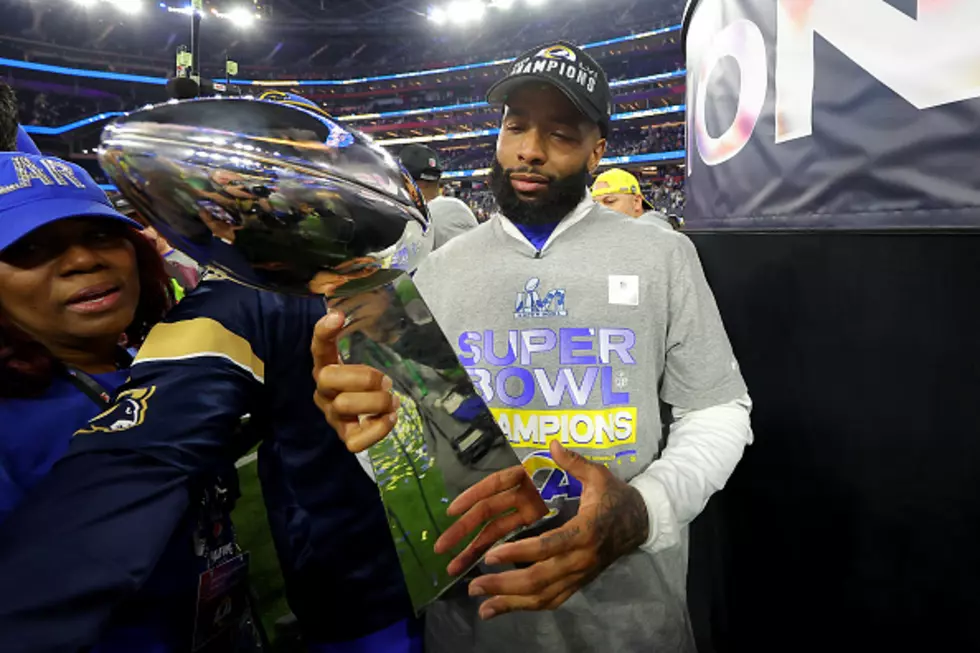 Could This Be OBJ's Last Chance To Win A Super Bowl In New York?
Getty Images
In 2016, New York Giants fans were more than dreaming about Odell Beckham Jr. and Eli Manning combining to win a Super Bowl for Big Blue. The 11-6 Giants were taking on Aaron Rodgers and the 11-6 Green Bay Packers in an NFC Wild Card match-up. Then, days before the Giants first playoff game in five years, controversy struck with OBJ smack in the middle.
The infamous "boat pic" featuring the Giants receiving corp was plastered all over social media. The Packers smashed the Giants 38-13 and the rest, as they say, was history. Now, OBJ is coming off of a comeback year that helped lead the Los Angelas Rams to a Super Bowl LVI victory in February over the Cincinnati Bengals. He appears to be interested in hooking up with his old Rams teammate, Von Miller. This could be a chance for OBJ to bring a Super Bowl victory to New York...Buffalo, not New York City.
According to an article by Ryan Talbot of syracuse.com, Bills free agent signee, superstar linebacker, Von Miller and free agent wide receiver Odell Beckham Jr. would like to put their Super Bowl winning band back together. According to Talbot the duo has been putting the idea of becoming teammates multiple times on social media.
OBJ responded to a fake Instagram account that reported the receiver was joining the Bills. "I woke up and askkk how much did we sign for," Beckham Jr. tweeted. "Von Miller what up teammate!!!!" Talbot's report said that Beckham Jr.'s interest in Buffalo became even more intriguing after Hall of Fame receiver Andre Reed mentioned an "interesting convo" with the OBJ. According to Reed, Beckham Jr. and Von Miller were looking to "run it back".
The prospect of adding the free agent receiver to the arsenal of weapons that All Pro quarterback Josh Allen has seems more than appetizing to Bills fans, desperate for that Super Bowl victory. Just remember that this OBJ is the same OBJ that helped dismantle the Giants into oblivion and conveniently did the same to the Cleveland Browns. Neither franchise has recovered and may not for a while. OBJ is very talented and last year the Rams were the beneficiary of those skills. If Odell signs in Buffalo, which OBJ shows up? If it's the one that played in Los Angelas last year, Bills fans should pack their bags for Arizona in February.
10 New York Jets That Can Lead Gang Green To The Playoffs
Can the New York Jets return to the NFL playoffs for the first time in more than a dozen years? Can Zach Wilson be the quarterback that GM Joe Douglas dreamed he would be? Can Sauce Gardner and Jermaine Johnson turn the Jets defense into a contender? That answer to "can" they is yes. The answer to "will" they may be yes as well!
Do You Know Any of the 2022 New York Born Top 10 Major League Players (RANKED)?
The top 10 RANKED MLB players in 2022 that were born in New York.