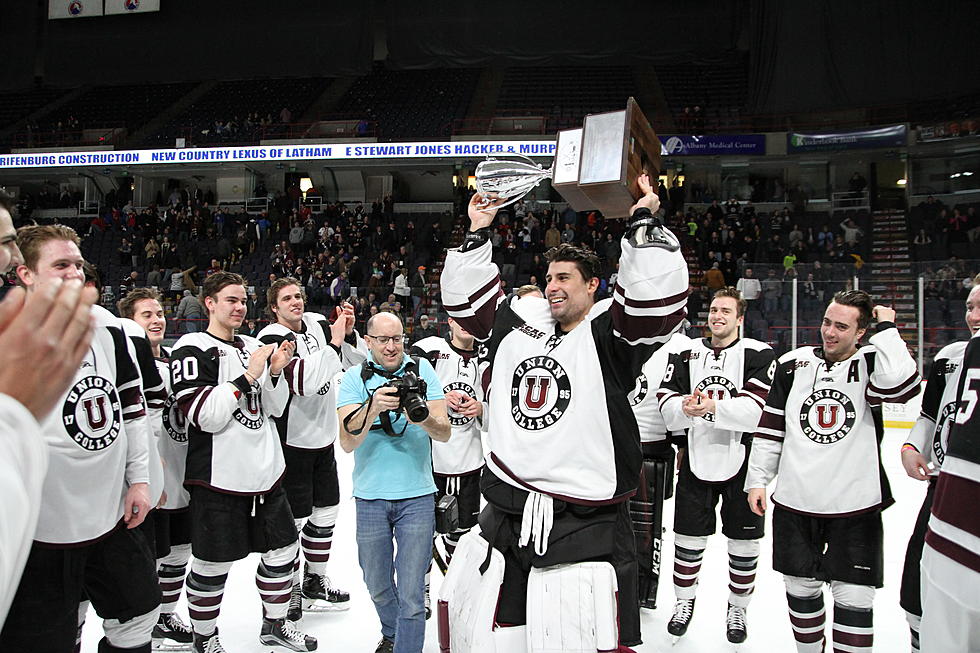 Back For More? Thunder's Sakellaropoulos Eyes Return to Glory in Capital Region
Union College Athletic Communications
The Capital Region was pretty kind to Alex Sakellaropoulos during his college career, in which he played four seasons with the Union Dutchmen.
A national champion during his freshman campaign in 2013-14, Sakellaropoulos is back in the area for his third stint, looking to bring home another title with the ECHL's Adirondack Thunder.
---
Sakellaropoulos Was Very Successful in Schenectady with Union College
Sakellaropoulos was born in Illinois, and played his entire travel in junior career right in the state. He played two seasons with the Chicago Steel of the USHL, before joining Rick Bennett and company in Schenectady.
Sakellaropoulos came into the program when it was at its best, playing eight games as a freshman in 2013-14 with a Union team that would make the NCAA Frozen Four, and win a national championship.
Sakellaropoulos continued to rise as a sophomore, playing in 14 games (starter Colin Stevens played in 31), before winning the starting netminder's job ahead of his junior year. His two years as the starting goaltender were both stellar, and Sakellaropoulos would be named to the All-ECAC Second Team for his performance as a senior in 2016-17.
---
The Undrafted Goaltender Played for SIX Teams in One Year
Let's talk for a moment about frequent flyer miles, shall we?
After finishing his career with the Union Dutchmen, Sakellaropoulos turned professional, and began play in the East Coast Hockey League.
At one point or another during the 2017-18 season, Sakellaropoulos belonged to the Quad City Mallards (Illinois), Indy Fuel (Indiana), Jacksonville IceMen (Florida), Pensacola Ice Flyers (Florida again), Cincinnati Cyclones (Ohio) and Worcester Railers (Massachusetts) organizations.
I'm exhausted just writing that down.
---
Sakellaropoulos Found His Form with The Thunder in 2018-19
As it turns out, a return to the Capital Region may have been the best move of Sakellaropoulos' career.
The goaltender played 33 games for the Adirondack Thunder in 2018-19, finishing with an incredible 19-6-5 record, and closing with a .915 save percentage and a 2.51 goals against average.
His performance was so strong that he secured a number of jobs in 2019-20. Not only that, but his performance continued at a strong enough rate to earn a job in professional hockey in 2020-21, a year in which multiple teams ceased operations in the ECHL.
---
Now, He's Back For Another Chance at a Title in the Capital Region
Sakellaropoulos has returned to the region for the third time, hoping to lift another trophy, this time, as a professional goaltender. As of Wednesday, November 17th, the goaltender is 1-2 on the season, with a .902 save percentage, and a 3.03 goals against average.
It's become clear, however, that Alex Sakellaropoulos lifts his play when the games matter most, so bet on him being successful while you still can.
Ten Capital Region Hockey Players that Made it to the NHL
The Capital Region has a rich history of hockey players turning professional, and with the 2021-22 NHL season now underway, here are ten players from the region with NHL ties.
Former NHLer Barry Melrose's Home in Glens Falls
After playing, coaching and owning a franchise in Glens Falls, former NHL player and coach, Barry Melrose, decided to call it home. Take a look inside the walls of an NHL media legend.
Altamont's Jay Leach Makes NHL Coaching Debut with Kraken
Altamont native and former Albany Academy standout Jay Leach made it as a player, and now, he's making it as a coach on the world's biggest hockey stage.