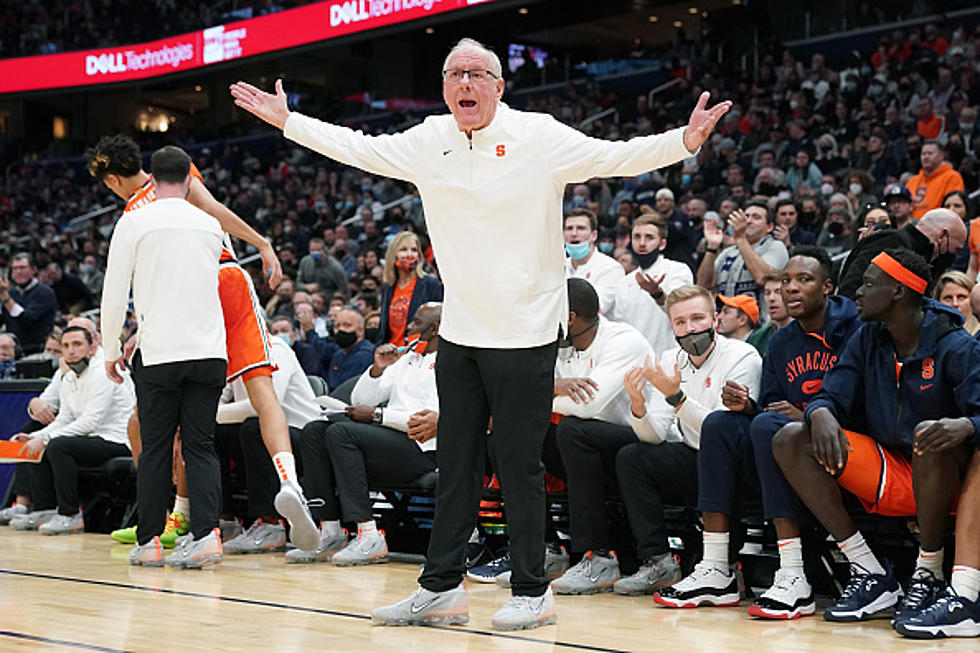 Will COVID Outbreak Force Syracuse to Forfeit ACC Games?
Getty Images
Jim Boeheim and his Syracuse Orange have struggled out of the gate this year. Losses to Colgate, VCU and Georgetown certainly have not been highlights on their road to a 5-5 record to start the season. A legitimate COVID outbreak has forced the program to be put 'on pause' since December 11th. With their 2nd game of ACC schedule just ahead, the Orange were in danger of possibly forfeiting conference games. Syracuse defeated Florida State 63-60 in Tallahassee on December 4th in there only ACC match-up so far.
The ACC started the 2021-2022 basketball season with a rule that stated that if a program could not field a team because of multiple Covid cases would forfeit that game. Wednesday, the ACC Released this statement: The decision was unanimously supported by the league's athletics directors as a result of the current rise in COVID cases and its impact on winter sport programs. If possible, games that cannot be played as scheduled will be rescheduled. If a game cannot be played and cannot be rescheduled, it will be considered a no contest."
"For men's and women's basketball, a team must have a roster minimum of seven game available student-athletes and one countable coach to play a game. If a team does not have the requisite number of participants, and elects not to play, the game shall be a no contest. If a team has the requisite number of participants and does not participate, the game will be declared a forfeit. This policy shall be retroactive to any results beginning with the 2021 ACC winter sports schedule.Finally, the ACC's Medical Advisory Group continues to monitor and discuss the current circumstances and, if necessary, may make adjustments to the current protocols."
This is definitely a positive rule change by the ACC, especially given the circumstances. According to an article by Donna Ditoto on syracuse.com, "SU coach Jim Boeheim said in a radio interview that 14 of 20 of his players/managers had tested positive for Covid. All of them, he said, had been vaccinated and boosted. All were also asymptomatic or had mild, fleeting symptoms." To penalize a team that could physically compete but are not allowed to, after being vaccinated and boosted, would be wrong.
Syracuse has added a game to their schedule. The Orange will face Brown on Monday, December 27th before they take on ACC opponent Georgia Tech on December 29th at the Carrier Dome at 7 p.m.
Wizardly Wild Guilderland Home