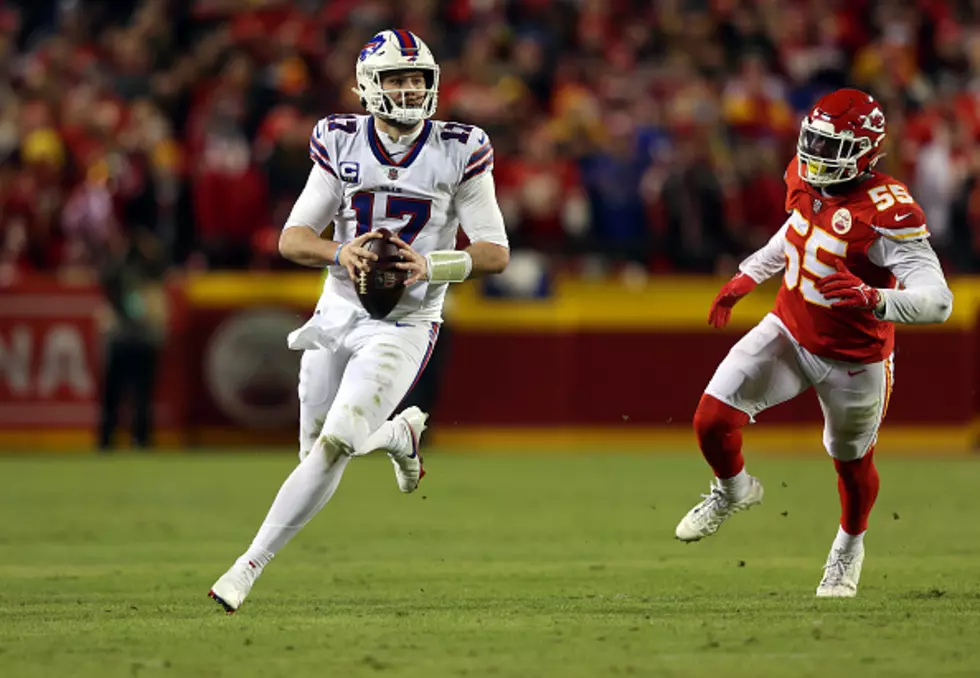 Where Did Pro Football Focus (PFF) Rank The 2022 Buffalo Bills?
Getty Images
Coming off of a disappointing playoff loss to the Kansas City Chiefs in January, the Buffalo Bills didn't wait long to improve; making impact free agent signings, like star linebacker Von Miller and new Josh Allen weapon, wide receiver, Jamison Crowder. The team with arguably the most talented quarterback actually got better. Today on The Drive with Charlie & Dan, we had Dwain McFarland from Pro Football Focus (PFF), an analytics site that focuses on information useful for fantasy football. PFF thinks the Bills are pretty good this year.
Today Pro Football Focus released their 2022 roster rankings on ESPN Insider. According to our friend from syracuse.com, Ryan Talbot, PFF's Ben Linsey had the Bills at No. 1 in the rankings. The analyst broke down each NFL roster by its biggest strength, biggest weakness and X-factor.
The Bills biggest strength was obviously Josh Allen. According to Linsey, only Aaron Rodgers and Tom Brady have had higher ratings over the past two seasons. "The physical tools were always there, but Allen has managed to add the accuracy that was missing during his first few years in the league. Allen's development is the primary reason the Bills enter the 2022 season as Super Bowl favorites, though general manager Brandon Beane and the rest of this front office deserve credit for building a complete roster," was Linsey's strength breakdown.
Linsey saw Buffalo's weakness in the right side of the offensive line. He pointed to Ryan Bates and Spencer Brown and noted that neither has very much experience. However, Beane brought in reinforcements and both Bates and Brown have potential to get better.
It is no surprise that the PFF analyst pointed to free agent new-comer Von Miller as the X-factor for Buffalo in 2022. The $120 million man is going to have a lot of pressure from the Bills Mafia to lead them to their first Super Bowl victory. "The version of Von Miller that helped fuel a Super Bowl run for the Los Angeles Rams last season is still one of the best pass-rushers in the NFL," said Linsey. That's what Bills fans want to hear. Now they want to see it all translate into a Lombardi Trophy. #1 is a good place to start.
All The Comedians Coming To The Capital Region This Fall
Here are the talented comedians who will be performing in and around Albany when the weather starts cooling down.
Mega-Mansion Formerly Owned By Mike Tyson and 50 Cent
This 50,000 square foot compound became known as the "Most Notorious House in Connecticut".