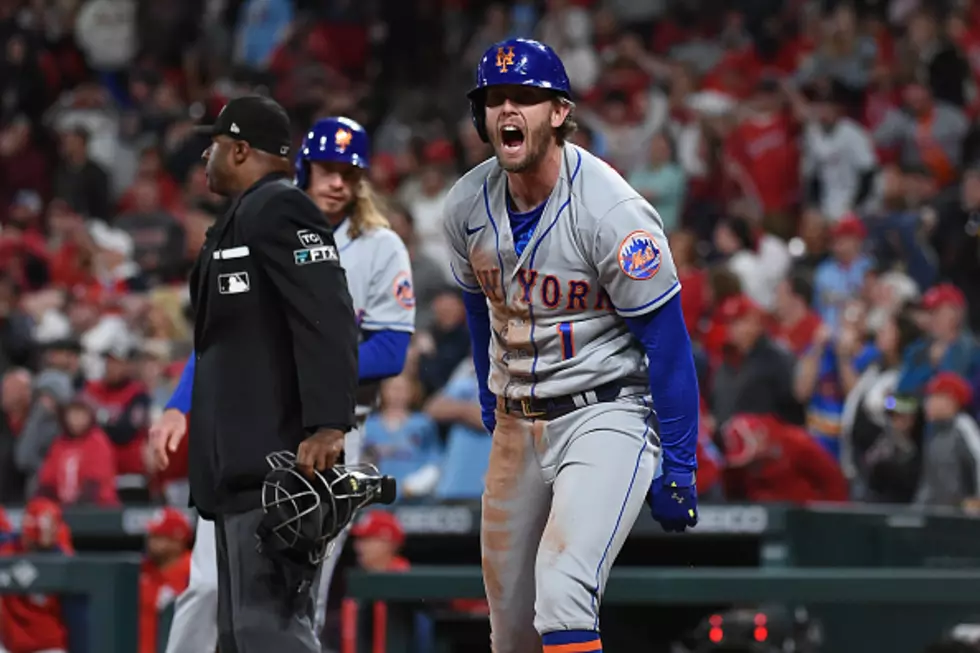 This New York Mets Squirrel Is Driving Opponents Nuts Again
Getty Images
It's no secret that the New York Mets are hot, winning their record setting sixth straight series to start the season on Tuesday. Sure, you can point to Buck Showalter or Max Scherzer, even Mr. $341 Million, Francisco Lindor, is playing great. However, there is one Mets player, that has been around a few years, who is not getting as many headlines. Maybe he should.
Second baseman/outfielder/old-school baseball player, Jeff McNeil, may be the fuel that is driving the New York Mets fire right now. Every time there is a big rally, look for the player with the dirtiest uniform crossing the plate. It's usually McNeil. In 13 games this season, McNeil has scored 11 times.
The 30-year-old from Long Beach, California suffered his worst big league season last year, struggling to a .251 batting average. McNeil difficulties developed as the Mets brass put him in a terrible position. First, he struggled to get in sync with newly signed shortstop Francisco Lindor, capped off with a fist fight in the clubhouse during a game. Then the Mets traded for infielder Javier Baez mid-season further isolating the 2019 All Star for the Mets.
Was it luck or were the Mets smart to move on from Baez and keep McNeil? Let's give Amazin's general manager Billy Eppler a little credit. Jeff McNeil is a gritty, spark-plug baseball player. He plays the game the way a manager like Buck Showalter wants you to play the game. McNeil is not blameless for his struggles last year. Lindor is a precise fielder and McNeil was slow to learn his adjusted defensive positioning. Ex-Mets manager Luis Rojas made excuses. Showalter will not. Lindor and McNeil act like brothers on the field now. Buck may have a lot to do with that.
Showalter is a team-first guy. If a player comes into spring training with some pre-determined grudge with another player, they had better get over it or they will be playing in a different uniform. McNeil just wants to see his name in the line-up on a consistent basis and play the game that he loves. With a .328 batting average and a .388 on-base percentage, 11 runs and 7 RBI in 13 games, he is off to a pretty good start. With those kinds of numbers, McNeil, the man that teammates dubbed 'the squirrel,' will continue to drive opponents nuts.
Famous People With Ties To The Capital Region
5 Things Upstate New Yorkers Love To Loathe
10 Capital Region Golf Courses You Can Play For Under $40
Taking a look around the Capital Region at some of New York's finest public golf courses, I was able to find more than a few that won't break the bank. Check out these affordable options, so you can save and play the links more often!