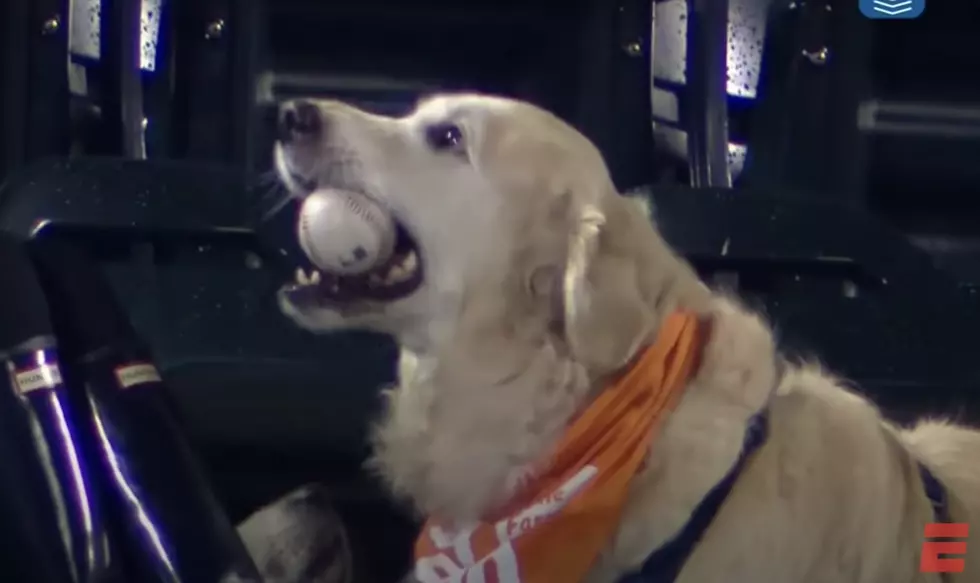 Fetch! Golden Retriever Snags Home Run From New York Mets Star
ESPN YouTube
Tuesday night was "Bark in the Bark" night at Citi Field. Dogs and their loving owners were sprinkled through the stadium for the second-to-last regular season game. One four-legged friend stole fans' hearts and a special home run ball early in the game.
Following a leadoff home run by New York Mets teammate Brandon Nimmo, power hitting shortstop Francisco Lindor launched the first pitch that he saw towards the upper deck. According to MLB.com, the ball was headed towards a couple of golden retrievers named Renegade and Doak. "Lindor hits the home run. I see it coming and I guess my dad instincts took over," Doak's owner, Chris Howland, told MLB.com.
Naturally, Howland knew the dogs couldn't really defend themselves. "It was literally going right for the dogs. I don't need them taking a 110 mile-an-hour baseball in the stomach. So, I reached over my girlfriend, it hit off my finger, hit off the seat and landed on the ground. We're scrambling for it. I came up with it and I gave it to the dog." Wow, a big baseball star hits a home run and you don't want the ball?
"In the moment I was like, 'This is way funnier if I give (the ball) to him,'" Howland told MLB.com. "So, I handed it to him and he was cool about it, right? He was holding onto it, chewing on it. They're both obsessed with balls to begin with, so one of them was gonna take it." I don't think Lindor wants his 26th homer souvenir, at least now.
These Are The 11 Most Valuable Crops Grown in New York State
The US is expected to export more that $191 billion in agricultural goods in 2022. Data aggregate
Stacker
combed through US Department of Agriculture studies and overviews to find the most valuable crops grown in each state.
While New York's largest piece of the agricultural pie is dairy
(a nearly $3 billion industry)
, the state has its fair share of successful crops. We even place in the top five producers of several crops on this list.
Sleep In A Snow Globe In New York
The host of this New York
Airbnb
calls it a bubble tent but to me it looks like a snow globe. Either way its cool, it's unique and it's available to rent.