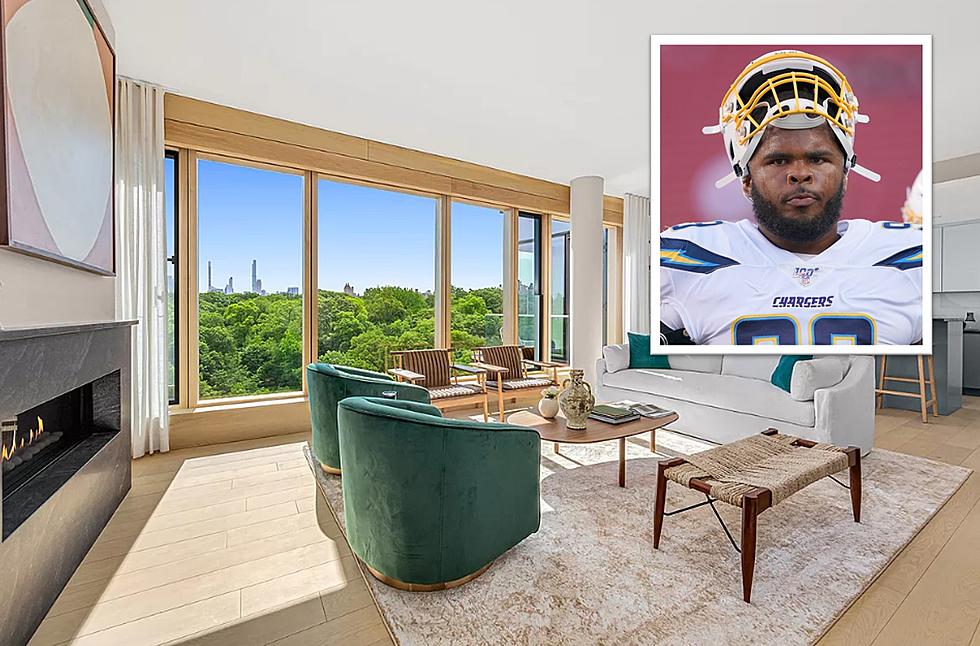 Step Inside This NFL Star's Pricey Future New York City Penthouse [PHOTOS]
StreetEasy (Nest Seekers Llc) / Getty Images
A member of the Los Angeles Chargers has been in the news recently. Not for what he does on the field in LA, but rather, for what he might be doing in New York City very soon.
---
Chargers' DE Jerry Tillery Spotted Penthouse Shopping in NYC
Tillery, who just completed his third season in the National Football League, was spotted in New York City scouting out a penthouse apartment in the area of South Harlem located next to Central Park. The New York Post reported on Tillery's presence in NYC, and did a bit of digging to find out more about the unit that he's been viewing.
As it turns out, the apartment is pretty incredible. First and foremost, here are the specifics of the unit, as listed by Nest Seekers LLC on StreetEasy:
Tillery is 25 years old, and is originally from Shreveport, Louisiana. He played defensive end at Notre Dame, and was drafted with the 28th overall pick in the first round of the 2019 NFL Draft. He signed his rookie contract, and began play in the 2019 NFL season.
In 2021, he set career-highs in starts, tackles (solo and combined), tackles for loss, and sacks as a defensive end on the Chargers.
What's more, Tillery is entering the final year of his rookie contract, and is set to make $2,052,567 in 2022, according to Spotrac. The Chargers have yet to decide whether or not they will exercise Tillery's 5th-year option, an option that would pay Tillery $11.5 million in 2023.
What a payday that would be.
Whether the payday comes from the Chargers now, after this season, or from another franchise in the future, it appears as though Tillery is looking to put down roots all over the country. Let's take a look inside his prospective New York City penthouse apartment, and see some of the incredible amenities that an apartment next to Central Park has to offer.
Step Inside This NFL Star's Pricey Future New York City Penthouse [PHOTOS]
Los Angeles Chargers' defensive end Jerry Tillery was spotted in New York City this week, touring this multi-million dollar penthouse with Central Park views.
One Famous Athlete Born in Each of the Capital Region's 11 Counties
From the "big four" professional sports leagues, to the Olympics and beyond, a number of famous athletes were born and raised right here in the Capital Region. Here is one famous athlete from each of the 11 counties in the Capital District.
Take a Look Inside This New York Mets' Pitcher's Stunning SoHo Loft [PHOTOS]
Noah Syndergaard won't be in New York for much longer, but while he is, he'll be staying in his stunning Manhattan (SoHo) loft apartments. One he leaves for LA, you might be able to get your hands on it for a cool $16,500 a month!