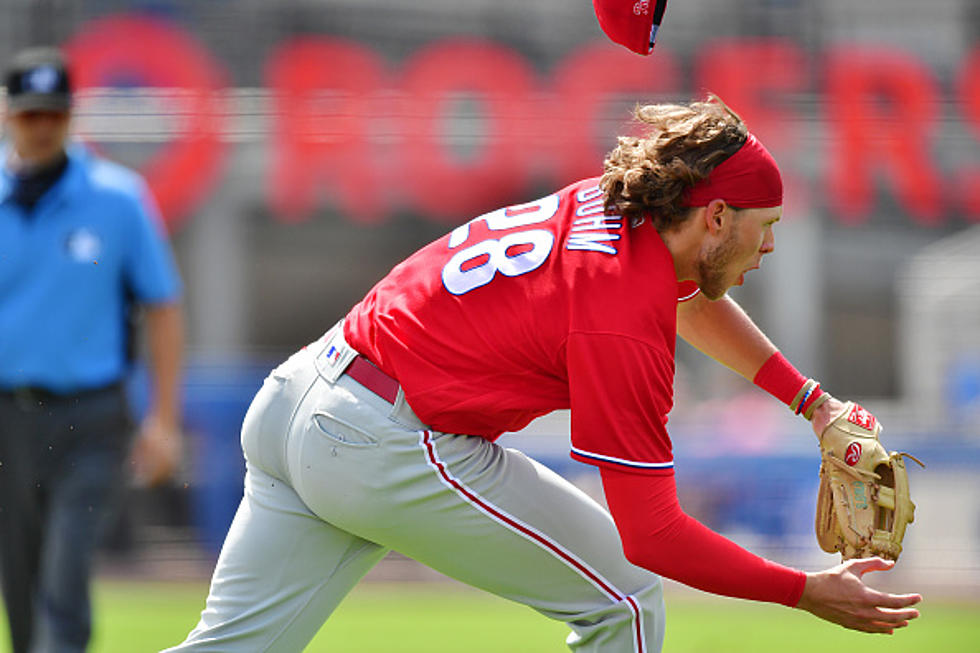 New York Mets Knock Phillies Prospect Into F-Bomb Shot At Fans
Getty Images
Philadelphia fans are known for being tough. Whether you are on the visiting team or a home player, Philly fans can be a bit rough. Remember when they booed Santa Claus at an Eagles game? Prior to the New York Mets falling apart in the 8th inning of Monday's game against Philadelphia, it was one of the Phillies own that was directing his ire at the fans.
Now, Phillies third baseman Alec Bohm had a little something to do with the Philadelphia fans going crazy. Bohm made three throwing errors in the first three innings of Monday's game. In addition, the Mets scored 3 runs in the top of the first, so the Citizens Bank faithful were certainly less forgiving, so was social media.
Between Bohm's second and third errors Bohm made a clean play. According to Dennis Young of nydailynews.com, The Philly fans gave him a sarcastic Bronx cheer, and Bohm was caught on camera saying "I f---ing hate this place." The twitter account for Crossing Broad, self-proclaimed as "Philly's most irreverent sports blog. Spittin' truth since 2009," caught it as well and sent it out for all to see!
Following the Phillies 5-run 8th inning comeback victory over New York, Bohm said to nydailynews.com, "Emotions got the best of me. I said it. And do I mean it? No. It's a frustrating night for me. Obviously I made a few mistakes in the field. But these fans just want to win. You heard it, when we came back. They're great. I'm sorry to them. I don't mean that." Young people make mistakes. Bohm is batting 1.000 at the plate this season. That won't last but neither will the ire of the Philadelphia fans for the budding star.
10 Capital Region Golf Courses You Can Play For Under $40
Taking a look around the Capital Region at some of New York's finest public golf courses, I was able to find more than a few that won't break the bank. Check out these affordable options, so you can save and play the links more often!
New York Colleges That Made The Top 50 Most Expensive In America
CBSNEWS.com did a Top 50 Most Expensive Colleges and Universities in America. Let's see which New York colleges made the list.
See Bob Weir At New York's Radio City Music Hall For His "Ace" Album 50-Year Celebration
Bob Weir & The Wolf Brothers came to New York's Radio City Music Hall to celebrate 50 years since the release of his solo "Ace" album, which included such Grateful Dead staples as Playin' In The Band, Looks Like Rain and Mexicali Blues. The two night run April 2nd and 3rd featured special guests and sold out performances.