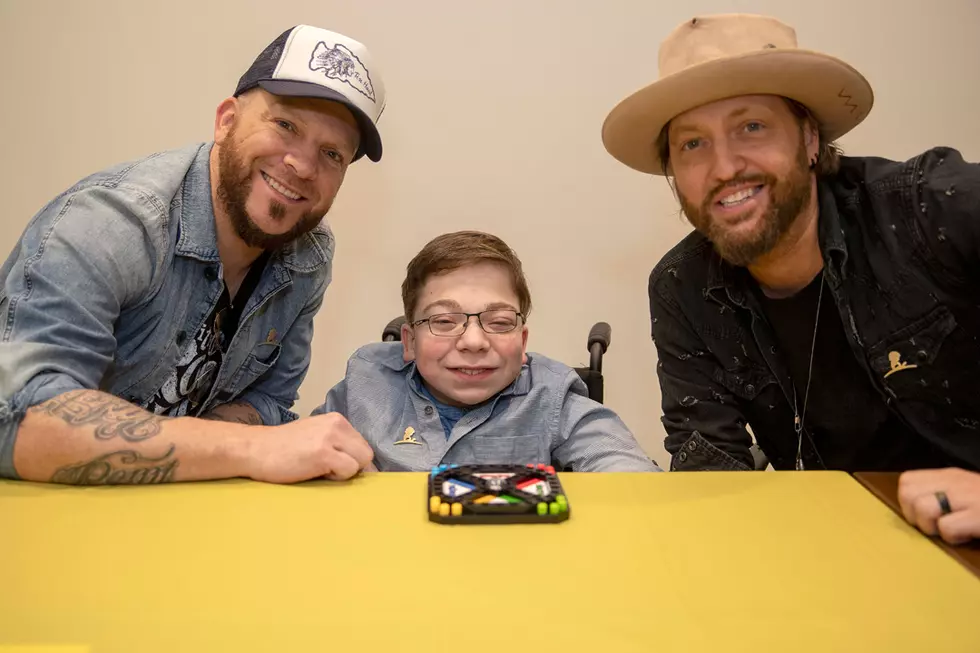 LoCash Learn to Not Sweat the Small Stuff at St. Jude
Courtesy of St. Jude
Don't sweat the small stuff, and guess what, it's all small stuff. That's what LoCash have learned from multiple visits to St. Jude Children's Research hospital. Now fathers themselves, the experience has changed the duo.
Chris Lucas was a father of an 11-month-old the first time the "Feels Like a Party" singers visited St. Jude in 2011, and he's since added more, and Preston Brust has two of his own. "I just keep texting home," Brust says. "Sending messages to my wife and my daughter. Telling them how much that I love her."
"I thank God we have a place like this," he furthers.
LoCash know it's okay to take something away from visits with kids fighting cancer and other life-threatening illnesses. Not only did they get to see some of the research — including exciting advancements on finding a cure for the flu — they got to play with the children. Lucas even got his butt kicked at the board game Trouble.
"To see the positivity in these kids and everything they go through," Lucas begins, "I mean, we're human. We're gonna complain. Small stuff bothers us sometimes. And then you get here and you're ... 'No, all of it's small because these kids are seeing something and going through something that's a parent's worst nightmare and they're staying positive through the whole thing.'"
"The kid I was talking to last night said 'Man, I can't wait to get back to St. Jude.' That says it all for me."
LoCash were among a large group of artists who visited St. Jude in January for Country Cares weekend. In 2019 the initiative celebrates 30 years, with more than $800 million raised and significant advances made in medicine, treatment and cure rates. More than 200 radio stations nationwide take part in radiothons and other events to support the hospital and kids who need it.
From Feb. 7-8, Taste of Country will assist more than a dozen country radio stations in raising money for St. Jude Children's Research Hospital with a webathon/radiothon. Nearly $7 million has been raised during the previous five joint efforts, with much more raised from other TSM stations later in the year. If you'd like to donate, check here for various options.
Brantley Gilbert + More Share What They've Learned from St. Jude:
See More Pictures from the St. Jude Songwriter's Night