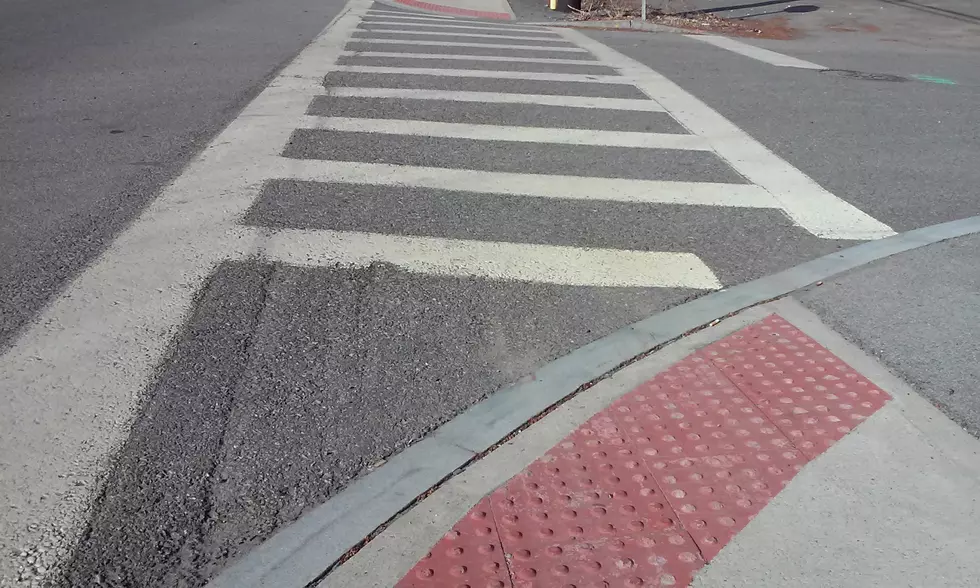 Local Man Had Good Intentions When He Painted A Crosswalk [Video]
Crosswalk - Bro. Lou Roberts Collection
A Bennington man had very good intentions when he spray painted a crosswalk on a very busy road near a park and an ice cream stand, but those good intentions got him into trouble. This person is a friend of mine that I have known for  more than 20 years.
After Sam Restino saw that the crosswalk had faded over the winter in the town of Bennington, so he got some spray paint and and took care of the situation himself. You might say that he "freshened up" the crosswalk. He used green marking spray paint to highlight the crosswalk so people would be able to see it. The problem is, Sam got arrested for it. He was charged with vandalism and disorderly and unlawful mischief. He'll be returning to court and may have to go through an adult diversion program.
In the story on News 10 ABC, Stuart Hunt, The Bennington Town Manager Stuart Hurt said the "Restino was putting himself and others at risk by running in and out of traffic", and that his "actions were unacceptable." He also mentioned that Sam's apology to their community was welcome.
Sam did this with one thing in mind - "Safety". Sam told reporters that the only reason that he did this was because he "wanted to prevent someone from getting killed." He knows that he made a mistake and shouldn't have done this.
When I was at the Bennington Sears Hometown Store last Saturday for a station event, Sam stopped by. While he was there, almost every person that walked through the door also knew Sam, which doesn't surprise me. (I actually called him "The Mayor Of Bennington") Sam painted the crosswalk during the day. He told me that someone asked him why he didn't do this at night, after dark, when no one would see him. He felt he had no reason to be sneaky about it. He does realize that he also put himself and others into a very dangerous situation.
Not that I believe that Sam was right to do this, but let me just say that Sam would never hurt anyone. He is one of those people that would go out of his way to do anything for anyone. He is one of those guys that you can sit down with, have a beer with, and enjoy talking to. Anyone that knows Sam would probably agree with me.