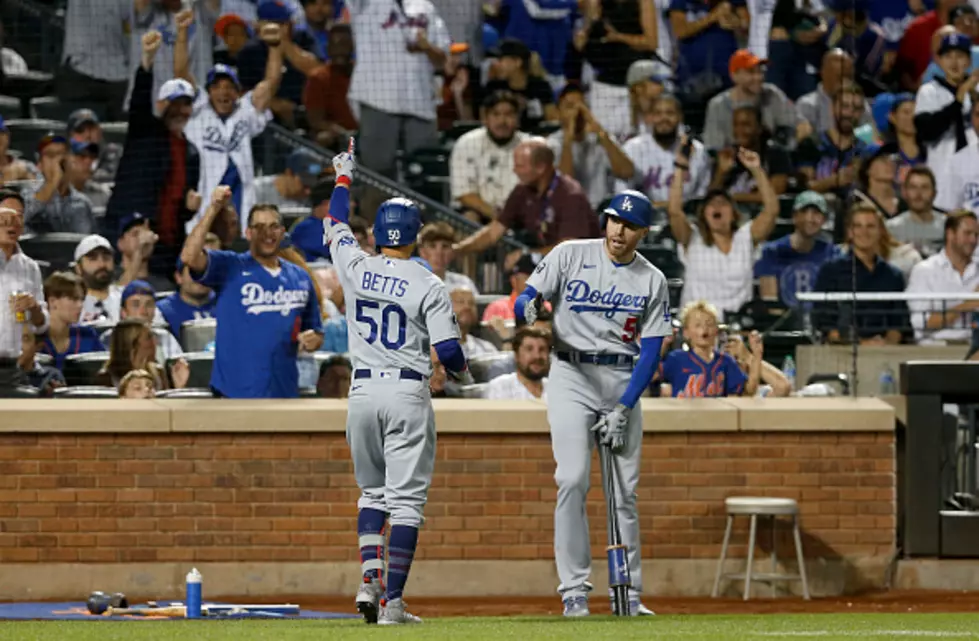 Former Red Sox Star Thinks This New York Met May Be Best Ever
Getty Images
When you want to find out who is the best at something, you ask people that are in the same business. You ask people that compete against that person or business. When it comes to great Major League Baseball players, a guy like former Boston Red Sox star, Los Angelas Dodgers' outfielder Mookie Betts is probably a solid reference. Betts dished out some hefty praise on a New York Mets pitcher on Wednesday night and that player had nothing to do with Timmy Trumpet.
The star that left Boston was talking about Wednesday night's starting pitcher for the Mets, Jacob deGrom. The 34 year-old right-hander for the Amazin's was electric in the second game of the three game series. deGrom doesn't walk to the mound to fanfare of trumpets. He prefers Lynyrd Skynyrd's "Simple Man." Figuring out how to hit Jake is far from simple for big league hitters. deGrom is now 4-1 with a 1.98 ERA since his return to action a few weeks ago.
Betts, told Fabian Ardaya of theathletic.com, "He's pretty much the best. Maybe the best to ever pitch." Wow. Ever? Those are pretty strong words coming from a National League MVP candidate and unquestionably, one of the best players in the game.
Betts was asked what is it about deGrom that makes him so difficult to face? His fastball? His slider? The 29 year-old outfielder simply said, "All of it. I mean, all of it." Betts did tag deGrom for his only run allowed with a home run shot into the left-field stands in the sixth inning. deGrom called the slider that was up in the zone "a mistake." The Mets right-hander said to Jon Heyman of nypost.com after the game, "You want to compete against the best. Mookie is having a great year with the numbers he's put up." Now, how much will Steve Cohen and the Mets be willing to pony-up to keep the "best ever" in Queens for the rest of his career?
New York Yankees' Star Must Hurdle These Legends for Home Run Glory
Aaron Judge is pursuing home run history for the New York Yankees, but he must hurdle some of baseball's biggest legends to get to the top of the leaderboard.
Every Country Artist Performing In Upstate NY In 2022
We are set for a big year of Country shows in 2022, and here is a complete list of artists set to perform in 2022 in the Capital Region and all over Upstate New York.