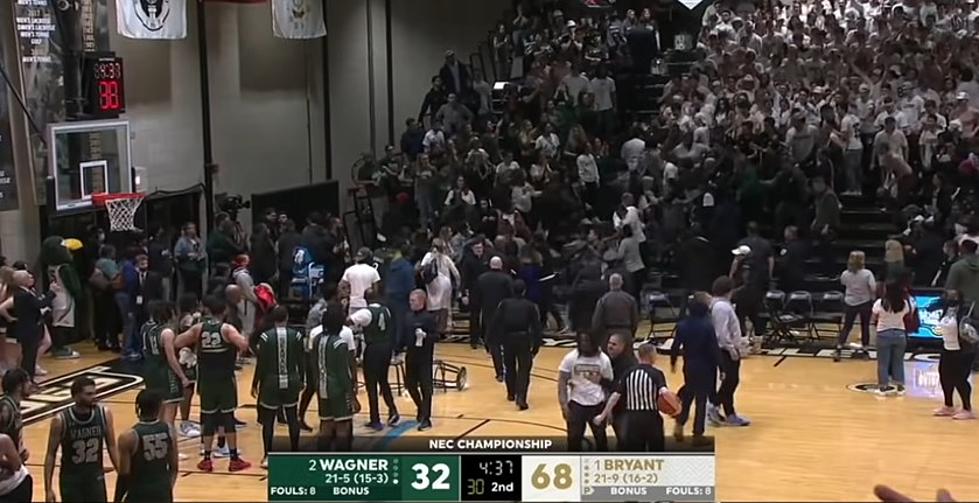 Did You See It? New York's Wagner College Ends Game with Brawl
YouTube / PSC Highlights
For the Wagner College Seahawks, things were bad at Chase Athletic Center last night.
There's 4:37 left in the second half, and the Staten Island, New York-based Seahawks are losing to the Bryant Bulldogs in the Northeast Conference Championship game. Not only were they losing, but at the time, they were losing 68-32.
In total, that's 36 points. It can't get much worse than that.
Then, up in the stands, a disagreement began to brew. The fans of the Seahawks, situated behind the team's bench, were getting restless. If it were one or two fans, it wouldn't have been much of an issue. It was multiple busloads of fans, however, and that is when the night went from bad to worse for Wagner.
---
A Fight Broke Out During the Wagner-Bryant Game Last Night
During a timeout, with both teams huddled at their respective sidelines, the ESPN cameras panned over to the section of the stands directly behind the Wagner bench. It was there, where a fight had broken out.
Twitter user Timothy Burke captured other replay angles, as well.
What an absolute mess that unfolded last night.
After all of the dirty laundry was sorted, Wagner senior guard Will Martinez was ejected from the game for his role in the altercation. According to reports, he left the bench and ran into the stands during the course of the fight.
The police got involved, and the sides were forcibly separated.
When all was said and done, Bryant would win the game running away, by a final of 70-43. Bryant guard Peter Kiss led the way with 34 points for the Bulldogs.
It may be too soon to laugh about this, but I found this joke to be very amusing.
One Famous Athlete Born in Each of the Capital Region's 11 Counties
From the "big four" professional sports leagues, to the Olympics and beyond, a number of famous athletes were born and raised right here in the Capital Region. Here is one famous athlete from each of the 11 counties in the Capital District.
Ten Capital Region Sports Stories Every New Sports Fan Should Know
After months of reading and talking, I now consider myself a Capital Region sports fan. I learned these ten stories along the way, and want you to learn them now.