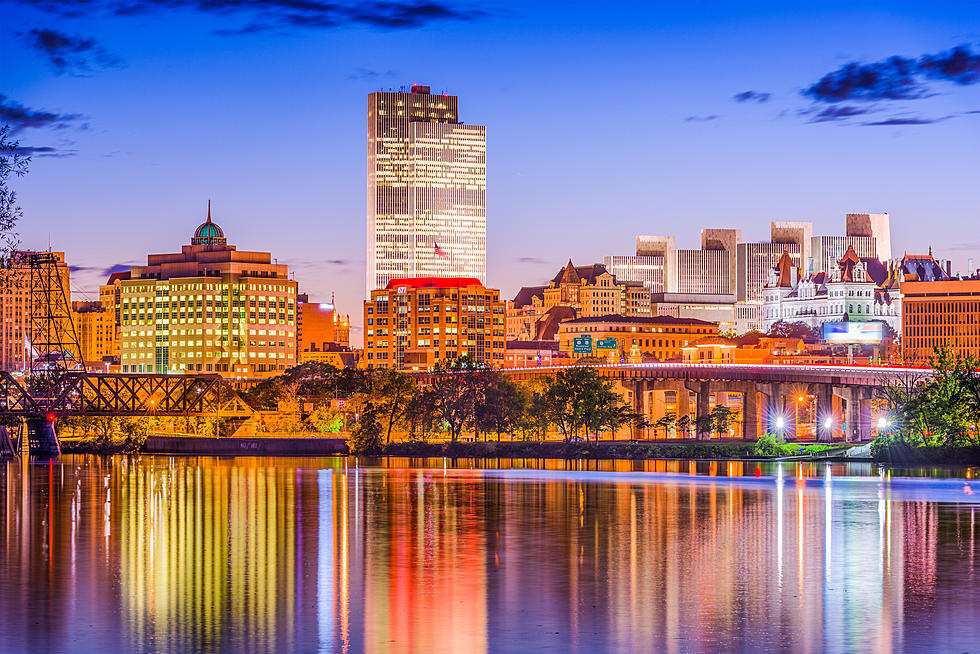 Three Random Thoughts From My First Month In The Capital Region
Sean Pavone
Last week I celebrated my first full month living and working here in the Capital Region. From finding an apartment, moving in, exploring new restaurants, meeting people, and a lot more, I've had a full range of emotions - good and bad. But overall? I love it here. Everyone's so friendly, it's a beautiful place, and I don't have to deal with rabid SEC fans gnawing my ankles anymore. I do have a few thoughts I'd like to share and questions to ask, though.
My First Trip to Snowman
As a new Troy resident, it is my sworn duty to experience every "must visit" place in city limits before the end of summer. While I have not visited either of Uncle Sam's graves, I checked Snowman off the list very early because ice cream. No further reason needed. My coworker said, "I heard they have a peanut butter and cheesecake swirl soft serve now," on Thursday and I was there on Saturday.
I ordered a medium, my fiancée ordered a small. They proceeded to hand me a vat of ice cream. "There must be some mistake," I thought, "this is no medium. This says 12 ounces and it's peaking way over the top." I start to panic.
For clarification: the last time I went out for ice cream, I went to a large chain that rhymes with Rolled Phone Dreamery, got half the amount I had just received, and had to hand over a kidney at the register. You want to talk about gas prices; why isn't the President fighting CSC prices?
I braced for the worst, and for an insane amount of soft serve? Seven bucks and some change. You gotta love that. Thank you, Snowman.
Empire Gold Flake
As someone who consumes a fair amount of pop culture, I was disappointed to find out I was arriving in New York State just slightly too late to get an Empire Gold license plate. For the past decade, I've seen them in movies and on TV and they have a very iconic look. They look fine, but it still felt a little like a letdown to pick up a pair of "Excelsior" plates – UNTIL I saw my first peeling Empire Gold plate.
They say chrome is the look of the future, but it is not the future of license plates. Like a clown tripping over their own giant shoes, there's something tremendously sad and goofy seeing the blue and gold coloring flapping in the breeze behind a speeding Acura. That's not as seen on TV. Anyway, let's hope they nailed (or glued) that problem down on the Excelsiors.
The Tom Anelli Jingle
Why is this jingle so powerful? There is absolutely no reason this jingle should be the aural weapon it is. It's neither terrible nor outstanding – it just burrows into your head, sinks its barbs in, and takes permanent residence in the wrinkles of your brain. It is the glitter of jingles: all it takes is one use and its around forever.
What makes its powers so strong? Is it because Com and Tom rhyme? Is it because it immediately repeats? Did Mr. Anelli make a deal with somebody he talked to on a Ouija board?
How have you all survived with your mental faculties intact? I've been here a month and it's the first thing my mind plays in the morning and the shutdown noise it makes before bed. I've worked in radio for a decade and never encountered a commercial earworm so infectious.
All this is to say, thanks for being so welcoming to me and my fiancée. If you have any restaurant recommendations, give me a shout.
Current US Military: Visit These Capital Region Museums Free This Summer
All US Military members currently serving in our Armed Forces and their families can visit these Upstate New York museums for free until Labor Day.