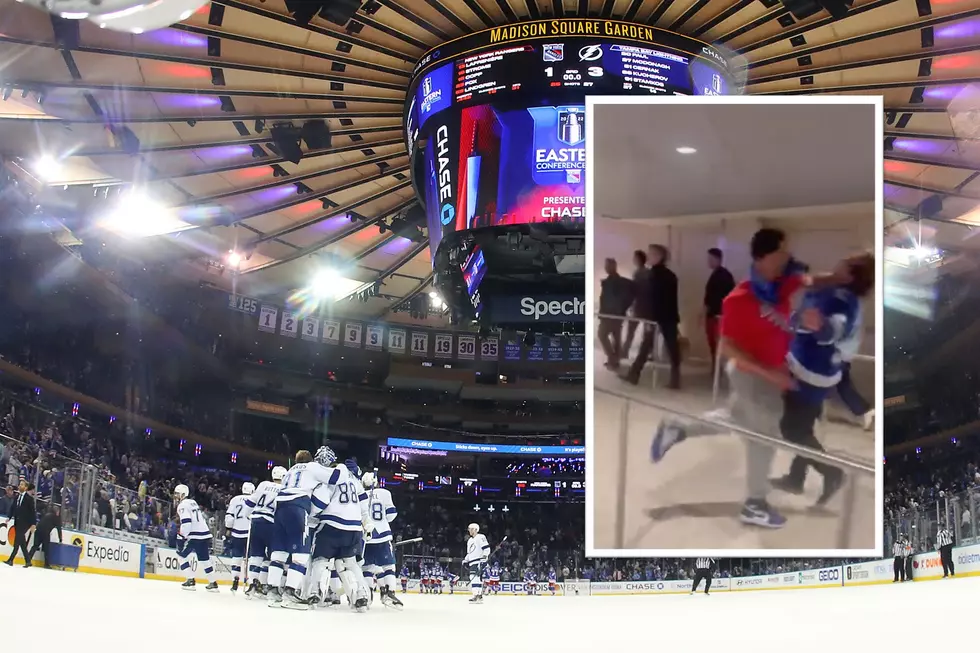 Brutal! Video Captures Ugly Scene After New York's Game 5 Loss
Getty Images / Twitter (@ScottKaplanOn)
Things went from bad, to worse, last night at Madison Square Garden.
On the ice, the New York Rangers lost Game 5 of their Eastern Conference Finals series against the Tampa Bay Lightning, falling by a score of 3-1. The Blueshirts struck first in the pivotal Game 5, scoring just over halfway into the game, but they couldn't hold their lead, and Tampa took advantage.
Off the ice, however, things got very ugly, as fans from both sides exited Madison Square Garden, onto the streets of New York City.
---
New York Fan Punched Out Tampa Bay Lightning Fan Unprovoked
In the aftermath of Game 5, in the hallways of Madison Square Garden, a New York Rangers' fan turn around, and punched a Lightning fan directly in the side of the head, knocking him onto the floor and unconscious.
this video contains graphic violence, so please do not watch this unless you are prepared to see an incident that is fairly disturbing.
As you can see, the Rangers' fan knocks out the Lightning fan, and proceeds to leave the scene. A few fans leaving the game stopped their exit to help tend to the Lightning fan on the ground, while most others looked on in utter shock.
Luckily, we have an update on the situation from this afternoon.
---
Latest Update on the Rangers' Fan Situation
First, an update on the condition of the victim, as well as the person who attempted to intervene, and was also assaulted.
Two bits of great news right here, as both victims are doing well. Meanwhile, as reported by a number of outlets, including a story by Nova Caps Fans, the perpetrator was identified by police as James Anastasio, 29, of Staten Island. Anastasio was arrested, and faces two counts each of assault, disorderly conduct and harassment.
What a Goal! Check Out These Classic Albany River Rats Photos
The Albany River Rats called the Capital Region home for close to two decades, and had many memorable moments. Check out these shots from their 2004-05 season.
It's the Law! Did You Know These Ten Bizarre New York State Laws?
From selling pet hair, to not wearing matching jackets and pants, there are some weird laws in New York that residents don't know about. Have you broken these laws?