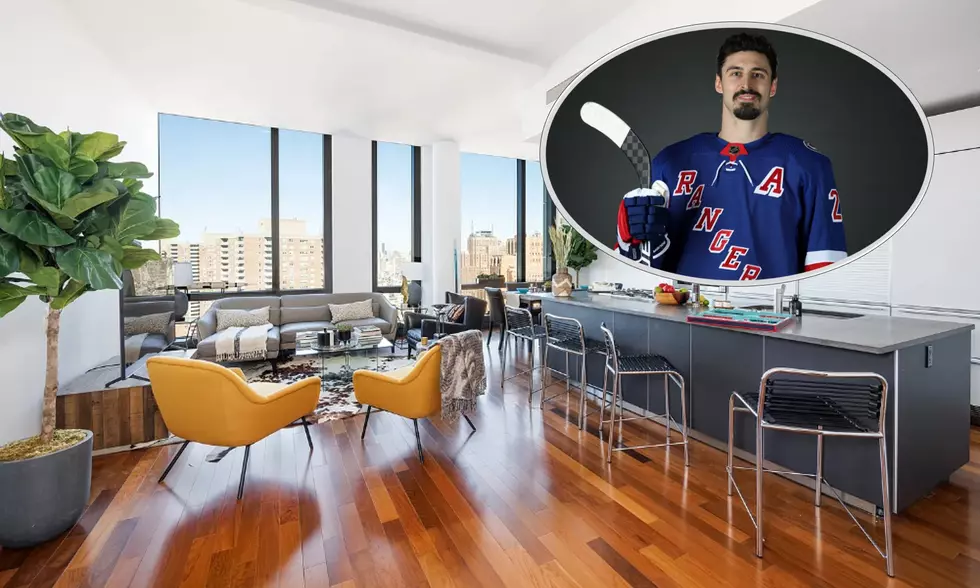 See Inside This New York Rangers' Big-Money Apartment! Ready to Buy It?
Zillow (Brown Harris Stevens) / Getty Images
The longest-tenured member of the New York Rangers is on-the-move.
Hang on, Rangers' fans, I'm not talking about a trade. Rather, the longest-tenured Ranger is on-the-move to a new home. That player is Chris Kreider, who debuted for New York in the 2012-13 season, at age 21. Now, Kreider is in his 11th season in the NHL, and has played all 659 regular season games of his career as a Blueshirt.
He's also lived in the same apartment since 2013, and after a decade in the same place, he's looking to make a change.
---
See Inside Chris Kreider's Incredible NYC Apartment Before It Sells
As detailed in a story in The New York Post, New York Rangers' forward, Chris Kreider, along with partner Francesca Gentile, are in the process of selling their Manhattan apartment, after a decade spent living there.
The apartment complex is located in the neighborhood of Tribeca, and based on the photos used in the Post, we were able to locate which unit Kreider is attempting to sell.
The unit in-question is a two-bed, three-bath, 1,611 square-foot apartment, located in a building that was built in 2007. The article details that Kreider first rented the apartment in 2013, which would've been during his rookie or second season, depending on when he first moved in.
His rental turned into a purchase in 2017, and he has lived there ever since. During that time, Kreider has grown into one of the most beloved Rangers' players, as well as a lethal scoring threat. He scored 52 goals in the 2021-22 season, nearly doubling his career-high (28, which he did twice).
A key detail in this story: Kreider signed a seven-year contract with the Rangers ahead of the 2020-21 campaign, which pays him $6.5 million per season. With the change in personal circumstances, it apparently became time for Kreider and his partner to make a change on the homefront.
So, before the apartment is taken off of the market, take a look inside its walls in the pictures below. Do you have your checkbook ready? I ask because for a cool $3,800,000, the unit can be yours.
Happy shopping!
See Inside Chris Kreider's Incredible NYC Apartment, Now For-Sale
For the first time since 2013, NY Rangers' forward Chris Kreider is looking to move homes. Peak inside his current sweet apartment, before it's off-the-market.
New York Yankees' Legend's Beautiful Mansion to Be Demolished [PHOTOS]
Did Tom Brady ruin something else in New York sports? We're not sure, but a Derek Jeter-owned mansion that was rented by Brady is being demolished soon. Take a look inside below.