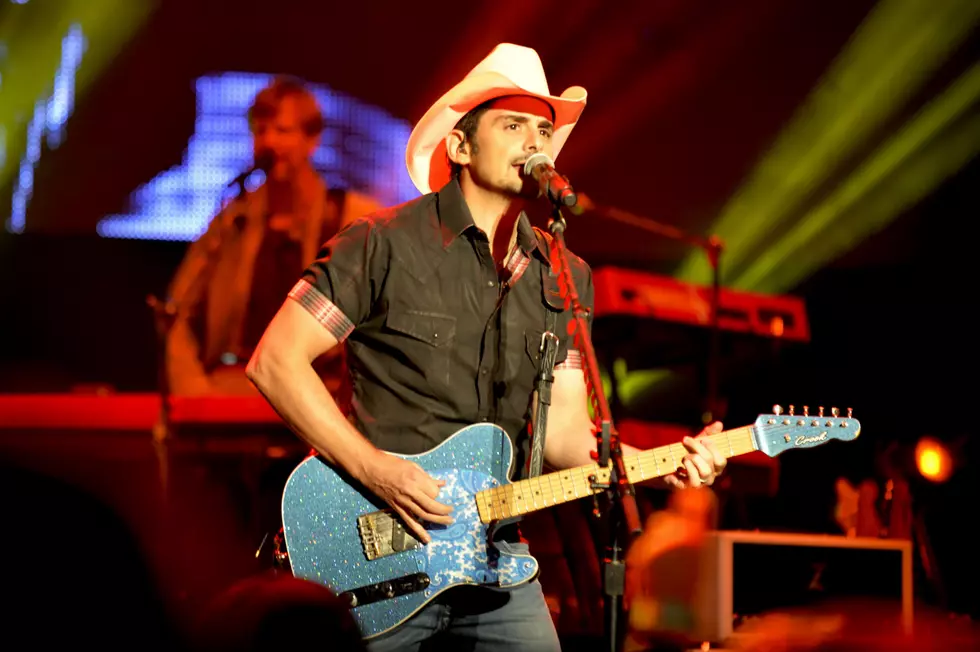 Brad Paisley Adds Shows to College Tour
Josh Lowe for Taste of Country
Brad Paisley has decided he isn't too cool for school — the star has added a second wave of free shows to his 2016 Brad Paisley Country Nation College Tour. Already on the trek, the "Without a Fight" singer has entertained college students from some major universities, including West Virginia University and The Ohio State University.
Six more lucky schools will host Paisley with the additional tour stops, including the Air Force Academy on Sep. 29 before he heads to East Carolina University on Oct. 6. Paisley will then travel to University of Connecticut on Oct. 7, University of Nebraska on Oct. 13, University of Kansas on Oct. 14 and the University of California, Los Angeles on Oct. 21.
Brett Young will be the opening act at ECU, Nebraska, Kansas and UCLA, while Chase Bryant will open at the Air Force Academy and Lindsey Ell will open at UCONN.
"Music and college sports are a winning combination, and we're thrilled to help bring this experience to fans across the country," Cecilia McKenney, EVP and Chief Customer Officer of Frontier Communications, who is sponsoring the tour, says. "Sponsoring the Country Nation College Tour is the perfect opportunity for us to show appreciation to our customers."
Shortly after recovering from his college parties, Paisley will commemorate the year's top artists by hosting the 50th Annual CMA Awards alongside his co-host, Carrie Underwood, for the ninth consecutive year.
"There's a lot of trust between us," Paisley says of his hosting duties. "That's key when you're standing out there on that tightrope. More than that, what makes a great balance is she has such grace, and I don't."
The 2016 CMA Awards will broadcast live on ABC on Nov. 2.
Hit Songs That Other Artists Passed On
Top Brad Paisley + Carrie Underwood CMA Awards Moments