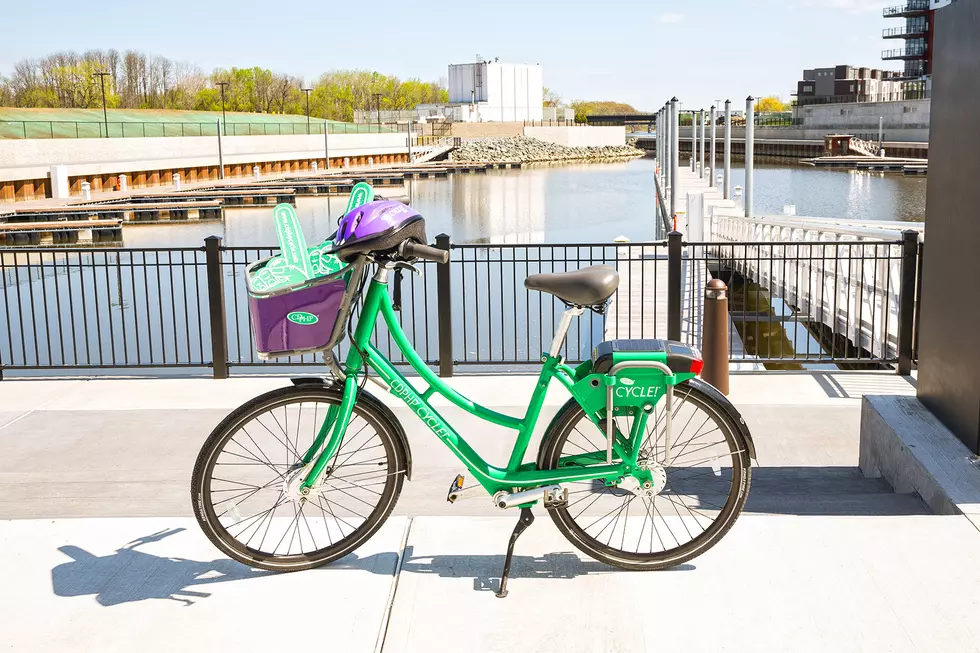 Bikeshare Program Expands to Two New Capital Region Communities
Glenn Davenport/CDPHP
With warmer months ahead for the Capital Region, today marks the beginning of the sixth season of the CDPHP Cycle! program and the first day of participation for two communities.
CDPHP Cycle! is a bikeshare service that lets users find a nearby bike through a free to download app, scan a QR code on the bike's rear to unlock, and rent riding time by the hour. Each bike is equipped with sensors that tracks a rider's distance and time, calories burned, and carbon dioxide emissions saved.
Since the program was introduced, 400 bikes have been put into circulation at 80 stations across the area.
The original service area includes 44 hubs in Albany, 12 in Schenectady, 16 in Saratoga Springs, 6 in Cohoes and 14 in Troy. In 2021, CDPHP Cycle! expanded into Warren County in Glens Falls, Queensbury, and Lake George.
This year, two new communities have been chosen for the program's expansion. The first is Watervliet.
The first Watervliet hub is located at City Hall.
Another hub can be found at Hudson Shores Park.
The second community is Menands.
Find Cycle! bikes at Ganser Smith Park.
An additional bicycle hub can be found at Morgan Linen on Broadway.
Rental rates for Cycle! start at $5 for an hour, then move to $15 per month and $85 for a complete season pass that includes 60 minutes of time every day. Additional discounts are available for Capital Region students and CDPHP members.
More than 50,000 rides were taken in spring and summer of 2021, a landmark milestone for the initiative.al
The CDPHP Cycle! Program is a partnership with the Capital District Transit Authority. The 2022 season will conclude in November.
Albany To Lake George: Summer's 30 Ultimate Outdoor Restaurants
When it comes to having an outdoor cocktail or meal in the 518, these are the best of the best to enjoy the great outdoors this spring and summer.