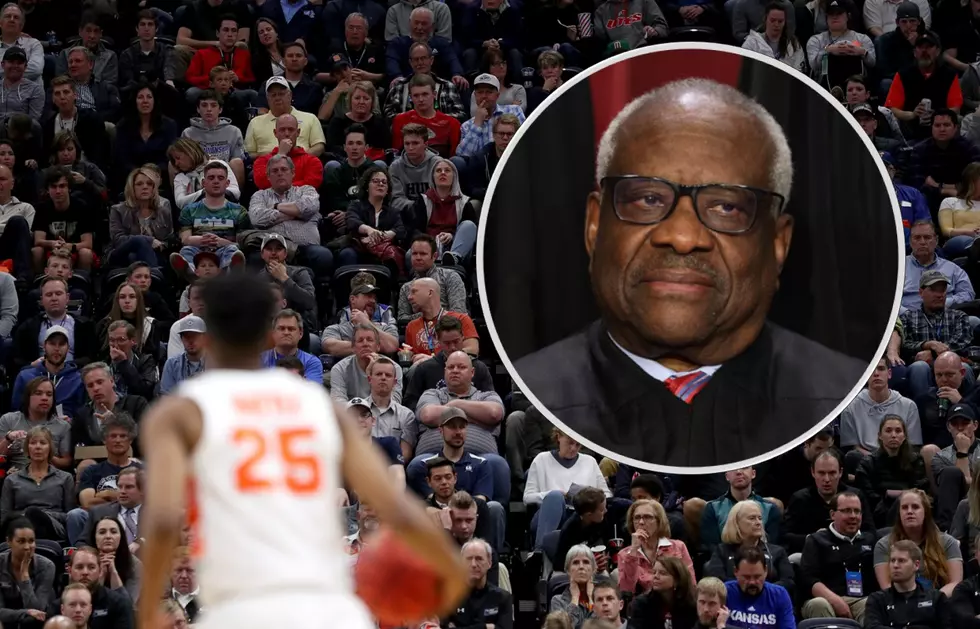 Upstate NY University Brought Up in Supreme Court! Are They in Trouble?
Getty Images
Seeing that your alma mater, or favorite college sports team, was brought up in Supreme Court is usually never a good thing. Someone stole something, lied about something, or did something else unsavory, and it's gotten completely out-of-hand.
Once such Upstate New York university was brought up in court recently, but it may not be as bad as it seems.
---
Syracuse University Receives Mention as Comparison in Supreme Court Case
As reported by New York Upstate on Monday, U.S. Supreme Court Justice Clarence Thomas used Syracuse University, and the Syracuse Orange athletic program, as a comparison in a recent case being heard in the court.
The case itself is one dealing with copyright infringement law, a topic that people love to discuss in a court of law. The court is deciding whether a portrait done by Andy Warhol of the popular singer, Prince, was done under "fair use" law, or was indeed against copyright law, and would've required consent and payment in order to be used.
The trouble came when the photographer of the original photo that Warhol used, Lynn Goldsmith, saw someone else create a new version of the first Warhol piece. She hadn't realized that Warhol had used her work at all, and demanded retroactive compensation from the Andy Warhol Foundation for the Visual Arts.
So, that's how this case ended up in court, which makes sense. But what does Syracuse University, or the Orange athletic program, have to do with any of that?
We weren't sure either, until the quotes from Thomas came to light. Thomas presented a hypothetical situation in which he was a fan of the Syracuse Orange, and created a similar rendering of Prince as a means of supporting the school as a fan in the stands.
Here's how he phrased it, per the NY Upstate article:
"But let's say that I'm also a Syracuse fan and I decide to make one of those big blow-up posters of orange Prince and change the colors a little bit around the edges and put 'Go Orange' underneath. Would you sue me? For infringement?" - Clarence Thomas via New York Upstate
It's a very funny comparison to use, especially if you're a fan of the Orange. The program has nothing to do with the case, but because that's the example that came to mind for Thomas, they're now linked to a very important fair use/copyright law case.
Forever.
Thomas' question was pointed at The Warhol Foundation, who brought the case to court. They believe they should not have to compensate the photographer, claiming that Warhol's rendering was significantly different from the original photo, therefore not acting as a direct copy.
Goldsmith, meanwhile, is seeking compensation for the use of the photo, claiming that they're wrong, and Warhol copied her work without permission or compensation.
Then, you have poor fans of the Syracuse Orange, who were the real victims of this ricochet shot from Clarence Thomas. They're just hoping that their team is never mentioned in court ever again.
Everybody wins that way!
Ten Capital Region Sports Stories Every New Sports Fan Should Know
After months of reading and talking, I now consider myself a Capital Region sports fan. I learned these ten stories along the way, and want you to learn them now.
Ten Times Capital Region Sports Teams Won Their League's Title
Sports fans in the Capital Region have been lucky enough to see a few championships over the years. Do you remember these ten stories of teams winning titles?