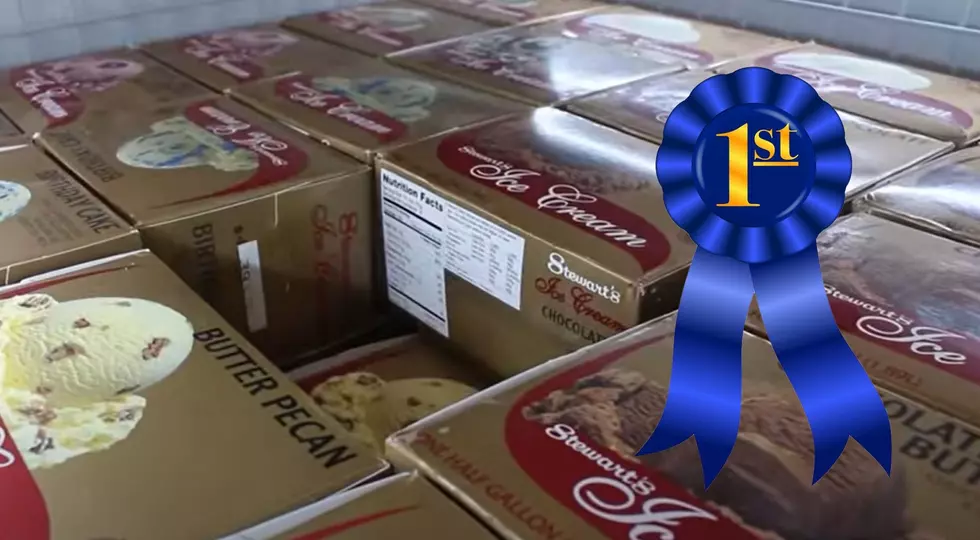 Remember This? Upstate NY Ice Cream Was Named Best in the World in 2022
YouTube / Stewart's Shops
We have a winner in Upstate New York!
The 2022 World Dairy Expo, the 55th annual edition of the event, is set to take place from Sunday, October 2nd through Friday, October 7th, but the judging has already taken place. Every year, the best dairy products in the world are brought together, and judged against one another, and one submission in each category is given the prestigious title of "Best in the World".
An Upstate New York-based company submitted its ice cream flavors into the World Dairy Expo, and a few of them ended up winning big on the international stage.
---
Stewart's Shops Popular Flavor Wins First Prize at World Dairy Expo
According to a post on the Stewart's Shops official website, ice cream flavor Peanut Butter Pandemonium has been named the best peanut butter ice cream in the world at the 2022 World Dairy Expo.
The website explains that there were over 1,400 submissions from dairy manufacturers across North America, and of every peanut butter-flavored ice cream that was submitted for judging, Stewart's Shops' rendition has come out on top.
The website also explains the methodology of the judging, as each ice cream submission is rated based on flavor, body and texture, melting quality, appearance and color.
Residents in Upstate New York, as well as parts of Vermont, know full-well that Peanut Butter Pandemonium is a worthy winner of this prize. It is consistently regarded as one of the most popular flavors sold by Stewart's Shops.
If you haven't had it before, here's what you're missing:
"...a smooth vanilla ice-cream base and is jam-packed with peanut butter cup pieces, smooth peanut butter, and swirls of smooth fudge." - Stewart's Shops
---
Three Other Stewart's Shops Flavored Named Among North America's Best
The website also announced that three other flavors received international recognition at the World Dairy Expo. Here are the flavors that took home top-three honors:
Mint Cookie Crumble - 2nd place, mint category
Mango Dragon Fruit - 3rd place, sherbet category
Salty Caramel - 3rd place, gelato category
Stewart's Shops has been on a hot streak at the World Dairy Expo, winning Best Milk in New York State at a recent expo. Everyone in the Capital Region, and Upstate New York, know the quality of Stewart's products is beyond reproach.
Now, the rest of the world is beginning to learn this, too.
---
STORY UPDATE (as of October 4, 2022 at 10:45AM)
A quick addition to this story. The World Dairy Expo is currently happening this week, with sessions running from Sunday, October 2nd through Friday, October 7th. The event is held annually at the Alliant Energy Center in Madison, Wisconsin, and features some of the best in the world in terms of dairy farmers, manufacturers and retailers.
We wish everyone from Stewart's Shops luck as they celebrate their accomplishments in 2022 and beyond!
The Capital Region's 10 Best Ice Cream Stands [RANKED]
Spring and summer in Upstate New York mean 2 things: we spend as much time as possible enjoying the great outdoors and eating all the great ice cream the Capital Region has to offer. And we have so many great spots to enjoy a cold sweet treat! But which ones are the can't miss destinations to enjoy that amazing mix of cream, sugar, and amazing flavorings? From soft serve to hard ice cream to sundaes and banana splits, these are the 10 ice cream shops that GNA listeners voted as the 10 best in the area for 2022.
Tens eBay Items That are Must-Haves for Albany Baseball Fans
If you're looking to add to your memorabilia collection, or if you're shopping for the Albany baseball fan in your life, these ten items are a must-have.